Project Case Study: Custom Woodworking Shop Addition
The Perfect Solution for a
Home-Based Woodworking Business in Bellevue, WA
The need to work from home is becoming increasingly important, especially for this homeowner, who makes a living from their custom woodworking business.
The Better Builders team developed plans to replace the existing garage with an innovative and architecturally pleasing 1,500 sq ft addition. Our primary goal was to maximize the space and provide the homeowner with all the necessary functionality they needed while complying with zoning regulations and preserving the existing residential home feel.
"I found Better Builders easy to communicate with, even on tough stuff."
Customer in Bellevue, WA
Ensuring a Seamless Addition
One of the key challenges was to match the new woodworking shop with the distinct roofline of the original structure. We also incorporated a stunning standing seam roof that covered both the new addition and the existing home, ensuring that the curb appeal was not compromised.
From the west side of the addition, the added square footage and height is apparent. This allowed us to install two new clerestory windows as well as two operable windows on either side of a picture window to maximize natural light and provide ventilation. The addition is sided to match the house with vertical tight-knot cedar siding.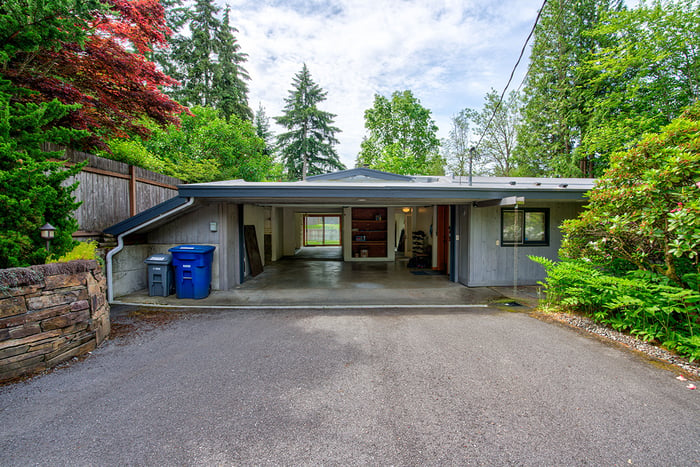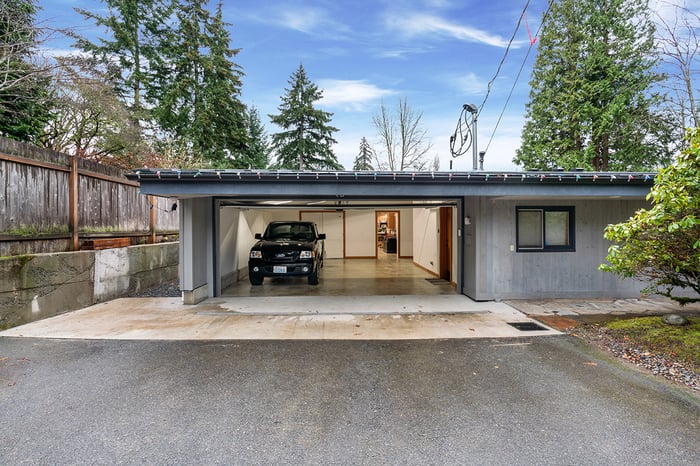 Addition of Clerestory Roof & Courtyard
The back of the new building is where the wood shop lives. The dramatic clerestory roof gives the shop a unique profile creating a welcoming courtyard between the existing home and the addition. The exaggerated 65" eaves provide additional covered space and are one of the signatures of this great design.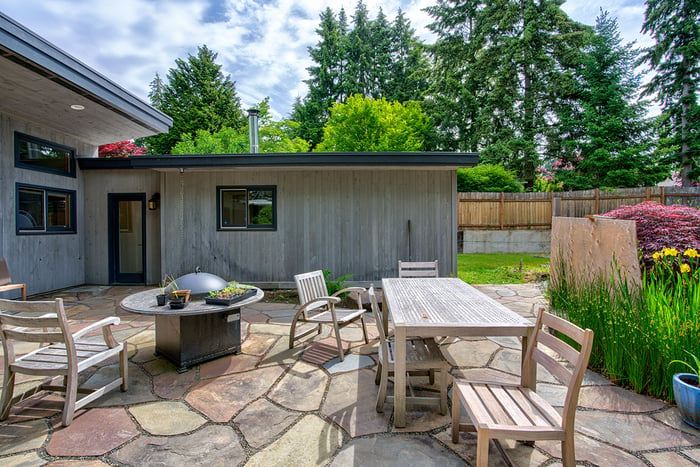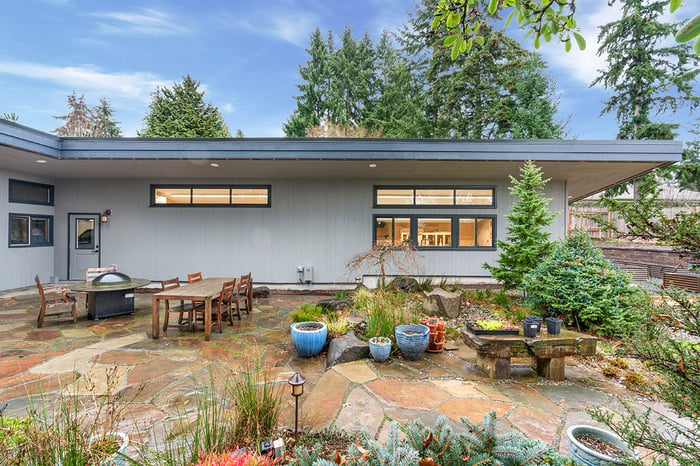 Extended Slab, Added New Retaining Wall & Raised Garden Beds
Outside of the featured carriage doors, we extended the concrete slab, allowing the shop to grow by utilizing this mostly covered outdoor space. The area is nicely finished with tasteful hardscaping in the form of a new retaining wall, gravel, and raised garden beds.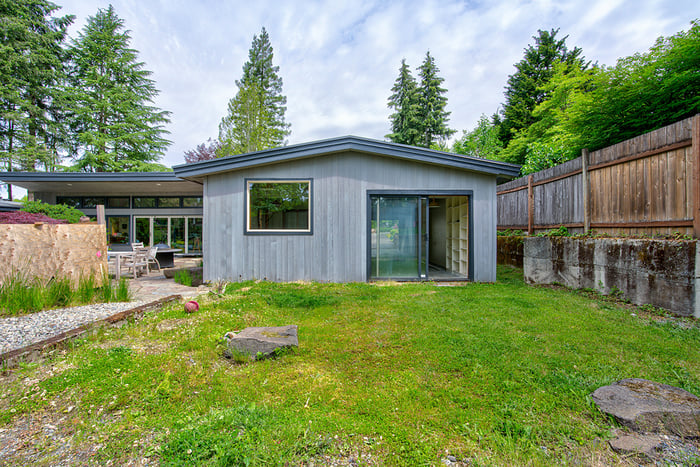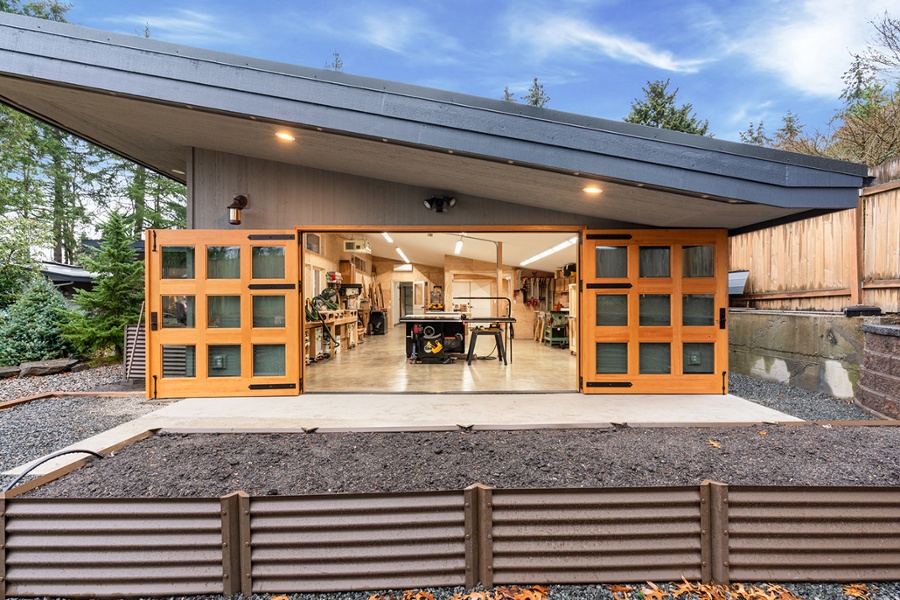 Focal Point: Custom Craft Carriage Doors
One of the focal points of the shop is the stunning Real Craft Custom carriage doors. Weighing over 700 pounds, the installation of these doors was no easy feat.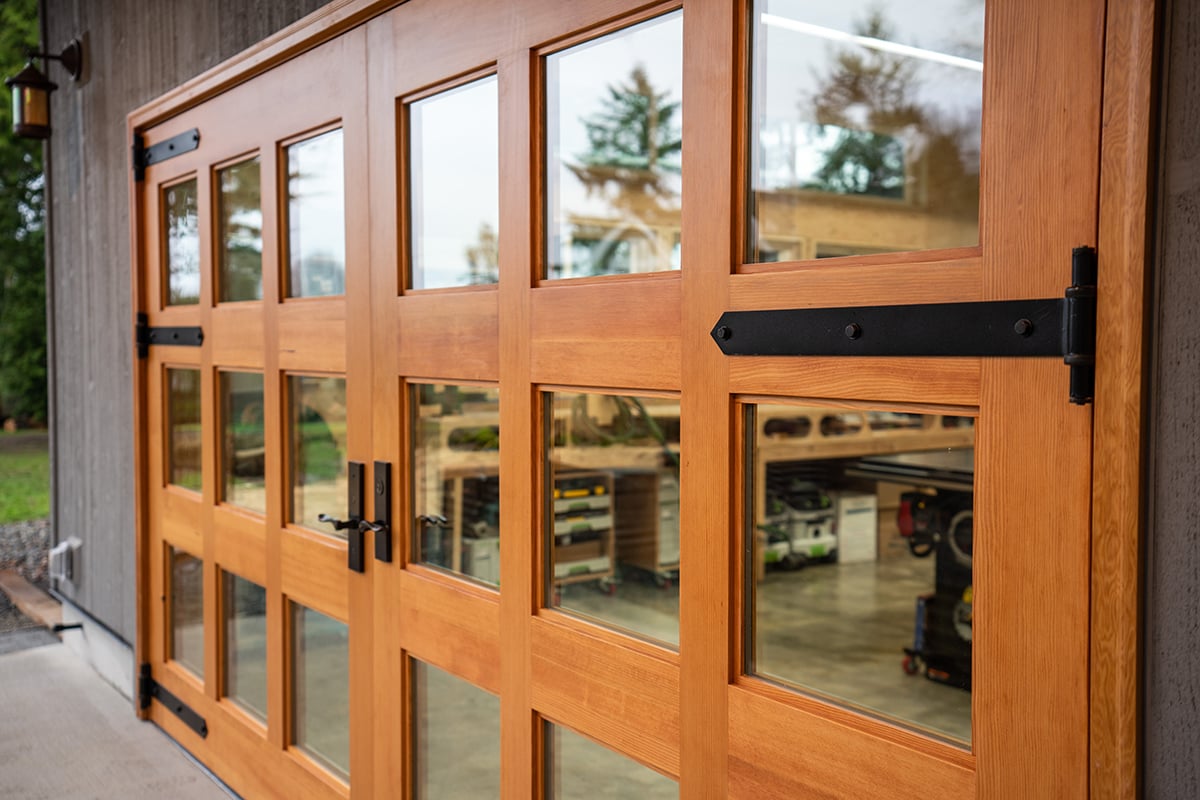 Interior Updates: Separated Garage from Woodworking Shop
Looking inside, we removed an old wood stove and replaced an interior overhead door with a wall and man doors, creating a separate workspace from the garage.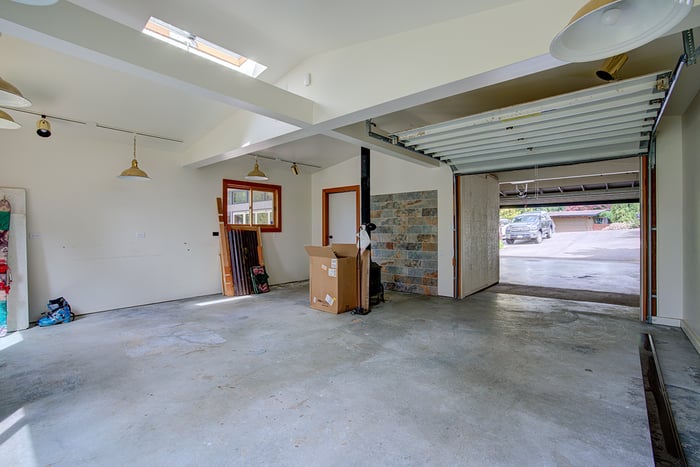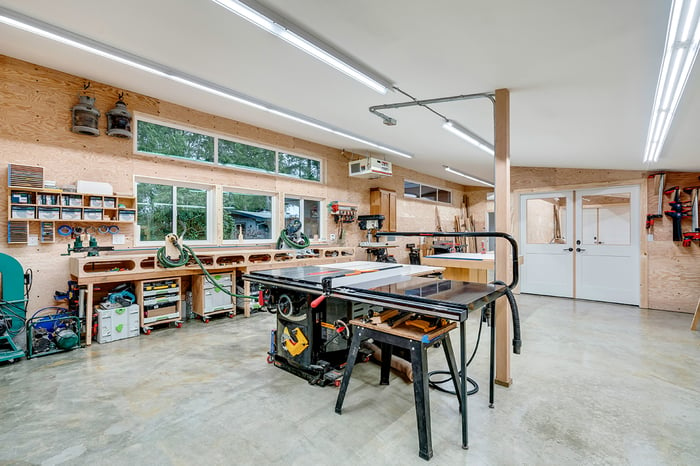 Interior Updates: Lighting, Unique Walls & Energy Efficient HVAC
New electrical and lighting were installed to support the workshop's requirements. Uniquely, the shop walls were covered with ¾" AB plywood for clean aesthetics, and so the homeowner could hang anything, anywhere.
The LED lighting and mini split system, along with the extensive insulation package, help reduce energy consumption, partially offsetting the use of the shop tools.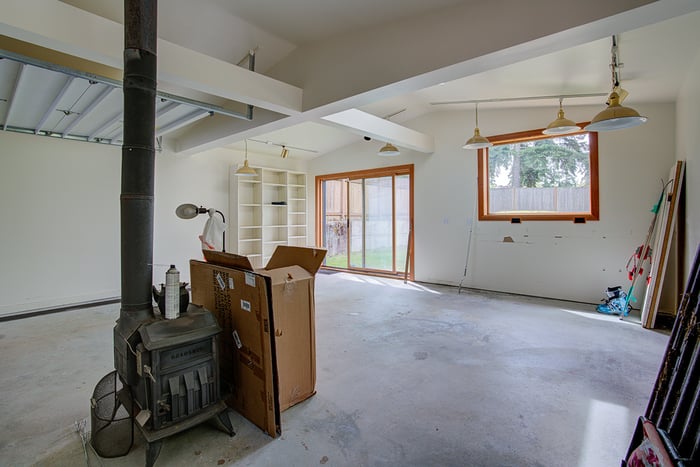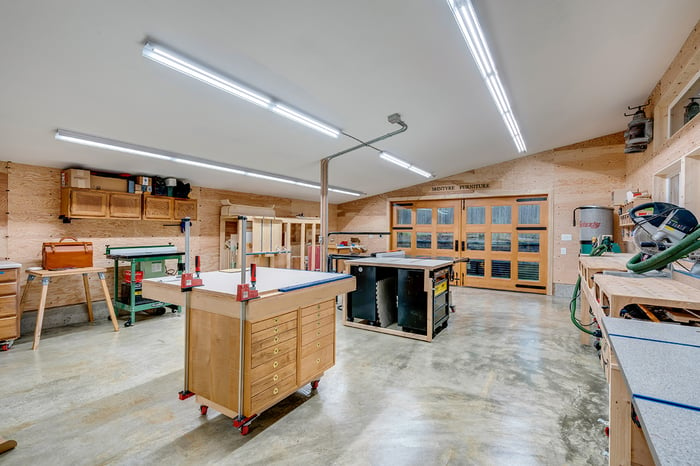 Schedule a Discovery Call
Request a free virtual consultation and discover how you can turn your dreams of building a new home office, workshop, studio space, or ADU into reality.