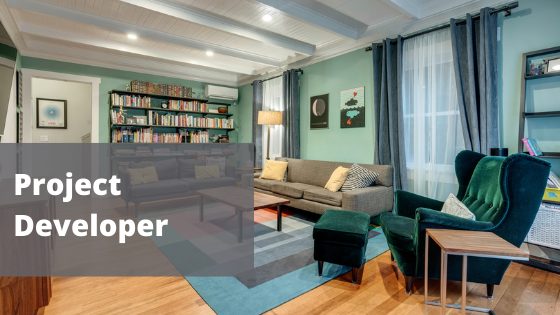 Project Developer
Last updated on March 15, 2023
Are you an experienced Residential Construction Project Developer looking for a company who believes in investing in its people? Are you searching for a team you can be proud to be a part of? Do you thrive in a sales and customer service role? Are you a strong leader who has the drive to meet deadlines and ensure team success? We want to know about you! Project Developers enjoy benefits such as options for remote work, competitive base salary + commission structure, 401k matching, paid vacation and holidays, health benefits and more!
ABOUT OUR COMPANY:
Better Builders is a well-established, successful, and Award-winning residential Design/Build company in the West Seattle neighborhood. We are a close-knit team, who are authentic, supportive, accountable, friendly, results-oriented, talented, and highly skilled. Learn more about our company on our website: betterbuilders.com.
Our core values: Integrity, Teamwork, and The Golden Rule
ABOUT THE POSITION:
Our ideal Project Developer candidate would share our values and have experience in sales relevant to Residential Remodeling, New Home Construction, Design, and background in Home Building Project Management. Sales activities will take place within the service area of Better Builders, a 25-mile radius from our office in West Seattle.
The Project Developer is responsible for overseeing the sales cycle of multiple projects at a time. The PD will report directly to the Sales Manager and will interface with the Design, Estimating, Production, Finance, and Marketing Departments.
The PD is often the first person to meet our clients and therefore must adhere to our culture and have Better Builder's and our client's best interest at heart. The Salesperson must sell the types of projects that are a good "fit" for the company and Homeowners While maintaining our design criteria.
JOB RESPONSIBILITIES INCLUDE:
Responsible for selling remodeling projects to homeowners that meet their needs, represent value to them and generate profit for the company.
Demonstrate selling skills and product knowledge to present Better Builders in a professional manner using the companies' adopted sales approach tactics and strategies of the Sandler Training program.
Complete understanding of the sales process, pricing, and proposal models.
Create and conduct effective proposal presentations.
Sell consultatively and make recommendations to prospects and clients of the various solutions Better Builders offers.
Coordinate sold design/build projects with Design Department. Work with Design & Production teams and client to ensure smooth transition to construction.
Responsible for sourcing and developing client relationships and referrals.
Responsible for identifying and building effective centers of influence and network with other professionals to maximize revenue.
Develop a database of qualified leads through referrals, telephone canvassing, face to face cold calling on homeowners, email, and networking.
Maintain knowledge of industry trends and new products.
Adheres to all company policies, procedures, and business ethics codes.
Participate in regularly scheduled meetings such as Company, Staff, Production, Design and Marketing.
Assist annually in the development of business and marketing plans to meet or exceed sales quota.
Follow company SOPs with consistent, timely and accurate submission of required administrative paperwork.
CUSTOMER SATISFACTION RESPONSIBILITIES:
Conduct pre-construction conferences involving the clients, project manager and Production Manager
Weekly communication with the clients about the status of their project
Get answers to clients' questions and concerns in a timely manner
QUALIFICATIONS AND SKILLS
Fluency in reading, writing, and speaking English
Excellent and creative written and oral communication skills and interpersonal relationship skills
3 years sales experience related to home construction.
Proficient use of technology (laptop, iPad, and Microsoft applications) for daily job and administrative tasks
Exceptional time management and ability to meet deadlines
Excellent organization skills and ability to work independently
Positive attitude and self-motivating
Ability to easily comprehend and communicate verbal instructions
Ability to think on your feet and creatively problem solve
Knowledge of common and cutting edge home décor and building products
Preferred: familiarity with construction documents and estimating
Preferred: familiarity with interior design and architectural processes
BENEFITS
Accrued 2 weeks paid vacation, approximately 9 holidays, accrued sick leave
Medical insurance with 75% of premiums paid by Better Builders
Additional discounted life/disability/accident insurance available
Company apparel
Better Builders LLC provides equal employment opportunities (EEO) to all employees and applicants for employment without regard to race, color, religion, sex, national origin, age, disability, or genetics. In addition to federal law requirements, Better Builders LLC complies with applicable state and local laws governing nondiscrimination in employment in every location in which the company has facilities. This policy applies to all terms and conditions of employment, including recruiting, hiring, placement, promotion, termination, layoff, recall, transfer, leaves of absence, compensation, and training.
Job Type: Full-time
Salary: Base Salary + Commission
Education:
Bachelor's (Preferred)
Experience:
Sales: 3 years (Preferred)
Residential Remodeling: 1+ Years
License:
Certificate of Insurance (Required)
Driver's License (Required)
Work Location:
Main office in West Seattle
Options for hybrid work environment
To apply, please email a cover letter and resume to contactus@betterbuilders.com