Seattle Basement Remodeling
Does your home have an unfinished basement? Partner with Better Builders to transform your untapped basement square footage into a functional and beautiful space!
Finishing your basement will expand your living space at a much lower cost than other types of home additions. Not only is the project cost-effective, but it also increases resale value.
Basement Remodeling Ideas
Organize your kid's toys by finishing your basement into a playroom
Theater room for movie nights or sporting events
Build a game room to play pool or host poker matches
Set up a home gym and stop paying for costly gym memberships
Build a wet bar and wine cellar to proudly display your collection
Design an apartment suite for guests, the parents-in-law, or for intergenerational living
Create a functional and quiet space for a home office
Turn the basement into a multipurpose entertainment space or family room
Remodel your basement so that it has access to an outdoor space or patio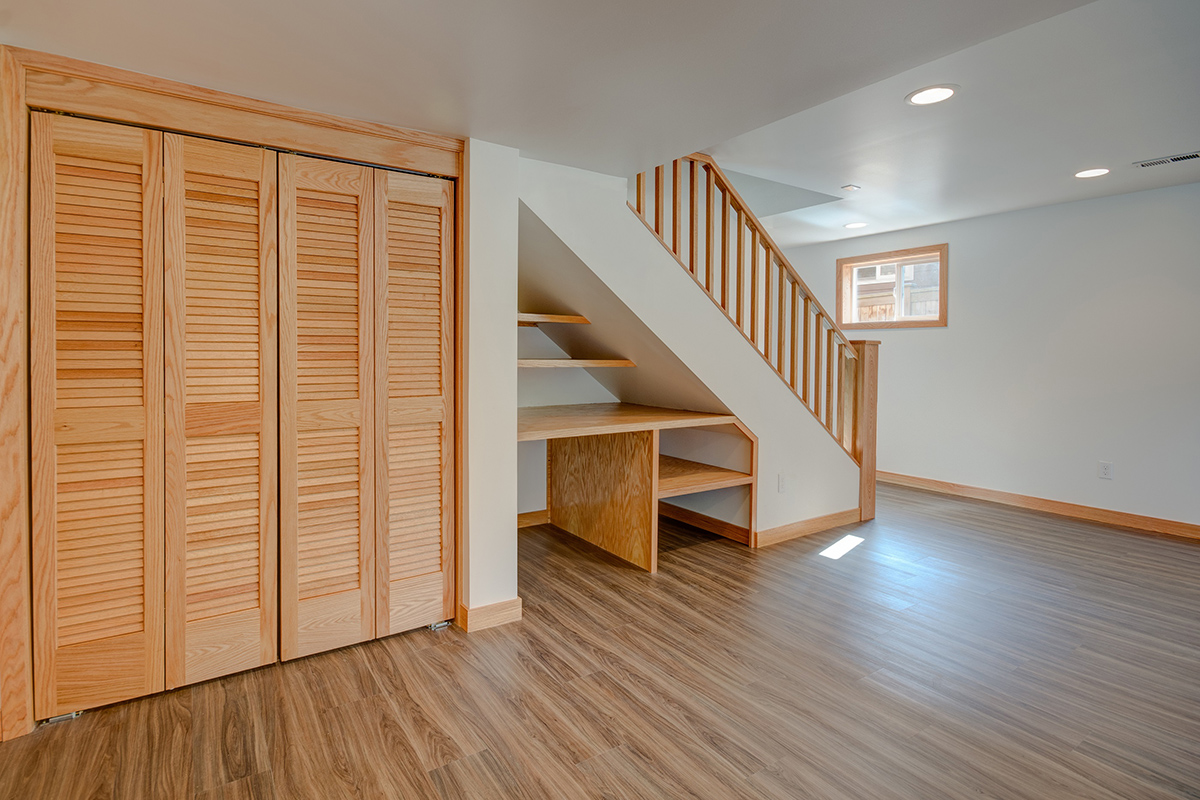 Basement Remodels Built By Better Builders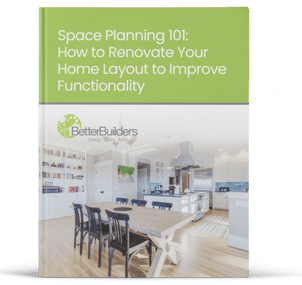 Download the eBook
Space Planning 101: How to Renovate Your Home Layout to Improve Functionality
4 Frequently Asked Questions About Basement Remodeling
Q: What would the process look like to remodel my basement?
Deciding how to finish your basement can be overwhelming. Discover how the Better Builders process makes basement remodeling as smooth and stress-free as possible. Take a look at the Better Builders process.
Q: Will renovating my basement add value to my home?
Renovations or finishing a basement does add value to your home. While a basement space isn't worth as much as an equivalent space on the ground floor in most cases, in-law suites and similar uses of your basement substantially increase the base value of your home and its appeal to buyers.
You'll also reap benefits yourself from the added space or possible secondary benefits like improved insulation affecting your home's energy costs.
Q: What type of flooring is best in basements?
Most experts recommend harder, more resilient flooring options for basement floors for several reasons. Under the best circumstances, keeping a basement as dry as your ground floor can be difficult due to issues of humidity, which makes carpeting riskier.
If a pipe bursts in your home or your basement ever leaks during a storm due to drainage or sump pump issues, resilient flooring will help minimize damage. Of course, you can ultimately choose any flooring you like — just know the risks and take steps to alleviate them where possible.
Q: Should a finished basement match the rest of my house?
Yes, and the key to making your basement feel like a cozy part of your home is often lighting-related. You can make a beautiful basement with every surface finished just like the rest of your home, but lighting is what can bring it all together.
If windows aren't an option for your basement, a thorough plan for warm, inviting lighting is even more important — and if you do have windows in your basement, making the most of them in combination with other lighting can go a long way.
Book a Call to Discuss Your Basement Renovation Ideas & Goals
Request a free virtual consultation and discover how you can turn your home renovation dreams into reality.