We Service the Seattle Area
Does your home have an unfinished basement? Then you're lucky — this valuable space hidden beneath the rest of your house is a blank slate with endless possibilities!
If you're eager to turn this untapped square footage into a functional, beautiful area for your family to enjoy, reach out to Better Builders. We can help your basement achieve its full potential, no matter how you plan to use it.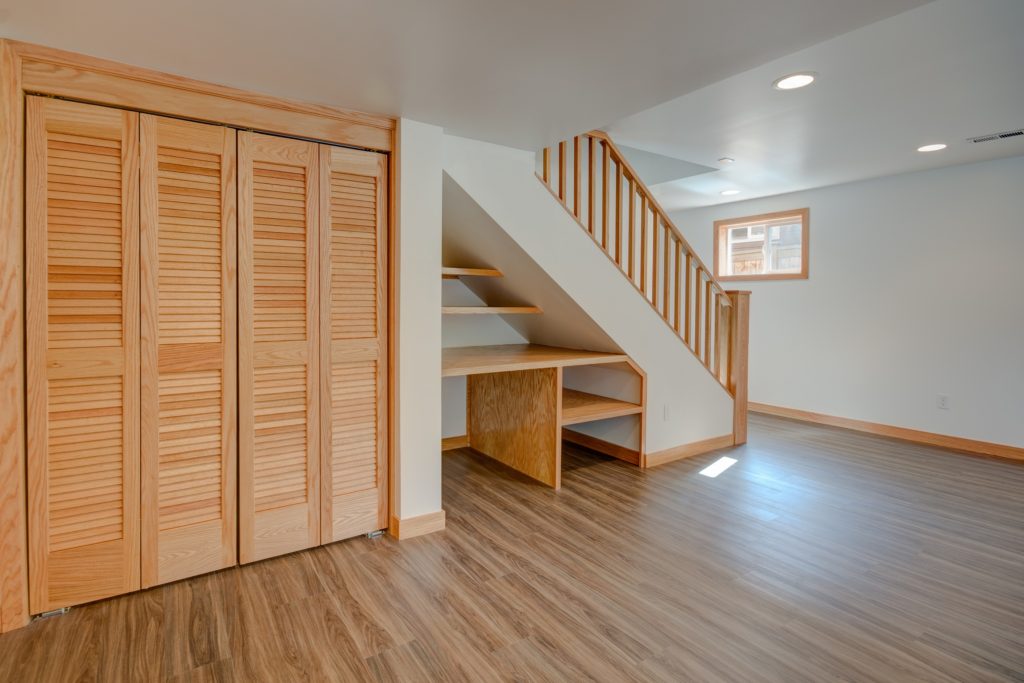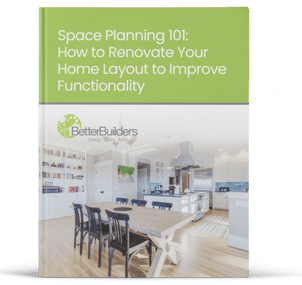 Download the eBook
Space Planning 101: How to Renovate Your Home Layout to Improve Functionality
Put Your Basement to Good Use
Finishing the basement expands your living space at a much lower cost than other types of home additions. Not only is the project cost-effective, but it also increases resale value if you move someday. What will you do with all that new square footage? Here are some of the most popular ways to utilize a finished basement:
Build a playroom

to eliminate the toys strewn around the living room.
Put in a home theater

complete with custom seating and a projector.
Construct a "man cave"

where you and your buddies can watch sports, play pool, and have poker matches.
Set up a home gym

and stop paying for costly gym memberships.
Build a wine cellar

to display your expanding collection proudly.
Design an apartment suite

for the parents-in-law.
The Basement Remodeling Process
Finishing your basement can be an overwhelming undertaking. Teaming up with Better Builders is a wise choice because we make the process as smooth and stress-free as possible. Here's what to expect:
1. Designer Interview: We hold an in-person or virtual meeting to discuss what you have in mind for your basement remodel.
2. Project Estimates: We compile a design proposal, which includes estimated lead times for services rendered.
3. Site Measurement: We carefully measure your basement to ensure our designs and drawings are accurate.
4. Schematic Design: We stick to the saying "form follows function," which means we develop a functional design that incorporates your aesthetic preferences.
5. Design Development: We hash out every last detail, from the dimensions and placement of built-in furniture to the flooring material and wall color. As such, this is the lengthiest step in the design process.
6. Construction Drawings: We create computer-aided design (CAD) drawings so you can visualize how your finished basement will look. We also present our designs to the production team and city permitting offices to ensure we have covered all our bases.
7. Pricing and Estimation: We typically work on a fixed-cost basis, pricing out your material selections and giving you an all-encompassing price at the end of the design process. Once you sign the agreement, construction can begin.
Why Choose Better Builders?
Before you invest your time, money, and energy into finishing your basement, make sure you have chosen the right design/build firm in Seattle for the job.

Here are the qualities that set Better Builders apart:
We tailor our services to provide high-quality results.
We place a strong emphasis on customer satisfaction.
We are completely transparent and provide open communication.
We are licensed, insured, and have an A+ rating with the Better Business Bureau.
We strive to build client relationships that last a lifetime.
We offer a five-year craftsmanship warranty.


Transform your basement from damp and dreary to fabulous and functional with help from Better Builders! We are caring, trustworthy, and passionate about building beautiful homes. Trust our knowledgeable, hardworking team to design and build a finished basement you can be proud of.
Frequently Asked Questions About Basement Remodeling
Q: Will renovating my basement add value to my home?
Renovations or finishing a basement does add value to your home. While a basement space isn't worth as much as an equivalent space on the ground floor in most cases, in-law suites and similar uses of your basement substantially increase the base value of your home and its appeal to buyers.
You'll also reap benefits yourself from the added space or possible secondary benefits like improved insulation affecting your home's energy costs.
Q: What type of flooring is best in basements?
Most experts recommend harder, more resilient flooring options for basement floors for several reasons. Under the best circumstances, keeping a basement as dry as your ground floor can be difficult due to issues of humidity, which makes carpeting riskier.
If a pipe bursts in your home or your basement ever leaks during a storm due to drainage or sump pump issues, resilient flooring will help minimize damage. Of course, you can ultimately choose any flooring you like — just know the risks and take steps to alleviate them where possible.
Q: Should a finished basement match the rest of my house?
Yes, and the key to making your basement feel like a cozy part of your home is often lighting-related. You can make a beautiful basement with every surface finished just like the rest of your home, but lighting is what can bring it all together.
If windows aren't an option for your basement, a thorough plan for warm, inviting lighting is even more important — and if you do have windows in your basement, making the most of them in combination with other lighting can go a long way.
Book a Call to Discuss Your Basement Renovation Ideas & Goals
Request a free virtual consultation and discover how you can turn your home renovation dreams into reality.