Top-Rated Seattle Kitchen Remodeling
Design a Dream Kitchen
That Complements Your Lifestyle
The kitchen is often referred to as the heart of the home. Family meals, cooking with loved ones, and somehow every group gathering ends up in the kitchen. This high-traffic space needs to be able to handle it all with function and style.
At Better Builders, we understand that a kitchen remodel or addition is a big investment. For this reason, we are devoted to working with you to design and build kitchen spaces that are not only aesthetically pleasing but also fully functional.
We design for your lifestyle and accommodate the diversity of your household – all the while thinking of sustainability for the future.
Kitchen Remodels Photo Gallery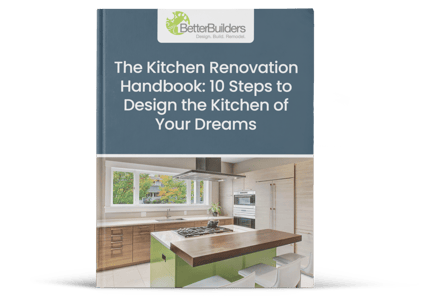 The Kitchen Renovation Handbook:

10 Steps to Design the Kitchen of Your Dreams
10 Steps to streamline decision-making
How to get started with a kitchen renovation
What to look for in a contractor
Kitchen Remodeling FAQ
Q: How long does a kitchen remodel take?
If you're only replacing the appliances, fixtures, and finishes, a kitchen remodel may take two to three weeks. However, if you're changing the kitchen layout, your project will involve installing new plumbing, electrical, and gas services. In this case, the renovation could take three to five months.
For an in-depth look into the remodeling process read the article, "What Does a Typical Timeline Look Like for a Home Renovation?"
Kitchen remodels are unique because they require a great deal of coordination between electricians, plumbers, carpenters, and other subcontractors. For instance, the sink installer must wait for the countertops to go in, and the countertops can't be done until the cabinets are installed. That's why it's important to work with a professional kitchen remodeler who can coordinate everything effectively, keeping the project on time and within budget.
Q: Can I use my kitchen during a remodel?
This depends on the extent of your renovation. If you're making relatively minor changes, you might be able to work around them. However, in most cases, your kitchen will be out of commission for at least a few weeks.
Rather than eating out every night, you can save money by setting up a temporary kitchen in another room with a sink, such as a garage, basement, or utility room. Set up folding tables for small appliances and to use as a work surface. If you have a barbecue, use it to prepare meals during your kitchen remodel. Otherwise, a camping stove is a great choice. You may also want to invest in a minifridge for your temporary kitchen, where you can store perishables and leftovers.
Q: What is the process for a kitchen remodel?
We have leveraged our years of experience and industry relationships to develop a streamlined process. Learn how the Better Builders process will elevate stress that often comes from beginning a home remodel or new home build.
Book a Call to Discuss Your Kitchen Remodeling Ideas & Goals
Request a free virtual consultation and discover how you can turn your home remodeling dreams into reality.