An ADU is known by many names; The "backyard cottage," mother-in-law suite, guest house, apartment, etc. These buildings have become increasingly popular and sought after by many homebuyers in the greater Seattle area. Mayor Jenny Durkan signed legislation in 2019 to remove regulatory barriers and make it easier for property owners to create accessory dwelling units (ADUs) in Seattle's single-family zones.
What is an ADU and a DADU?
An ADU or Accessory Dwelling Unit is a term defined by government officials as additional living quarters on single-family lots that are independent of the primary dwelling unit. It is a place that includes all the necessities for living, such as a kitchen, bathroom, heat, electricity, running water, and a bedroom, all with a separate exterior entrance from the primary home.
These spaces can be used to house family members that want privacy, long-term out-of-town guests, or as a rental unit. The term ADU is most often used to refer to a space that is part of the main building, like a basement apartment, but can also refer to any unit that can stand on its own as a home on the residential property.
If the structure is detached from the main living structure on the property, it is referred to as a DADU or Detached Accessory Dwelling Unit. A small stand-alone house built behind the home is often called a backyard cottage unofficially. You may also see them built as a loft on the second floor of a detached garage.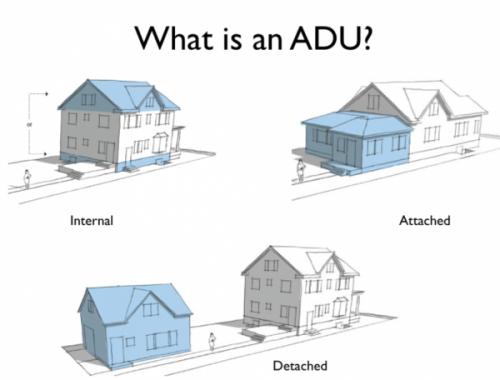 There are many benefits to choosing an ADU or DADU. Read more about each benefit here.
Seattle Adopts Significant Changes to Accommodate ADUs & DADUs
In 2019, Seattle made a significant change to its regulations regarding ADUs & DADUs to address the city's housing crisis. If just 5% of eligible lots in the city build ADUs, it will create about 4,000 housing units. This 2019 change allowed for two ADUs on some lots in single-family zones. It also increases the maximum size of a backyard cottage, lessens parking requirements, lowers lot size requirements, and other regulatory changes intended to encourage ADU construction.
Seattle launched a new ADUniverse website in September 2020. ADUniverse features a gallery of pre-approvedDADU designs, a step-by-step guide to the ADU building process, and tools to help identify the feasibility of adding an ADU to your property.
They have pre-approved designs created by local designers and architects. These ten building plans offer a faster, easier, and more predictable permitting process for creating a DADU. One challenge that comes with this option is that these plans come with an estimated cost to build. In many cases, this pricing is based on low-end materials and labor and will usually not align with a building proposal given by a quality builder/contractor. It is also important to know that any changes to these plans, even something as small as relocating a window, may require revised drawings and make you go through the lengthy permit process again.

ADU Requirements
Here is a short list of principal regulations in Seattle to consider when determining if an ADU/DADU is right for your property. Regulations change with each type of zone, city, and county that a property is in, so it is crucial to know the local laws. Additionally, there are many more regulations not listed here, and they change regularly. It is critical to check with your local jurisdiction and work with a licensed contractor, or a zoning official to determine if your plans are within regulation.

Lot size: there are specific requirements for lot size to be able to accommodate an ADU within the property's setbacks.
Cottage size: there are restrictions on how large the footprint of your accessory dwelling unit can be. If you have a large lot size, it's possible to build 2 units, but both must be a specific size.
Codes: space must meet all current building codes that a regular house would need to meet.
Parking: there must be one off-street space for the backyard cottage.
Work With a Trustworthy Seattle-Area ADU Builder
Planning your ADU/DADU can be an extremely complicated process and it's advised to seek help from a builder who has constructed these spaces before and knows how to navigate the rules and regulations.
You should always work with a builder who has your best interests in mind – even if that ultimately means they advise you to take a different route with your project. A quality contractor will help you figure out what you want while navigating things like city zoning codes, building setbacks, site feasibility, plan assemblies that meet (or exceed) the energy code, and prepare documents for a permit-ready submittal and a site plan.
To learn more about planning a successful home renovation, or building an ADU/DADU in the greater Seattle area, download the eBook, "Space Planning 101: How to Renovate Your Home Layout to Improve Functionality."