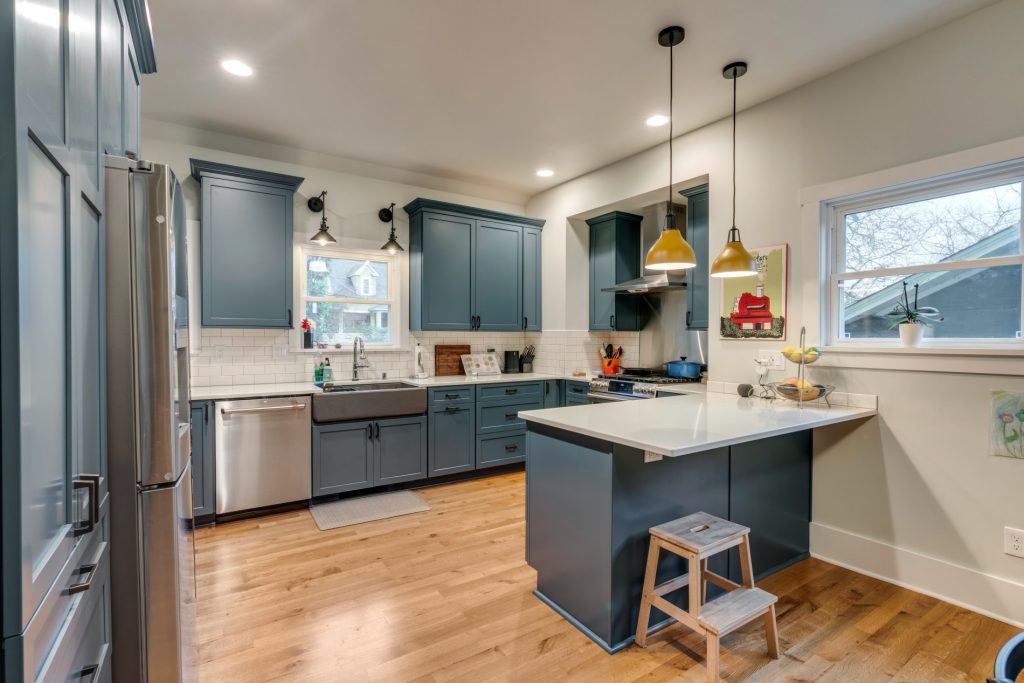 Is your family growing? Do you love hosting large gatherings at your home? No matter the case, cooking for more people means you need more counter and storage space. If your tiny kitchen makes dinner prep stressful, it could be time for a kitchen addition.
Better Builders would be pleased to help you achieve your dream of having a spacious, luxurious kitchen. Our team can tear down interior walls, bump out exterior walls, and borrow square footage from nearby rooms to make your kitchen larger and more functional.
Ready to begin planning your kitchen addition in Seattle, WA? Contact Better Builders to request a free virtual consultation today.
When To Enlarge vs. Remodel Your Kitchen
If your kitchen is cramped and poorly configured, putting in new fixtures and finishes may not be enough. You might also need to enlarge the kitchen rather than simply remodel it to get the features and functionality you crave.
Of course, an addition can include elements of kitchen remodeling — such as replacing the countertops, cabinets, and flooring — but most importantly, an addition increases the square footage of the space. Here are some kitchen addition projects that may interest you:
Cabinetry extension: Perhaps your formal dining room gets little use, while the adjacent kitchen feels overcrowded. You can double the size of your kitchen by tearing down the wall and extending the cabinetry.
Island addition: By bumping out the kitchen walls, you can make space for the island you've always wanted. This addition provides much-needed seating, storage, and counter space.
Eat-in kitchen area: Do you wish you had a breakfast nook where your family could slow down and start the day together? Maybe you want a place for the kids to do homework while you cook dinner. Either way, the extra space from a kitchen addition can create the functional area you desire.
Walk-in pantry: You'll have plenty of space to store food and small appliances when you convert that unused kitchen corner into a walk-in pantry.
Layout reconfiguration: Pushing out the walls might make you realize your kitchen would function better if you altered its layout. Better Builders can design and implement the reconfiguration you need to maximize your kitchen's usability.
Benefits of Kitchen Additions
Consider the many ways you can benefit from adding square footage to your existing kitchen:
Improve functionality: There's no question that a larger kitchen is more functional. Adding other advanced features — such as smart appliances and custom storage solutions — boosts this benefit even more.
Raise your property value: The kitchen is often the first thing home buyers look at. Your enlarged, functional kitchen is sure to garner attention and justify a higher asking price.
Enjoy greater accessibility: A kitchen addition that incorporates aging-in-place design keeps your home beautiful and functional even as your mobility needs change over time.
Why Choose Better Builders for Kitchen Additions in Seattle, WA?
If you're considering a kitchen addition, it's important to choose your home remodeler carefully. At Better Builders, we strive to offer the best client experience throughout the design/build process.
By bringing your project from concept to completion, we can make each phase as stress-free as possible. Here's what to expect, no matter what type of home addition or remodeling project you pursue with us:
The best quality and value for your investment
Sustainability incorporated into every design
Transparent pricing and design process
Licensed, insured, and A+ rated design/build team
Five-year craftsmanship warranty for your peace of mind
Contact Better Builders to begin your kitchen addition in Seattle, WA.