Seattle-Area Bathroom Remodeling
Design Your Dream Bathroom
with Better Builders
Whether you're looking to update an existing bathroom, redesign the layout, or build an entirely new bathroom addition, Better Builders will partner with you to custom-design a bathroom space that is functional and meets your needs.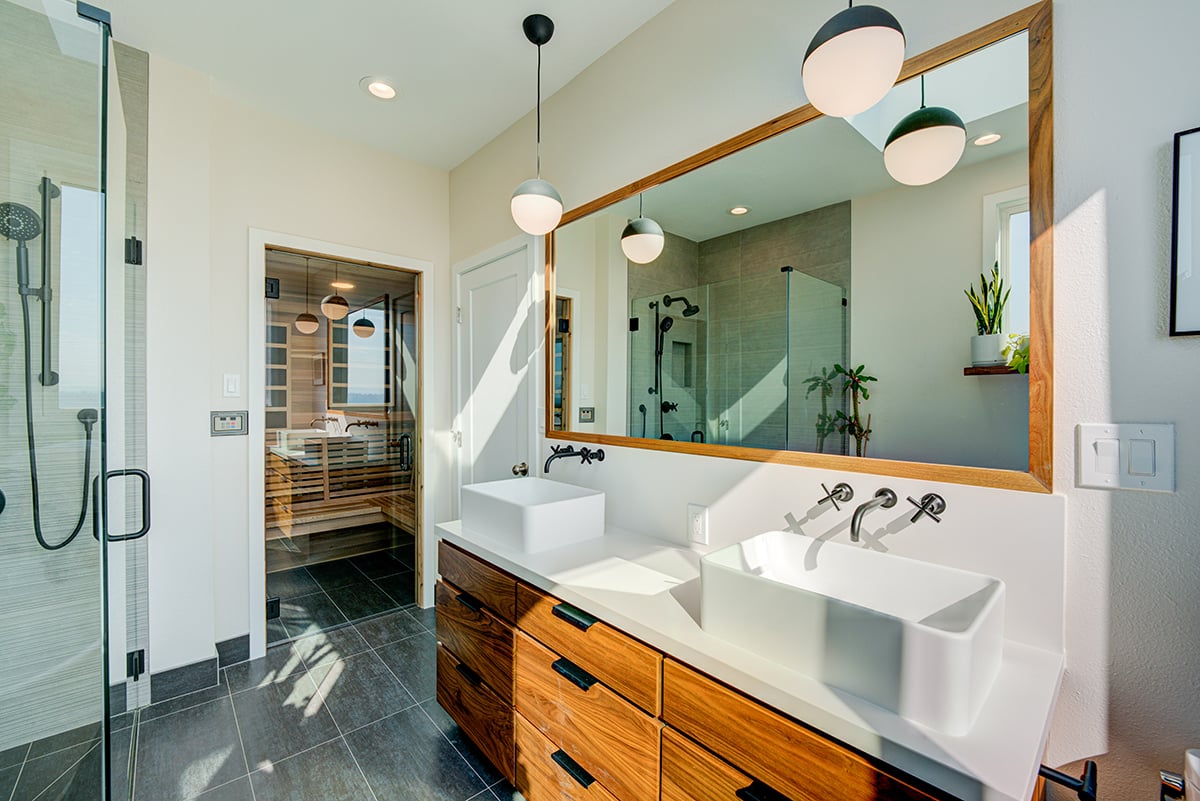 Bathroom Remodels Photo Gallery
Remodel, Upgrade, or Add a New Bathroom with Better Builders
Whether you're interested in re-organizing the layout of your bathroom, replacing the flooring, swapping out a seldom-used tub for a spacious shower, or creating a new spa-like ambiance, Better Builders has the experience and resources to make your ideas come to life.
We'll work with you to remodel the existing bathroom or design-build a whole new one from scratch. Whether in collaboration with your design professionals or offering our in-house design services, we'll team with only the most reputable companies and use quality products to create a clean, safe environment that reflects your personal style.
Frequently Asked Questions About Bathroom Remodeling
Q: Which bathrooms have the most value after a remodel?
A bathroom remodel can increase your home's value more than any other remodeling project. According to national figures, midrange bathroom remodels have a return on investment of nearly 73%. In some areas, the return can be much higher. A bathroom addition returns the most value, averaging 86%. Whether you decide to update an existing bathroom or build a bathroom addition, it will surely enhance your home and life.
Bathroom upgrades with the highest return are flooring, vanities, cabinets, showers, and tubs. The top three include updated backsplashes and floors with classic tiles or mixed materials, durable and beautiful slab countertops, and universal design elements like curb-less showers and wheelchair accessibility.
Other popular upgrades like steam showers, walk-in luxury showers, custom spas, and jet tubs don't add as much value, but if they're part of your dream bathroom vision, they can be valuable to your well-being and enjoyment.
Q: How long does it take to do a full bathroom remodel?
Estimating the time to remodel a bathroom is challenging, as many factors go into how long it will take. Full bathroom remodels take more time than cosmetic ones, as they often involve scheduling electrical and plumbing services. You may decide to change the layout, tear out walls, or move existing fixtures. If special materials need to be ordered, it may cause delays as you wait for delivery.
Discover how the Better Builders tried and true remodeling process takes the stress offof client decision-making.
Schedule a Call to Discuss Your Bathroom Remodel Ideas & Goals
Request a free virtual consultation and discover how you can turn your home renovation dreams into reality.