Servicing the Seattle Area
Over time and as our families grow and change, this essential room, originally designed for convenience and cleanliness, can be compromised by the wear and tear of everyday use.
While it may be a small space, remodeling a bathroom is no small task. From a fixture and finishes refresh to a whole new layout, we can help you create the perfect bathroom for your needs.
We can even create an entirely new bathroom, whether that means carving out additional space or bumping out from the home's exterior. Flooring, countertops, tile, fixtures, you name it, we have the design relationships in place to build around your desires.
A bathroom has many moving parts packed into a small footprint. Get the design right, and you'll spend time each day in a room where the small details come together to create a space as luxurious as it is functional.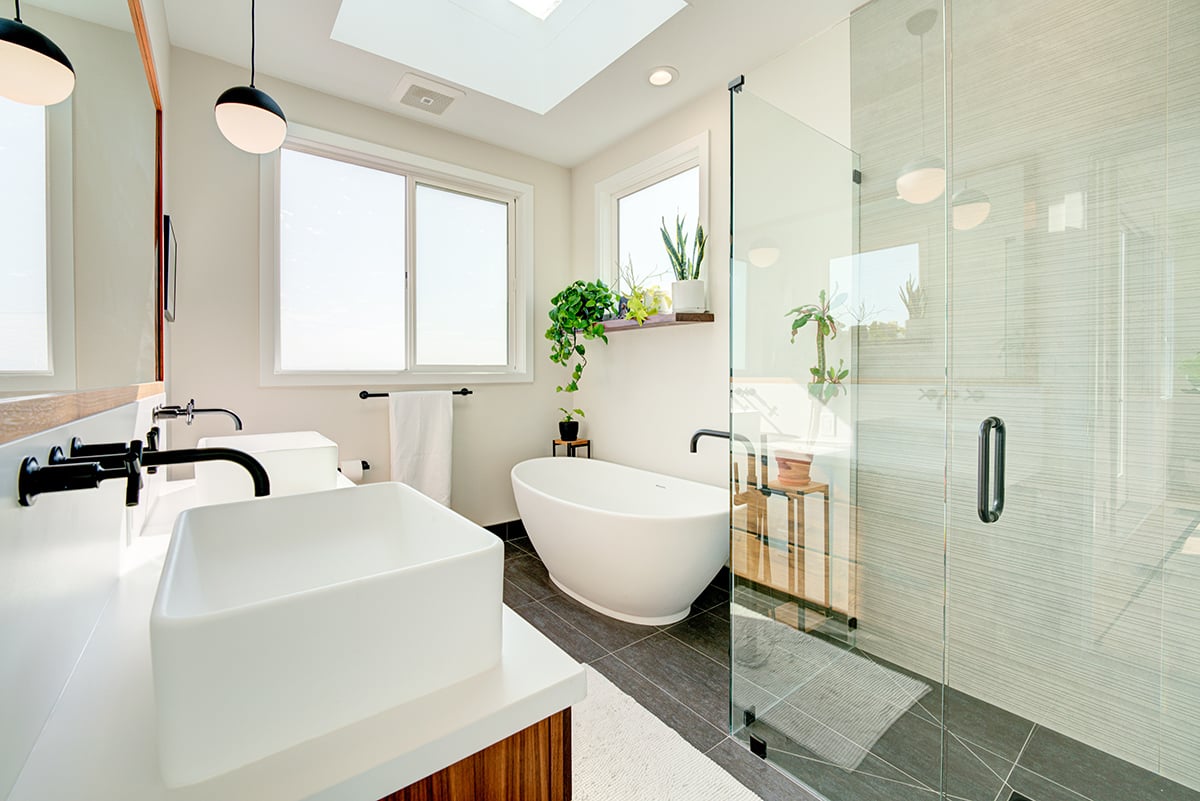 Remodel, Upgrade, or Add a New Bathroom with Better Builders



Whether you're interested in re-organizing the layout of your bathroom, replacing the flooring, swapping out a seldom-used tub for a spacious shower, or creating a new spa-like ambiance, Better Builders has the experience and resources to make your ideas come to life.
We'll work with you to remodel the existing bathroom or design/build a whole new one from scratch. Whether in collaboration with your design professionals or offering our in-house design services, we'll team with only the most reputable companies and use quality products to create a clean, safe environment that reflects your personal style.
The Better Builder Advantage Offers:
Personal care and assistance every step of the way: We develop a relationship with each client to fully understand what you're looking for and how we can achieve it.


Affordable service: When we build, we do so with your interests in mind and work within your budget.


Versatility in design: Whether you're looking for cabinets, countertops, basic or spa-like fixtures, or that specialty tile, Better Builders can resource, purchase, and install everything you need.


Build green: Our services are known for being "built green." This means we're committed to making sure you get a fantastic-looking home that's environmentally sustainable and built to last. As a Built Green member, we share the mission to promote environmentally friendly home-building methods and practices and to enhance our communities through leadership in sustainable development.


Forward-thinking: At Better Builders, we are hardwired to act on your behalf and in your best interest. We design and build for longevity and, in some cases, pre-plan this space for future mobility and access requirements.
Frequently Asked Questions About Bathroom Remodeling
Q: Which bathrooms have the most value after a remodel?
A bathroom remodel can increase your home's value more than any other remodeling project. According to national figures, midrange bathroom remodels have a return on investment of nearly 73%. In some areas, the return can be much higher. A bathroom addition returns the most value of all, averaging 86%. Whether you decide to update an existing bathroom or add an extra room, it will surely enhance your home and life.
Bathroom upgrades with the highest return are flooring, vanities, cabinets, showers, and tubs. The top three include updated backsplashes and floors with classic tiles or mixed materials, durable and beautiful slab countertops, and universal design elements like curb-less showers and wheelchair accessibility.
Other popular upgrades like steam showers, walk-in luxury showers, custom spas, and jet tubs don't add as much value, but if they're part of your dream bathroom vision, they can be valuable to your well-being and enjoyment.
Q: How long does it take to do a full bathroom remodel?
Estimating the time to remodel a bathroom is challenging, as many factors go into how long it will take. Full bathroom remodels take more time than cosmetic ones, as they often involve scheduling electrical and plumbing services. You may decide to change the layout, tear out walls, or move existing fixtures. If special materials need to be ordered, it may cause delays as you wait for delivery.
If you're working with an experienced and competent design/build firm, coming up with a ballpark estimate is more straightforward, as the design and construction details are handled under one roof.
Most full bathroom remodels take three to four weeks, with larger remodels taking up to six weeks to complete. Generally, you should plan on a month for a full bathroom remodel to be finished.
Schedule a Call to Discuss Your Bathroom Remodel Ideas & Goals
Request a free virtual consultation and discover how you can turn your home renovation dreams into reality.