Before you dive into the process of custom home building or remodeling, it's important to remember each step takes time. It is best practice to engage with a contractor as soon as possible. Better yet, work with a design-build team to manage the whole process for you. While the entire home renovation process takes time, a high-quality builder team will have a well-defined process clearly outlining why each step takes the time it does. Regardless of the size of your project, be prepared for it to take time. It's worth the wait to work with the right builder for you rather than the first builder available.
Building Relationships
As you begin the planning phase of your project, it is important to build trusting relationships with key partners, like your Project Developer and the design team. A good contractor will want you, as the homeowner, to understand the partnership is a relationship rather than a transaction and that you will be involved in every step along the way.
The introductory process should be both informative and centered around making sure it's a good fit for both you and the building team. The first steps may look like an introductory call, followed by a site visit and a designer interview. Investing time in relationship building up front will create a strong foundation for your project, ensuring communication style and personalities work well together.
During this time, the General Contractor also determines the feasibility (structural and budgetary) of the potential project based on the introduction to the design team. This is why it's so important to include your contractor early on (if you aren't going with a design/build company).
Any home renovation project is a lengthy process, so it's important to LIKE the team because, after all, it's a long-term relationship. You'll be connected for 5-7 years (depending on both the project and warranty duration).
Design Agreement
If you choose to work with a design-build firm, they are a one-stop-shop for your entire home renovation process. During the design phase of the project, you will see three or four key steps, most beginning with a schematic design.
1. Communication Preferences: At Better Builders, we like to kick off the design phase by providing a free DiSC assessment. We use the DiSC profile to assess your preferred communication style. This assessment helps our team to better guide you through the overall process.
2. Schematic Design: This step is where your dream becomes visualized into an initial drawing of the new floor plan.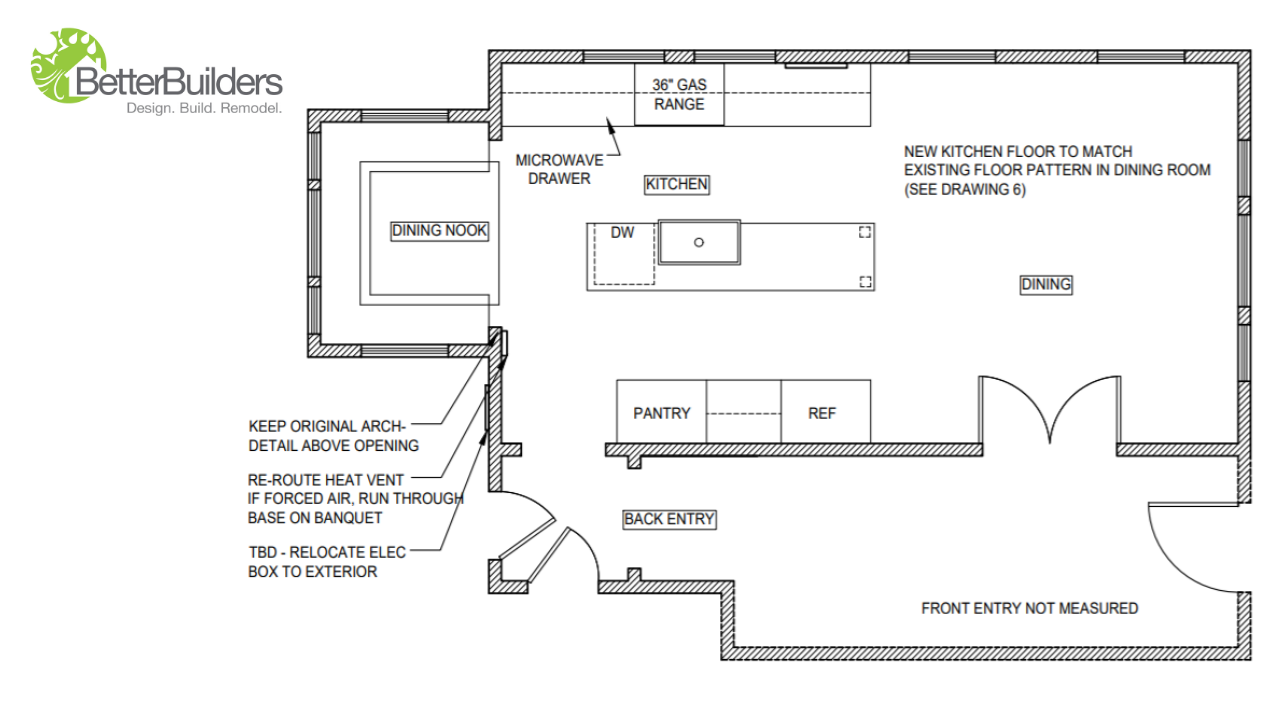 3. Design Development: This involves developing elevations, including interior details for construction, 3D renderings, and finish selections (sinks, faucets, bathtubs, countertops, cabinets, etc.).
4. Construction Documents: These documents may include structural engineering documentation (if necessary), surveys, geotechnical engineering, wetland delineation, and any necessary permits.
Pricing
There are two main types of agreements, fixed price or Cost plus, which are time-and-materials. "Time and materials" are essentially the hourly labor cost, plus the cost of materials with the builder's markup. A fixed price can be seen as a guaranteed price for your project; it's the builder's responsibility to do in-depth pricing work to create a detailed package with costs specific to your job. This method prompts the builder to get the costs correct up front, and it's their responsibility to complete the job within that number. Any builder working on a fixed price should include a line item for contingency in the budget. This can be used for unforeseen issues that arise or minor changes the homeowner may make along the way. If your contingency budget isn't used up by the end of the project, a high-quality building team should refund the money to you.
As part of acquiring the most accurate fixed cost pricing, high-quality contractors will host a 'sub party.' This is a meeting at the client's home that includes the project developer, estimator and design team, and trade partners that need to take a look at existing conditions to provide the most accurate cost for their portion of the work. This is also a time when the contractor and design team can problem-solve in advance of construction, working through any potential challenges of the design.
When speaking with multiple contractors about estimates for your project, beware of quotes that are much lower than others. You shouldn't sign an agreement that's just a bid because a lot of contractors give a price to get the job, whereas a good team would provide a price to finish the job well.
Transition from Design to Construction
When the design work is complete and the pricing has been compiled, it's time to review the scope of work, budget & design docs. In this review meeting, the project developer, estimator, and designer will sit down with the homeowner to review all of the details related to the project to ensure they are ready to move forward with construction. Once given the green light, the project developer will prepare a construction agreement.
Construction Agreement: Once the agreement has been signed and a deposit has been made, the wheels are set in motion for the transition from design to production, which includes internal and external handoff of the project.
If you're interested in our services and live in Issaquah, Burien, or any other Seattle metropolitan area, contact us today!
Project Handoff
There are two "handoff" meetings in the transition from design and pricing to production, internal and external. The internal handoff is where the project development team meets with production to review all the fine details of the project. At Better Builders, we start with the relationship-based details, like our clients and their specific needs, preferred communication style based on DiSC, lifestyle, and habits, and then we move into project-specific information.
The external handoff consists of the project developer and production project manager assigned to the project. These team members meet onsite for formal introductions to the homeowner and perform an onsite walkthrough of the project. This is the passing of the baton between project development and production.
A responsible builder will begin the handoff discussion by explaining any intricacies of the job that need to be highlighted to the production team. This instills trust between the homeowner and the production team.
The production team will likely have a list of questions to discuss with the homeowner. These questions could include names of pets and kids, details of any existing service providers like landscapers or cleaners, a list of people who have access to the home, friendly neighbors, and the maybe not-so-friendly ones. Conscientious builders will also give some kind of heads-up to the neighbors that work will be happening soon. At Better Builders, we put 'pardon our dust' door hangers on neighbor's houses to direct any questions or issues to the contractor rather than the homeowner.
Project Mobilization
As the production team gears up for construction to begin, they launch into a detailed preparation stage. This is where the schedule is written, long-lead time items are ordered, and site preparation begins.
An experienced contractor will streamline this process by having the schedule created so that the arrival of building materials/items coincides with the project's beginning. Detailed calendars, with consistent reviewing, ensure an efficient project schedule and that the homeowner isn't inconvenienced any more than they need to be.
Part of the project management schedule is getting trade partners' buy-in to the project and timeline. These relationships are why trusted and experienced contractors can offer fixed prices to clients and still be sustainable in their business because the process is extremely efficient and does not leave gaps between each step.
Common Project Timelines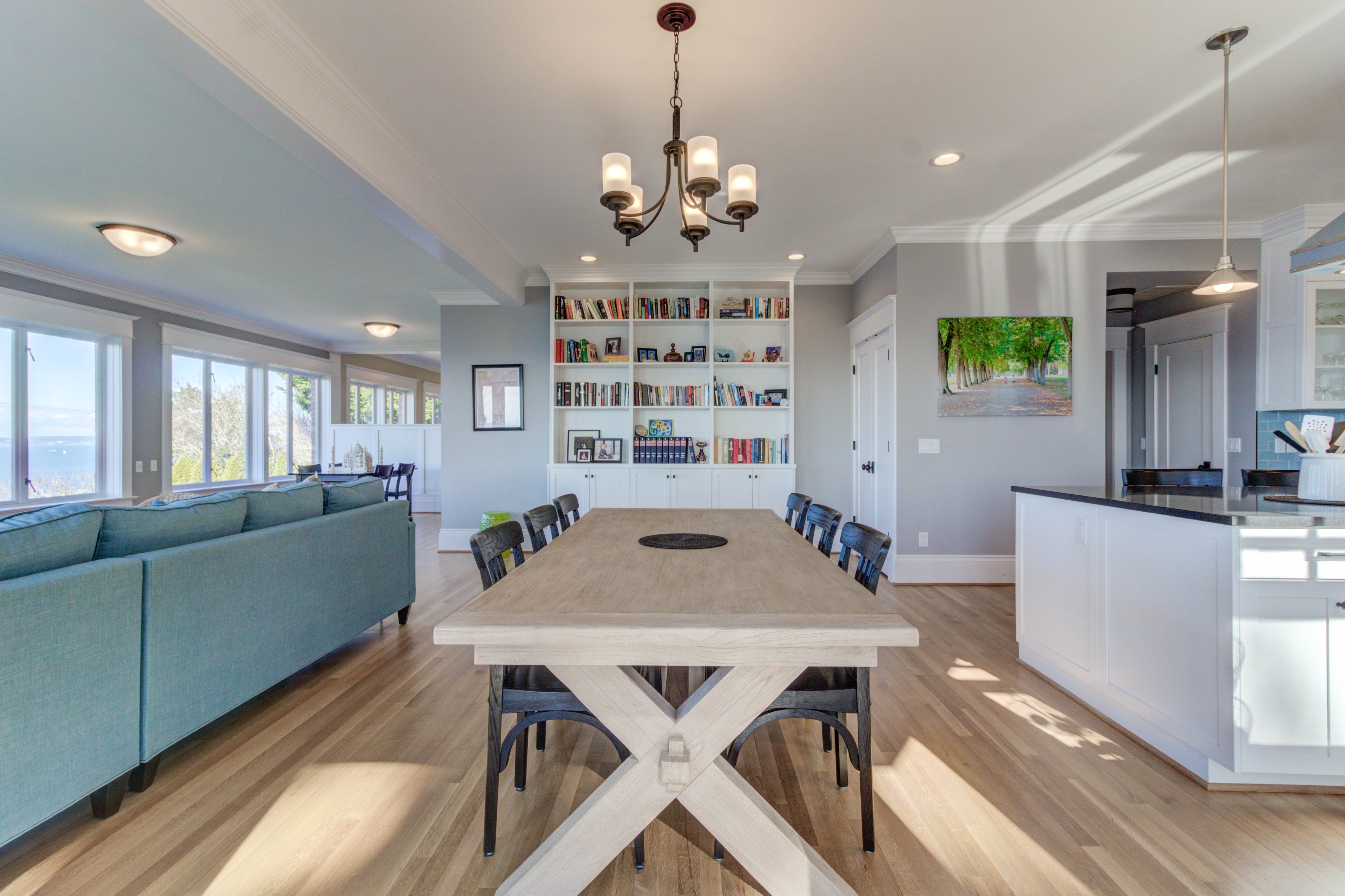 While most builders can provide an estimated average project timeline, it is important to remember that many variables may impact the duration of your build. Below are some common project types and estimates of the average construction duration:
Kitchen: ~10-14 weeks
Kitchen plus (expanding the kitchen into other rooms, half bath, take down walls): ~12- 18 weeks
Shared bath: ~8-12 weeks
En-suite bathroom: ~10-14 weeks
Finished basement (ADU): ~14-18 weeks
One-room addition with crossover work (incorporating it with the rest of the home): ~16-24 weeks
Whole-home renovation: ~6-12 months
New construction: ~12-24 months
Good Things Take Time
Doing all of this detailed preparation right takes time. A good contractor will have a documented methodical process and will help you to set your expectations of the timeline and tell you to enter the process with patience. You should look for a contractor that always acts as a trusted advisor and guides you through the process with consistency and care.
Discover how you can plan an efficient and successful home renovation project by downloading the eBook "The Homeowner's Guide to Planning a Remarkable Renovation."