Homeowners often underestimate how many decisions need to be made during a home renovation project. For example, there are approximately 150 decisions that need to be made for a full kitchen redesign. Every last detail must be considered, down to the most minute choices. It's very important to work with a design team who will help guide you in finding your unique design style.
To get started on your design journey, it's recommended for the client to create a digital vision board using platforms like Pinterest or Houzz. These collections should be full of images that the homeowner is drawn to and makes them feel good. Images can be more than photos of other homes they envy. Your design aesthetic can start more generally and hone in on your living environment later. If the client doesn't use technology, alternatives can be pulled from magazine clippings, furniture catalogs, paint catalogs, etc.
Few people can pinpoint their aesthetic by themselves, but everyone can explain what makes them feel good about an image or style. The point is that the first step is for the client to pick out many images to bring to the first meeting design meeting. Senior Designer with Housewarming, Amanda Kratochvil, says:
"I always encourage people to start with the "what" of their design style-what about this photo speaks to you? What is it about that style that makes you gravitate towards it? I can't tell you how many times I get told, "I have no idea what my style is", but once you look at all of your inspiration together your style becomes incredibly clear. It may be mostly one design style, but it also could be a nice mix of 3 or 4 sometimes more styles. It's all about how you bring the styles together that can really make your space not only a fabulous space, but something that really speaks to you and fits your lifestyle and personality."
Once you've curated what you think is your perfect inspiration collection, clean up the vision board and remove items that don't apply. Remember to think of every detail you possibly can. Even a detail as small as paint color will greatly impact the feel of the space.
Communicate What You Do and Don't Want
Once you have a clear picture of how you want to feel in your space, the designer will start asking questions related to materials. Do you prefer wallpaper or paint? High gloss or matte finish? Do you like the look of granite or marble better? What type of flooring material do you prefer?
Some homeowners may not have a clear decision on what they want, but they know what they don't like. This is where we uncover possibly bad experiences with certain materials in the past. For example, a homeowner may say, "we hate cleaning grout, and we don't want grout joints." Rather than ruling out tile altogether, your design team can educate you about how grout has come a long way, and you can choose larger tiles and new grout made from non-organic materials that aren't as porous and are easier to clean.
Designing Around a Centerpiece and Functionality
If the client has a 'must-have' design element they want to be included, it's important to communicate this early on so that the design team can create the space around the must-have element. Focal points could range from a luxurious bathtub in a primary suite, to a sentimental piece of art you want perfectly displayed.
It's also important for the client to keep an open mind about the process. Sometimes the centerpiece that the client wants isn't feasible for their budget or structure. However, coming with a centerpiece or specific functionality is a great place to start determining the big picture of the client's design style. Just about anything is possible, but that doesn't mean that it's possible within the homeowner's budget. At this stage rather than asking what you want the space to look like, a good designer will ask, "how will the space be used?" The answers to this question will help the designer design the space in a functional way.
The Design Board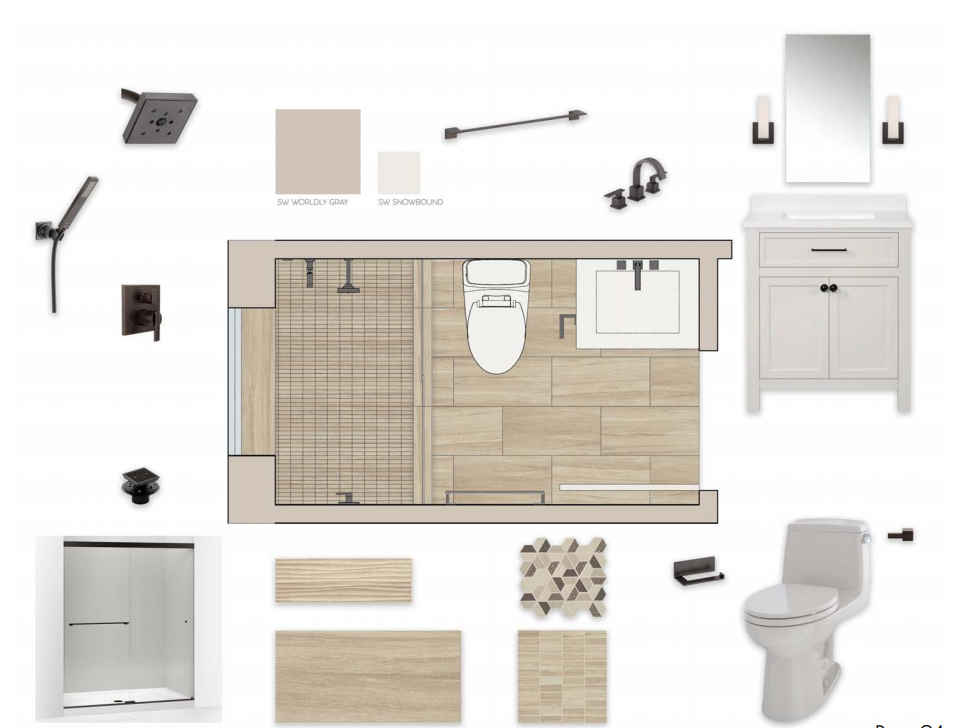 Based on the client's input from above, the designer will usually create 2-3 boards that include materials, built-ins, colors, fixtures and possibly large furniture pieces that can be interchanged. Based on the storyboards, the client will use these flat lays to narrow down the options into one design that perfectly reflects their aesthetic.
Again, what some would think is a small detail can make a big difference! For example, choosing a tile that you like is a good start, but the pattern and texture in which the material is installed are just as important to the design aesthetic as the material itself. It's also recommended that things like grout color are decided on after the tile is installed based on the lighting in the specific room. Colors change significantly in different spaces based on lighting whether it's natural, LED, or incandescent. Consider other details like electrical outlets; are the outlets installed in a kitchen on the backsplash or are they in the cabinet or plug-molding? The list of things to consider never ends.
All the Small Things
You aren't one-in-the-same, so why should your home be? Modern, Bohemian, Contemporary, or Craftsman - clients can have multiple design styles and it doesn't matter if there's a specific name attached. Small details matter and it's important you work with a team who can help pinpoint what all these details can be! It's important to have a designer who looks at the big picture and can create one cohesive design that meets the wants and needs of the client. You don't have to know exactly what you want, you just need to work with an experienced design/build team who can efficiently guide you through a well-defined process to extract your personal style.
Begin the process of planning your perfect home renovation project by downloading the eBook, "The Homeowner's Guide to Planning a Remarkable Renovation."