This week's blog, Green Home Building Ideas, is guest written by T-Square Properties.
Building a green home is no longer an "alternative;" it is now mainstream. Pollution is at an all-time high, resources are dwindling, and energy efficiency has never been more important. According to un.org, the world population is projected to reach 9.8 billion by 2050. As such, it's clear that we need to do more to boost the sustainability of the homes we live in, warns T-Square Properties.
If you came here looking for some green home-building ideas, then you have reached the right place.
Tip #1: Focus on water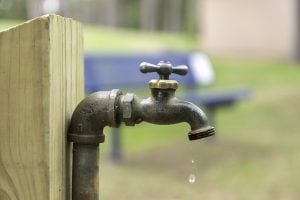 According to the EPA, the average American family wastes about 9,400 gallons of water every year, or 180 gallons per week, from household leaks. This amount of water is equivalent to the amount of water required to wash over three hundred loads of laundry.
With this in mind, you should take steps to eliminate or reduce such waste when building or renovating your home. Consider buying appliances and fixtures that save water, such as Energy Star-rated washers, tankless water heaters, and low-flow faucet aerators.
You may also want to consider capturing rainwater using gutters. When there was no running water, households usually used cisterns to collect run-off water. You can then use the rainwater to maintain landscapes, irrigate landscapes, and fill water features.
Tip #2: Use energy-efficient windows
Energy-efficient windows can help lower energy consumption, in turn lowering your impact on the environment. The U.S. Department of Energy estimates that you will be able to save anything between $101 to $583 by replacing single-pane windows in your home with energy-efficient ones.
Besides being more energy efficient, some energy-efficient windows can also help greatly reduce sound transfer between the inside and outside.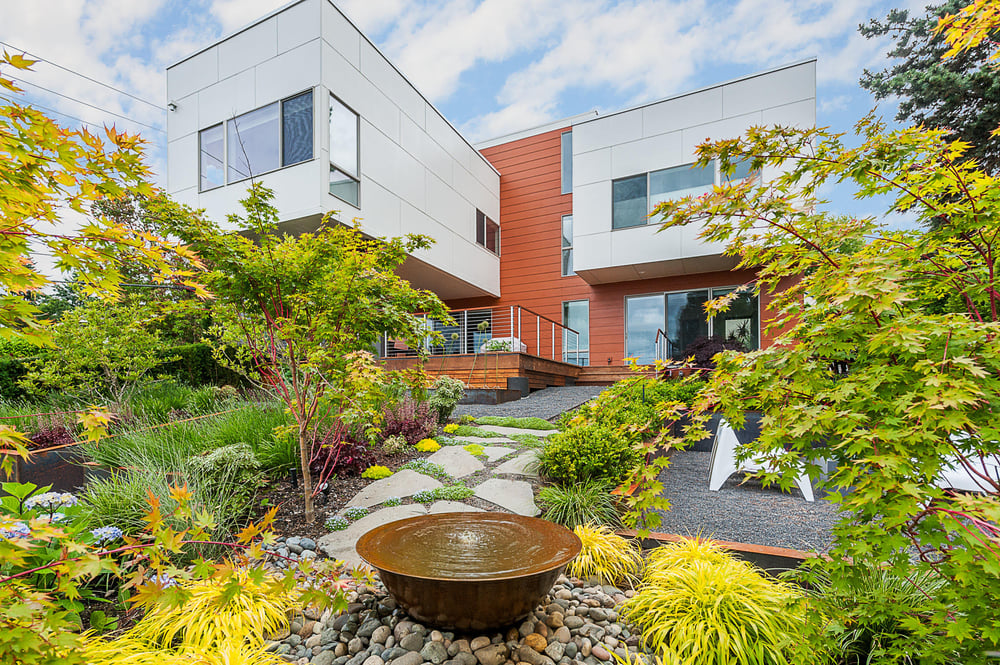 Tip #3: Use green developing strategies
It is advantageous to make the most of the surrounding landscape from the outset. This will help you enjoy easy and inexpensive lawn care. You should also consider including native plants in your landscape. Native plants not only require less water to grow but also help restore local biodiversity, like birds, butterflies, and bees.
And, if you have a negative slope, make sure to plant species like conifers on higher ground and water-loving willows in low areas.
Tip #4: Use sustainable building materials
Sustainable building materials are essential for greener buildings – and a healthier world. Flooring is an area where there are multiple options to choose from regarding environmental friendliness.
One such environment-friendly option is linoleum. Linoleum is not only eco-friendly and durable but can also be beautiful. It has a long average lifespan ranging from 25 - 40 years. What's more, it can be completely recycled at the end of life.


Tip #5: Consider using recycled materials.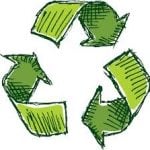 Ever wondered where old newspapers and blue jeans go? Well, your answer could be as close as your walls. There are many benefits of using recycled materials. For one, recycled materials are often cheaper than raw or fresh materials.
Total-fill insulation, for instance, performs much better than first-use insulation. This will enable you to save money over time. Soybean, wood pulp, wool, and cotton byproducts are a few of the materials you may find as a roll-on or spray-in insulation.
There are also many other recycled materials that you can use for green home building. Good examples include aluminum, recycled glass, and even soda cans. You may also want to discuss the possibility of using recycled plastic/wood composite or recycled steel with your builder.


Tip #6: Think of geothermal power
You need a substantial initial investment when it comes to geothermal power. However, once you have it, the energy you get is almost limitless. With geothermal energy, the earth itself becomes your heat sink.
Think of geothermal cooling and heating as a way to move heat rather than create it via combustion. Geothermal heating/cooling also referred to as ground source heating, uses the dirt under your house to heat and cool; no electricity is generated.
During the summer, your AC acts as a heat pump. It removes excess heat and dissipates it underground. And in the winter, heat moves from deep underground to your home's HVAC system.


Tip #7: Plan for solar power use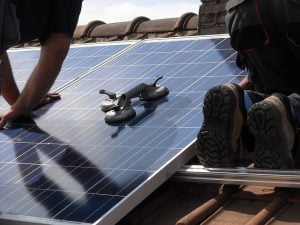 The sun is the ultimate source of clean, low-cost energy. When building your home, you have a unique chance of taking advantage of solar power in a way that owners of older properties don't.
And since solar power relies on the sun, you can take maximum advantage of the light by designing and positioning the panels in a way to get the best energy and efficiency. Being in the Seattle area, you may not think we get enough sun to make solar panels worth the investment. To get an idea of how impactful solar panels could be for your home, visit this link to solar-estimate.org. Here you can look up your exact location and find out how much sun your home gets on average and how much solar could save or cost you.
There you have it. T-Square's top 7 ideas you can use for your next build or renovation to decrease your environmental footprint and make your home more energy efficient.
If you're interested in learning more about building a home that is beautiful, functional, and environmentally friendly,
contact us
to get your project started!