We may be diving headfirst into winter, but now is the perfect time to start thinking about sunny days. Begin planning projects for sunshine-focused spaces now so that they're ready to enjoy when the warm weather returns!
This week's blog is an adapted guest publication from Ryan Smith with Redfin.
Adding a room full of sunshine to your property can add value to the home and increase your enjoyment of the space. For those with a green thumb, having a sunny, protected space to grow flowers, fruits, vegetables, or herbs is a great way to indulge in gardening. Plus, getting plenty of sunlight is important to your overall health.
You have many options to build an add-on to your home that allows you to be closer to nature. Sunroom, solarium, or greenhouse – which is the right one for you? There are a few key differences between these similar structures, so let's explore each before you decide.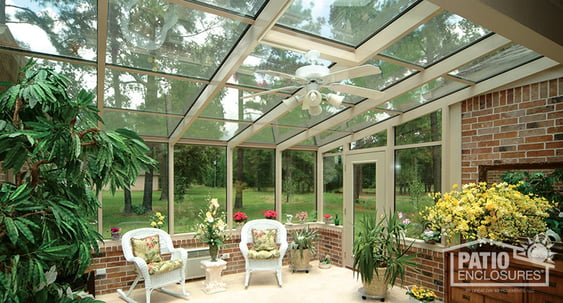 What Is a Solarium?
Photo courtesy of Great Day Improvements LLC
A solarium is an add-on to a house with both walls and ceilings enclosed in glass. The roof of most solariums is made from thick, curved glass, which allows rain and snow to slide off easily. The walls are entirely glass, usually made from tall, large-paned windows.

A solarium is intended to be used during all four seasons. Consequently, it has thicker glass than a sunroom would. The thicker glass has insulative properties that allow the sun's heat to warm the space even in the winter.

A solarium may also have retractable shades to help insulate against bitter colds or prevent overheating in the summer. However, due to how a solarium is constructed, the windows aren't intended to open. You'll get the sunshine from outdoors, but not any breezes or wildlife sounds.
Who Is a Solarium Best For?
The glass of a solarium needs constant preventative maintenance. The roof, especially, must be cleaned often and well-maintained to avoid drafts and leaks.
If you have a small space, a solarium allows the maximum amount of sunlight without taking up a lot of square footage. With the required upkeep, a solarium is a great option for those willing to dedicate the time and effort to maintain it.
What Is a Sunroom?
A sunroom is similar to a solarium in that it's an add-on to the main house, with large paned windows instead of walls. A sunroom is unlike a solarium because it has a roof constructed from the same material as the main home.
Sunrooms can be created by converting a covered porch into a glass-walled space. Often, the windows of a sunroom are intended to open. This allows a screened-in space that doesn't bar you from outdoor elements like a breeze or the sound of chirping birds.
Sunrooms can be used to grow plants, although, without the glass roof, placement can be trickier. A sunroom may not have as much insulation as a solarium, but the covered roof can provide significant protection from the elements.

Who Is a Sunroom Best For?
Sunrooms are better for people who don't want the upkeep of a fully enclosed glass space. The roof of a sunroom can be cared for like the rest of the house. The windows simply need to be checked for proper sealing.
For those converting part of their home on a budget, sunrooms are the best option, as they're more of a simple home remodel.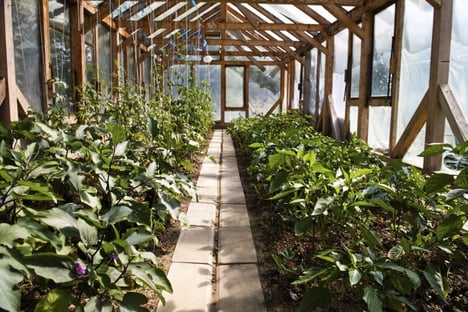 What Is a Greenhouse?
Essentially, a greenhouse is a plant room. However, these structures are uniquely designed and are typically created from a transparent material – usually glass. But a thick, translucent plastic designed for this purpose may also be used.
The purpose of a greenhouse is to create a sheltered environment that allows plants the greatest amount of sunlight while protecting them from the weather.
Different Types of Greenhouses
While most people think of greenhouses as glassed-in plant growing rooms (and this is true), there are two distinct types of greenhouses based on their use and production. Your choice is largely determined by how you plan to use the space.
Production Greenhouse
A production greenhouse is one that aggressively cultivates fruits, vegetables, and flowers. It may be larger than a hobbyist home greenhouse. It also might incorporate certain features to enhance the growing seasons and production from the plants inside. Certain electrical and HVAC features control the environment by regulating heating, cooling, lighting, and humidity.
These greenhouses may also have screening to take advantage of favorable conditions outside. Depending on the needs of your production greenhouse, you may also need a dedicated power source. This is especially true if you have delicate plants and uncertain power surges.
Production greenhouses are designed for optimum growth conditions for the plants inside and not necessarily for people's comfort. While you may be comfortable for a while inside the greenhouse, these buildings aren't designed for the comfort and relaxation of people.
Home Greenhouse
This small greenhouse is still a glass-walled plant growing room, but it is created both for growing plants and as a comfortable space for the homeowner.
The exterior construction of a home greenhouse is similar to that of a production greenhouse. It's made of glass or specialty plastic walls and ceiling. It has plenty of open shelving for plants and potting and typically has a concrete, packed earth, or wooden floor.
The difference is that a home greenhouse may not have the complex temperature and humidity controls that a production greenhouse does. While the temperature and lighting may have some controls, the space is designed for the hobbyist gardener to enjoy their passion in a relaxing space where people can socialize or sit quietly with a book.
Who Is a Greenhouse Best For?
A greenhouse is specifically designed for planting and cultivating. Some hobby gardeners may use their greenhouses to experiment with different types of plant breeding, whether at the home greenhouse level or more professionally using a production greenhouse.
More than any other type of sunny room, the type of greenhouse you decide on will largely involve your space and budget.
Getting Started on Your Sunroom, Solarium, or Greenhouse
The first step is deciding which of these three types of sunny rooms best suits your needs. Understanding how much maintenance you wish to do and what you'll be using your room for can help you narrow down the size and scope of your expansion.
Be realistic about your budget and expectations, and understand that the construction process may be time-consuming.
What Type of Builder Do I Need?
Your next step is to consult with a professional contractor, preferably one that specializes in home additions and outbuildings. Better Builders has extensive experience in home remodeling and additions and an extensive network of trade partners to meet all your needs.
Some big-box stores and online retailers sell small greenhouse kits, but be wary – these aren't for a beginner DIY project. Furthermore, you may need to meet certain building codes for placing a greenhouse on your property.
It's better to consult with a general contractor before assembling one of these yourself. If you want a production greenhouse, you'll need a contractor. You'll also need a licensed electrician to install all the systems the structure requires.
A sunroom addition can be completed by enclosing a porch or patio. These can usually be done by a general contractor. You must be aware of local building codes and be able to enclose the space with the right load-bearing walls safely. Contacting a building professional is the best way to go.
A contractor for a solarium should be highly qualified and have specialist knowledge. This is because of the difficulty of installing these add-ons to your home after it's built. Make sure you spend plenty of time interviewing your contractor choices. Don't hesitate to ask for references or view completed projects.
Better Builders can provide a list of questions and qualifications you should ask contractors about when completing the interview process. Please contact us if you're interested in those materials.
Whichever space you select, know that investing in your home's upgrades will likely add value and enjoyment for years to come!
Curious about how to get started? We've created an eBook to help you determine where to begin! Download, "The Homeowner's Guide to Planning a Remarkable Renovation."