Have you ever walked down a street and asked yourself, "why does that addition look the way it does? Was it a bad design, or does it look completely separate from the old home on purpose?"

No matter what architectural style your home is, an experienced builder will look at the design of the home holistically and match the overall style, not just focusing on their portion: the addition. Whether you're considering building up, down, or out, to put it simply, an addition is anything that adds square footage.
When it comes to any home renovation project, the first piece of advice is always to pick the right building team to work with. Especially for larger projects like an addition, there are many advantages to working with a design-build company.
When beginning the journey to a home addition there are tips and tricks the design team will use to get a better understanding of the homeowners' tastes and styles. Tools like Pinterest boards, images from Houzz, and vision boards can all be impactful in the early stages of design.
A high-quality designer will be able to draw good connections between the homeowner's taste/style and integrate it into the existing architectural style, even if they aren't necessarily the same. Creating a seamless integration of the new space into the existing home is a quality every good design build team should have.
Consider the Impact of the Addition to the Existing Design of the Home
Planning for a home addition means considering more than just the project at hand. Some of the existing house will be impacted, both internally and externally. Depending on the goals around the style or amount of space that's needed, the existing footprint of the house will also determine what type of addition is possible on your lot and the future curb appeal.
Building parameters like property setbacks and limitations of the existing lot will heavily impact the design direction of the addition. Commonly, people think of additions as going 'out' but additions can also go 'up' as a partial or full second or third story addition, or up with the addition of dormers. You can also add square footage 'down' by lifting the existing house and digging out a new basement for additional square footage.
Depending on the overall impact of the addition, there may be ways to preserve existing unique details through extensive renovation. For example, Better Builders worked with a client who had an old home undergoing a whole house remodel and full second-story addition. The homeowners had a unique request to preserve the original 1909 coffered ceiling and fir floors in the living room. This meant going to considerable lengths to protect these features when there was no roof or enclosed walls on the home! Through careful demolition and creative solutions during the build, we were able to preserve the original features to be a gorgeous feature in their new home.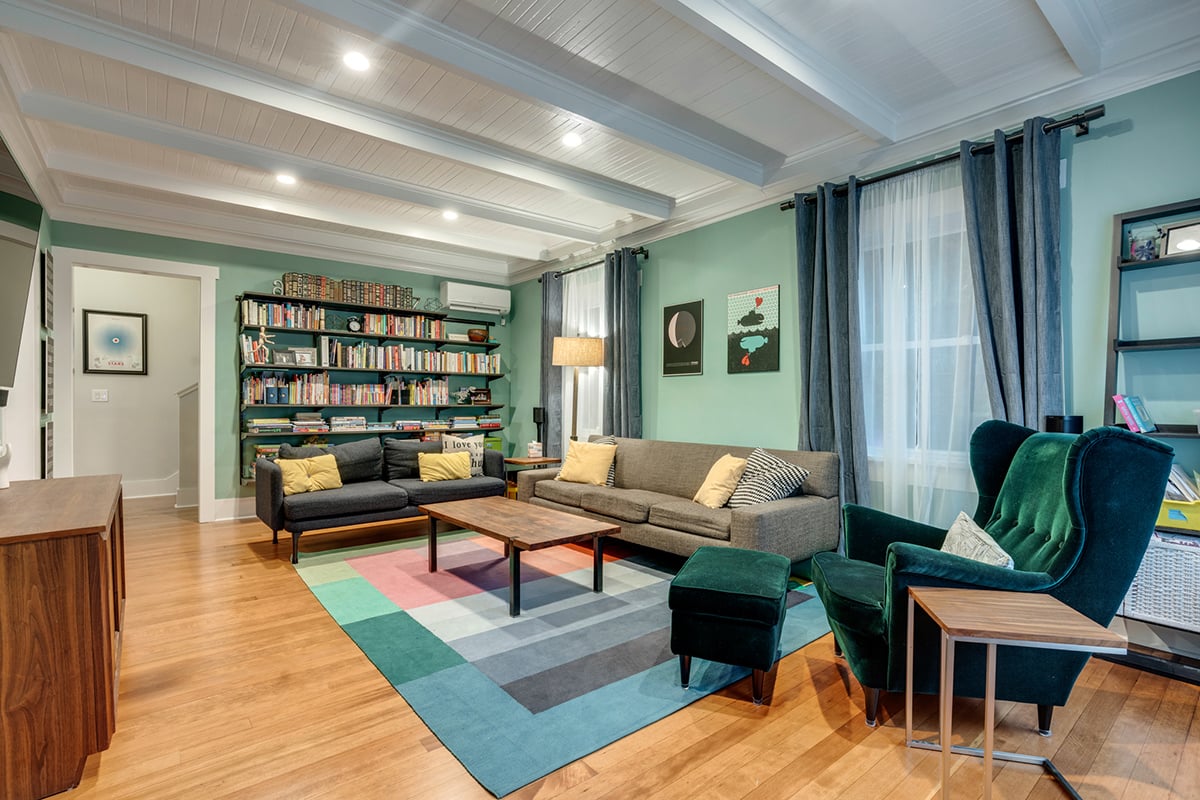 Determine your Personal Design Style
While many people want their addition to seamlessly blend in with the existing home, that may not be the case for all homeowners. Maybe a family has a traditional craftsman house but has a modern/contemporary taste, so their interior finishes have a contemporary flair. Skilled designers can create an addition design that brings the two styles together while remaining respectful of the original design style.
With property inventory becoming increasingly scarce, people aren't always able to purchase a home in their ideal architectural style. It's not uncommon for new homeowners to purchase a property because it meets their fundamental needs, but may not be their ideal style.
All architectural styles share some details, and your design-build team should be educated on all styles to ensure your existing home and new addition flow together. You should look for a contractor and design team that is well-educated on all aspects of design styles. Some of the locations where we offer services include Sammamish, Ballard, and Kirkland. Check out our other service areas here.
Integrating Unique or Complex Rooflines
Sometimes adding an addition is an opportunity for the homeowner to introduce a new design feature or roof style. Updating the home with a new roof style can be easier than trying to match the existing roof material and having it not match very well. A high-quality design-build company will think outside of the box when considering the material, roof style, and roofline design that complements the existing roof style.


Coordinating Siding & Windows
Siding: Depending on the age of the house, builders may or may not be able to match your existing materials. Often, the first step the builder will take to match siding will be to check material providers in the area to see if that profile/material is still available. If the old product is no longer available, an experienced contractor will have contacts to have custom siding made to match so that it fits perfectly with your home. This process is done by specialty craftspeople who have custom knives made for reproducing old moldings.
Windows: Coordinating windows for a new addition can also be complex. First, your builder will try to track down the existing window manufacturer, if they can't source the original style from that maker, then they will go to a different manufacturer to find a similar design. In extreme cases, a contractor will replace all windows in the house. When thinking about what styles of window you want in your new addition, it's important to remember there are rules around if a window can be operable or not depending on location. An alternative solution is to have custom windows made to match the existing windows.
For example, Better Builders worked on a home that needed six of the 50 windows in the house replaced and unfortunately, the original window manufacturer was no longer in business. The client didn't have the budget to replace all 50 windows, so we had six custom windows made to match the originals as closely as possible.
Style Meets Function
Depending on your situation, style, and taste, you can have a successful addition where it looks like it was there all along, or it is recognized as being an addition, but the aesthetic adds value to the overall design of the home. A quality design-build team will create a perfect marriage of your design ideals and the structural needs of your home.
Discover how you can take the first steps towards planning a home renovation or home addition by downloading the eBook, "The Homeowner's Guide to Planning a Remarkable Renovation."