For many people, staying in the house through a major project sounds unimaginable. While the process is never easy, we have 8 tips for living through a remodel to help make the experience a little more bearable and help keep you sane.
#1: Set Clear Expectations and a Plan of Action
One of the first steps in preparing to live through a remodel is setting reasonable expectations. While most building teams do everything they can to make the process easier, it won't be all sunshine and rainbows the entire time, and a good building team will make sure you're prepared for that upfront.
Whether your project is big or small, living in your home while it's under construction is a challenge for the whole family. You'll have people in and out of your home all day, certain areas will become off-limits, and without thorough planning, life may feel like it's in a near-constant state of disarray.
The best thing you can do is have a solid plan of action in place, and a builder should be part of the solution, not the problem.
#2: Establish Clear Boundaries with Your Building Team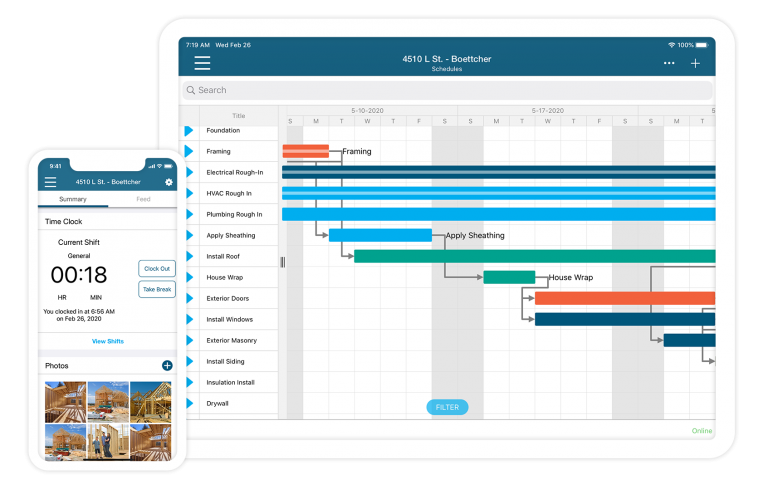 Planning your life around a remodeling project starts with establishing clear boundaries. The number one complaint from homeowners is that there's a lack of communication between the homeowner and the building team regarding scheduling. To break down this common barrier, your building team should have tools and processes in place to bridge the communication gap. For example, Better Builders utilizes a program called Buildertrend as a key tool in our Project Management. This helps our team maintain an updated schedule throughout a project and allows homeowners to have constant access to the calendar. Defining a formal work schedule with dedicated start and stop times each day helps homeowners maintain project boundaries, stay on track with goals and create a manageable timetable.
Other project boundaries may include having a plan for where to park your car, an alternate location for accessing your vehicle, and establishing where construction crews should place materials and equipment. At times there may be equipment and supply deliveries that will limit access to your garage or driveway, it's important to know this in advance.
Any remodel comes with many moving parts. While any good builder will make every effort to keep inconveniences to a minimum, we ask for homeowners' grace when unexpected schedule changes happen. When many different vendors and craftspeople need to be coordinated, we do our best to have an established plan of action to manage unanticipated changes.
#3: Prepare the Space & Remove Essential Items
Carefully analyze any areas you are having work done in and try to think of all the things you usually do and use in that space. Once you have a thorough list, try to think of your alternate plan of action for each item and activity on the list. Before the crew starts work, move any essential items you may need to another temporary location in the house for convenient access. For example, if you're doing a kitchen remodel; you may want to move the fridge into the living room, move your coffee maker into the home office, and plan a dishwashing strategy.
Most builders will ask you to relocate any items that may be in the way as well as any remotely fragile items. This goes for everything from electronics like televisions, to art and keepsakes. In short - if it can be removed, remove it. A service that high-quality building teams may offer is to help move the big bulky items from the space that is being remodeled. Finding a separate area of the home for storage or even arranging off-site storage for these important items is one of the first things we advise homeowners to do in the prep stage.
#4: Construction Safety: Pets & Children
Many homeowners choose to stay in their homes throughout the execution of their projects. For the safety of your family and the crews working in your home, it is vital to have a clear separation between the living area and the construction area. If you have pets, make sure you have a designated space for them too. Your contractor should help you establish designated entrances for the work crew, manage the mess, have a plan for dust and debris, and enforce a set work hour schedule. The best advice we can give is to make a plan and stick to it.
Construction sites can be dangerous–open plumbing, exposed electrical components, power tools, etc. If kids and pets are going to be around these sites they need to be kept under very close supervision, especially during work hours. It's best to keep out of the work zones unless absolutely necessary, and kids should always be accompanied by a responsible adult for the safety of the child and the crew at work.
Have you thought of how your remodel may impact your pets? If you have a dog, cat, or other small animals in the home, you should consider ways to minimize their stress level during the remodel.
Here are a few suggestions to get you thinking:
Consider boarding your dog during the day at a reputable and trusted doggie daycare. You also may consider boarding your indoor cat at a cat hotel on some of the noisier, dust-filled days.


If you have indoor cats, allocate a room for them to hunker down in that is safe and secure and away from the noise (if possible).


If you choose to have your dog at home, make sure your yard is safe and secure in case they need to stay outdoors for long periods.


Other animals like birds or fish may need a quiet place to settle during the remodel, so be sure to consider them too.
#5: How to Control Dust During Construction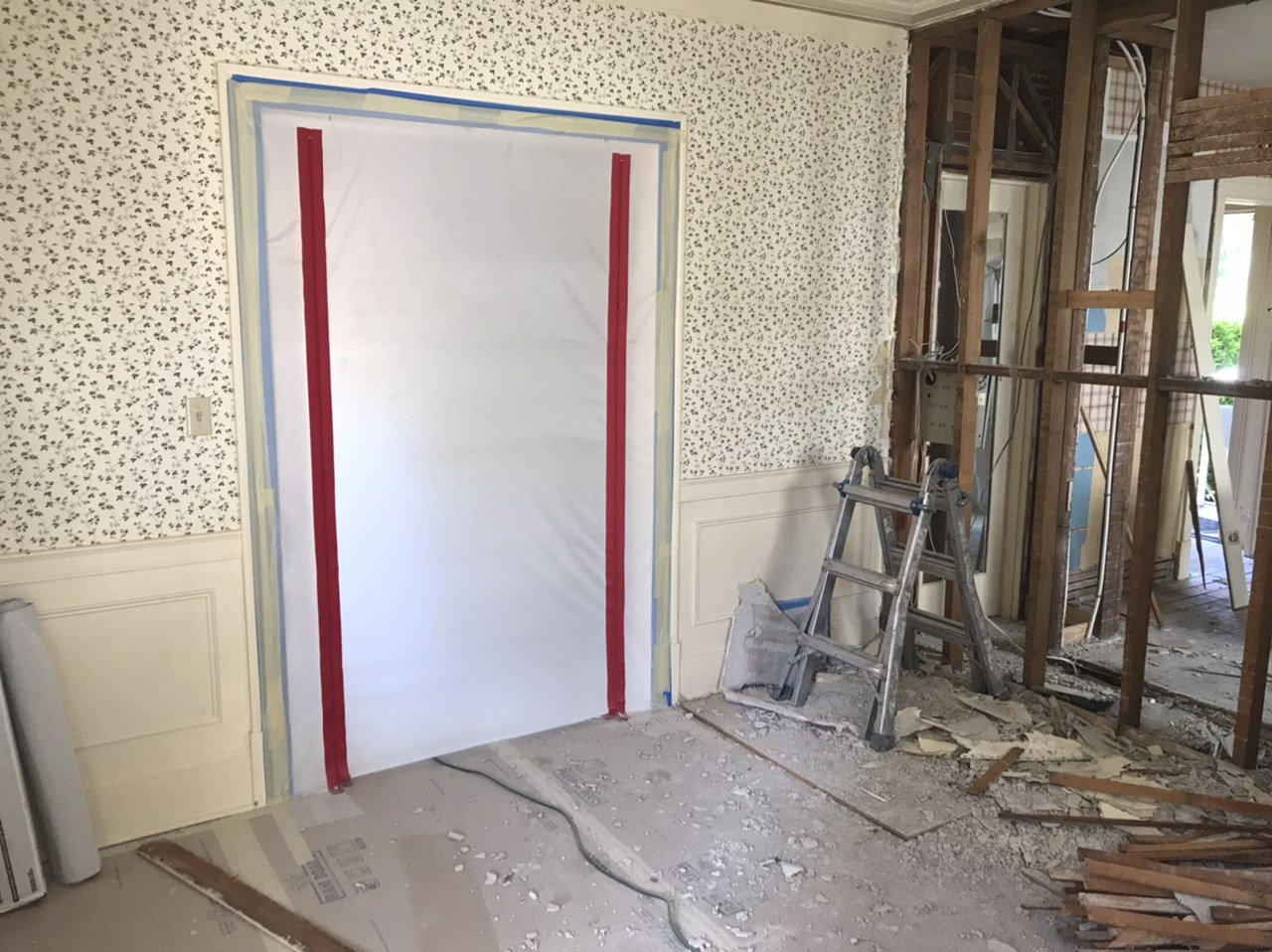 Even with serious cleaning efforts, areas of your home may become dusty and dirty during a remodel - especially during the demolition phase.
Quality building teams will take extra precautions to minimize the debris, like using zip walls to separate the work areas from living areas and running HEPA air scrubbers to pull the debris from the air.
While your team will try to manage the "dirt" with these steps as well as daily cleaning, you can help manage the dust and debris too. If any family members are particularly sensitive to poor air quality conditions, it's wise to sweep, dust and vacuum regularly. Above all, do what you can to keep your living spaces separated from the workspace by respecting the zip walls and partitions your builder establishes.
#6: What to Do if You're Down to One Bathroom
If you're going through a bathroom remodel, you will be primarily relying on a secondary lavatory. Having only one accessible bathroom for your entire family is asking for a logistics nightmare, especially while everyone is at home! While certain things can't be planned per se, it's good to try and establish a schedule where possible. Making a shower schedule can help decrease bathroom congestion. It's also important to remember there may be times during work hours when your main water has to be turned off for things like plumbing work. Your contractor will advise you of these interruptive events, but two little words are your new best friend: Plan. Ahead.
When it comes to restrooms for the construction crew, a service that your builder should provide is a port-a-potty on-site for the crew to use–they should not be using your personal bathrooms.
#7: Temporary Kitchen Setup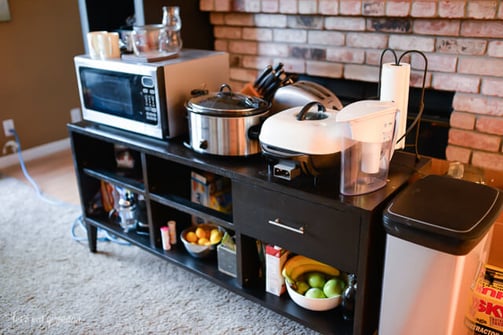 Living through a kitchen remodel can be a major interruption to your daily routine. The kitchen is referred to as the heart of the home for a reason. While your new kitchen space will totally be worth the wait, it may prove challenging to go without during the project. Regular cooking will be a challenge at best and impossible at worst. Having a strategy for meal planning, take-out options, and a temporary kitchen setup will be your lifeline.
Depending on the season, you may be able to pivot to mostly cooking outdoors (hello grilling season!). Other times you may have to rely on a bit more ingenuity. Hot plates, microwaves, and Instant Pots may become your new best friends.
A well-prepared builder should help you create a thorough temporary kitchen plan and a strategy for living through your kitchen renovation.
#8: Get Out of the House!
Maybe moving out during your remodel isn't a feasible option but spending time outside the house usually is! While your renovation is exciting, it can also get a little annoying after a while. When you work with a contractor you trust, you shouldn't feel like you need to hang around and watch the action every day.
Spending some time away from the chaos at your house will give you a much-needed break from life during construction.
Plan a day trip or the occasional weekend away, pay a long overdue visit to family, spend the day at the beach or park, anything to take a break from the action. Whether it's a full-fledged vacation, or simply a few hours outside the house, taking a break will help you cope with the disruption to your home life.
Make Small Areas Live Large
Many homeowners stay in the home during the project, and it's important you choose a building team that is used to this scenario and help you and your family plan accordingly. A good building team will make it as comfortable for the homeowner as possible. Creating an action plan is the first step to ensuring a successful project. A good contractor will make 'small areas live large' rather than starting from scratch.
To aid you in the process of planning a home renovation, we have developed the eBook, "The Homeowner's Guide to Planning a Remarkable Renovation." Download it today.