You may find yourself asking, what is the importance of lighting design in the kitchen? Your lighting sets the mood for an eat-in kitchen, as well as illuminating the areas you're working in. It's important to properly light areas that can be dangerous to users, like the stove/oven, and places where you may be working with appliances or sharp knives.

Lighting changes everything about how you see the space–what you do in the space and the aesthetic. Lighting can even significantly change the appearance of the paint color on the walls and cabinets. As we mentioned in our article about Timeless Kitchen Design, There's an entire industry centered around lighting design. Kitchens must be well-lit for safety and cleanliness; well-captured lighting will make the space feel larger. The color and temperature of your lights will dictate the tone of your room, and it can also make every other color in your kitchen look different. In addition, lighting can highlight focal points and take the strain off your eyes, so if you spend a lot of time in the space, this is very important."

So, what is the best style of lighting for the kitchen? Find a way to incorporate all four styles! The four primary types of lighting you should include in your space to minimize shadows and glare are: ambient, task, accent, and display lighting.
Kitchen Lighting Ideas
1. Ambient Lighting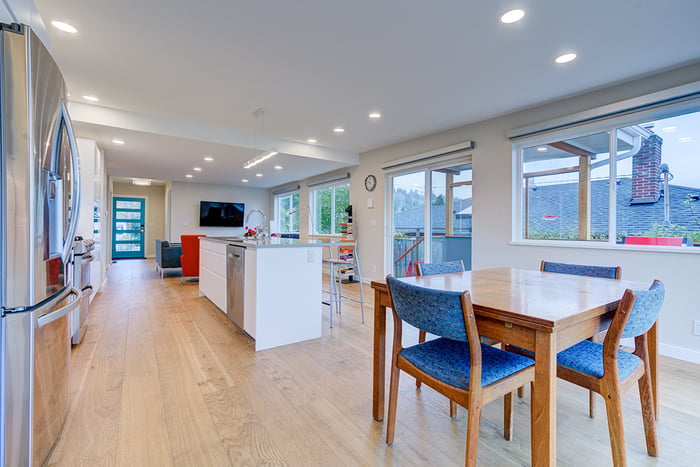 Better Builders, Alki Kitchen, Living Room & Deck
Ambient lighting is commonly the primary light source in a room. This could look like recessed can lights in the ceiling or a brighter surface-mounted fixture. This is typically the light you would turn on when entering a room.
2. Task Lighting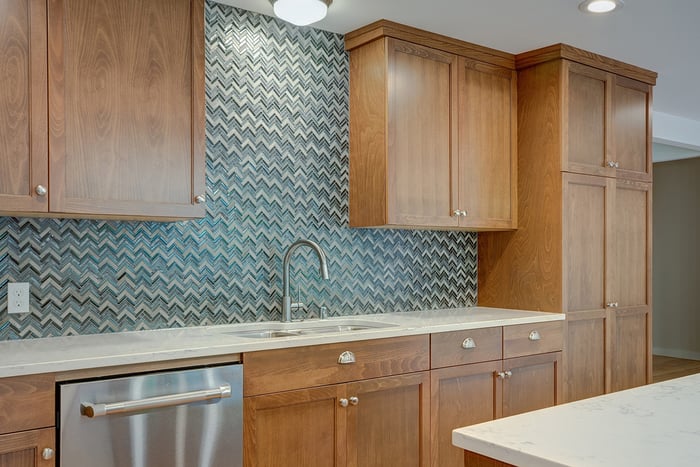 Better Builders, Lake Forest Park Kitchen Remodel
Task lighting is usually brighter than ambient lighting and offers increased light in specific areas, creating a shadow-free environment. Task lighting could look like lighting under the cabinets to brighten the countertop area, island pendant lighting, an extra light over the sink, or lights in the range hood.
3. Decorative or Accent Lighting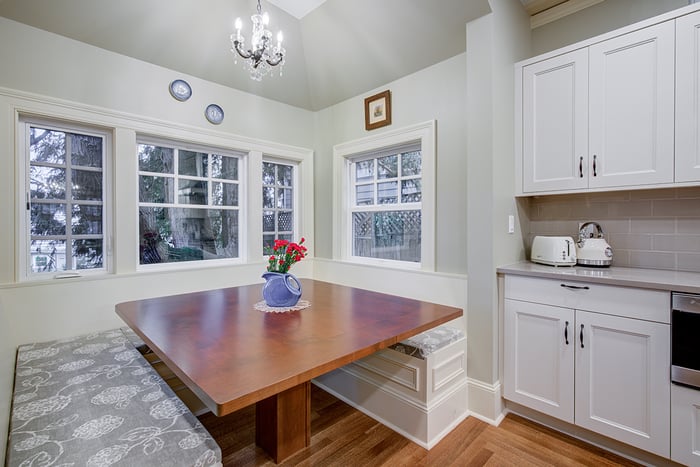 Better Builders, Roosevelt Kitchen and Dining Remodel
This lighting style is typically a nice task light that also serves as a decorative focal point. It's less about the use of the light itself and more about the fixture's aesthetic. Think about fixtures like decorative wall sconces, special handblown glass bulbs, or fixtures with unique shapes. They still offer additional light to the space, but their primary function is style.
4. Display Lighting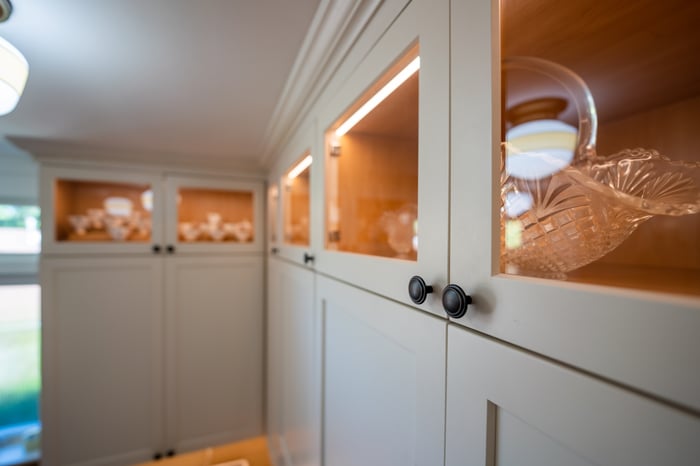 Better Builders, West Seattle Historic Addition
Display lighting is used to showcase focal points but typically isn't as bright as task lighting. Picture a spotlight above that special piece of art on your wall, or maybe interior cabinet lights to show off the beautiful dishes you have on display. We also commonly see display lighting used with open shelving displays.
5. Multipurpose Lighting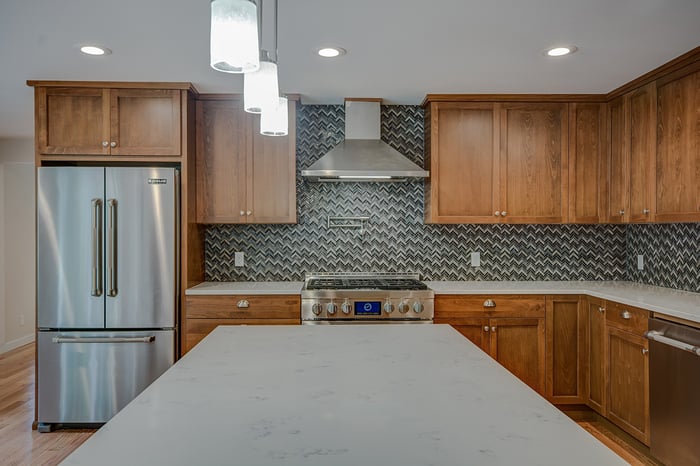 Better Builders, Lake Forest Park Kitchen Remodel
It's not uncommon for some of these lighting styles to come together in one fixture. For example, toe kick lights are more of an accent light but can also act as task lights for better cleaning. Interior cabinet lights may be installed for display purposes, but they also help you have a better view inside your cabinet. Putting any style of lighting on a dimmer switch gives versatility to the lighting design so you can create different moods in the space.
What is the Most Effective Kitchen Lighting?
Beautiful lighting design can really enhance or detract from your space. Poor lighting can make a beautiful space look dull, and great lighting can make an 'ok' space look amazing. Good lighting can also make a room look larger than it is and set the vibe of the space.

When creating your lighting design for the kitchen, it's important to identify the areas within the kitchen that need more lighting than others. From there, you can map out what areas require additional task lighting for safety and function. The versatility in kitchen lighting options allows you to play with the space and narrow in on the specific aesthetic options that support your style and the function you need.

Lighting design is just one aspect of creating the dream kitchen. To learn more about the kitchen remodeling process, download our eBook, "The Kitchen Renovation Handbook: 10 Steps to Design the Kitchen of Your Dreams."