From intuitive design to wirelessly connected appliances, a "smart" kitchen is often a priority in a modern home. Blending efficiency and a fun cooking experience, tech-savvy kitchens are more popular than ever. Below we've shared some common smart kitchen features we see in more and more homes.
Smart Appliances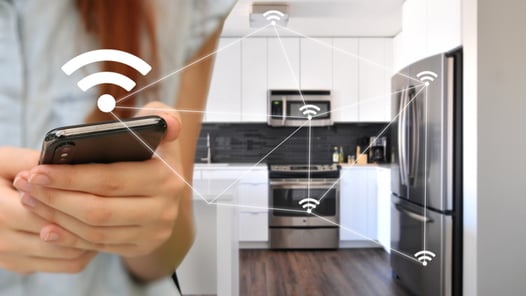 By definition, a smart appliance is a device that you are able to connect a smartphone or tablet to for better convenience, control, and information. In theory, going "smart" should help you save time, energy, and money. Some common smart appliances include:
Smart Refrigerators

Smart fridges may be the most common smart kitchen appliance to date. With options like the Samsung Bespoke series with Family Hub connectivity, there's not much this refrigerator can't do. With WiFi connectivity, you can control the temperature of your unit, automatically refill a water carafe, and see what's inside your fridge all from the smartphone in your pocket. The Family Hub addition also allows you to connect to Amazon Alexa or Google Nest hubs to manage family calendars, stream music, create shopping lists, and much more.
Hands-Free Faucet

While it may not connect to your smartphone, these motion-sensor kitchen faucets certainly save water and in turn, money! Other great options include the Delta Touch2O, where you simply tap the faucet to turn the water on and off. The Delta TempSense® LED light changes color to alert you to the water's temperature and eliminate any possible surprises or discomfort.



Smart Range and Oven

While smart ranges aren't quite as common yet, they are well on their way to being the next appliance every homeowner envies. One luxurious option is the Dacor Dual Fuel Smart Range. WiFi connectivity allows this smart appliance to control and monitor wirelessly, pre-program settings and recipes, and receive guided cooking advice in "Chef Mode." You can even activate and adjust the hood with Bluetooth and ConnectOn auto-responsive technology, which turns on the ventilation in conjunction with the cooktop and increases the speed as necessary, with the use of a temperature sensor.

Green Options for Kitchen Appliances & Technology
While they may not be automated technologies, there are other "smart" decisions you can make if your kitchen with regard to saving energy, water, and other resources.
Move away from gas stoves and transition to electric. Consider an induction cooktop, which generates heat more quickly and efficiently.


Consider various high-efficiency appliances that automatically go into "power save" mode when they're not in use.


Look for appliances and accessories with "auto-off" features for efficiency and peace of mind. You can find this feature in appliances like dishwashers, coffee makers, washer-dryers, and more.


When making fixture and appliance selections, search for water-saving features, especially on items like faucets and dishwashers.


When it comes to saving your own time, you may want to consider replacing your standard oven with a convection oven, as these appliances heat up quicker and cook food faster and more evenly.


You may want to consider adding a warming drawer to your kitchen repertoire. These drawers typically use less energy than a microwave to reheat food, and you can more accurately control temperatures.

Smart Kitchen Accessories
When designing a new kitchen remodel, of course, we think about all the big-ticket items first. Things like ovens, ranges, and refrigerators are priorities. But once your beautiful kitchen is in place, it's time to consider some more exciting kitchen gadgets to add more efficiency and fun to your space!
Here are just a few pieces of kitchen tech that could make spending time in the kitchen even more enjoyable:
Automated cocktail machines like the Bartesian make at-home bartending a breeze.


Smart meat thermometers like the Meater will have you cooking with perfect results every time.


Temperature-controlled smart mugs like Ember will keep coffee and tea exactly how warm you like it.


An automatic pan stirrer will save both your arm and your dinner when a recipe calls for constant stirring.


Touchless soap dispensers and trash cans help keep mess minimized.


Smart displays like the Amazon Echo Show for viewing recipes or listening to music.


WiFi-connected cooking devices like sous vide and crockpots will have dinner cooked perfectly and on time, every night.
Gadgets and Gizmos Aplenty
While all of these fancy kitchen gadgets are here to add efficiency and fun to your cooking, they also provide more opportunities for error. It's important to keep in mind that the more electrical components you add to your kitchen, the more complexity that's added to your life if your power goes out, or if equipment breaks. Technology continues to improve, but adding additional items like the above adds one more thing that could go wrong.

When trying to figure out how these appliance technologies may fit into your home, start by consulting with your trusted contractor about the big picture of your kitchen space. In this planning process, consider downloading our eBook, "The Kitchen Renovation Handbook: 10 Steps to Design the Kitchen of your Dreams".