Choosing the right flooring is one of many decisions you'll face in a kitchen remodel. There are so many options and so little time to research what will look and feel the best while standing the test of time. Choosing the "right" flooring can be challenging, so we've compiled a list of do's, don'ts, pros, and cons to consider when making flooring selections.
1. Durable Flooring for High Traffic Kitchen
Whether it's a single room or throughout the entire house, installing new flooring is a significant investment. Whatever product you choose, you want to ensure it holds up in your home for a long time.
DO: Keep your local climate in mind. Humid environments can warp hardwood floors and affect laminate. In hotter climates, keep in mind that carpet traps heat and may make cooling your home more energy intensive.

DON'T: Underestimate how wear and tear differ throughout your home, including the additional impact kids and pets may have. Drop something on ceramic tile, and it may chip; heavy foot traffic will wear down plush carpet quickly. Think about aesthetics, function, longevity, and maintenance.


2. Flooring that Doesn't Go Out of Style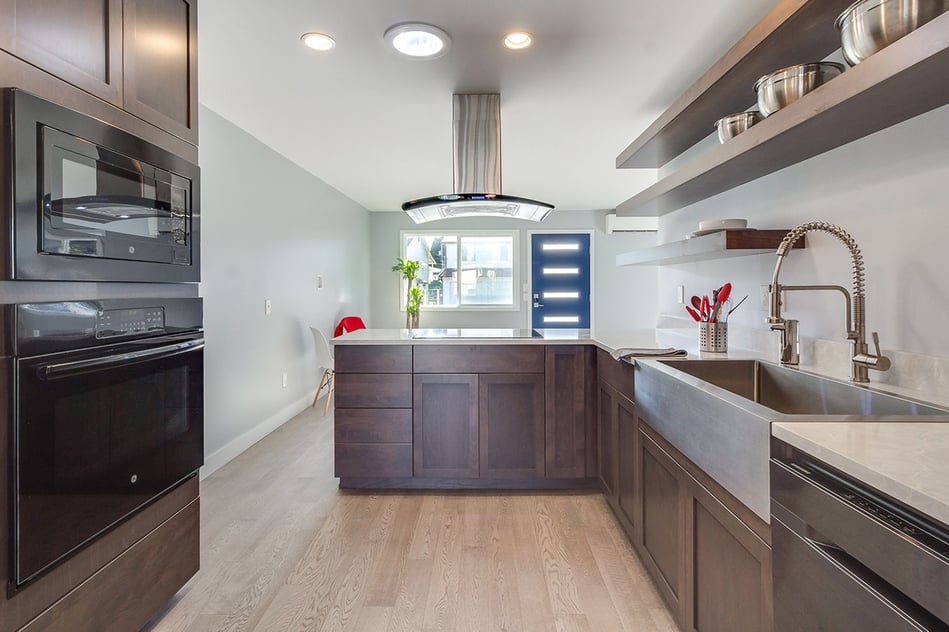 While durability and cost are often top considerations when selecting flooring, appearance is also high on the list. Fun accent colors and patterns may be hot right now, but will their style stand the test of time?
DO: make selections with the layout of your home in mind. For example, if your design is an open floor plan, you'll likely want to use the same flooring throughout to maintain a clean, continuous aesthetic.

DON'T: Neglect your home's architectural integrity. You should make your home a reflection of your personal style, but don't sacrifice the architectural style. Add pops of color, texture, and pattern to show your personality, but remember that staying true to your home's architectural style will be valuable when it comes time to sell.
3. What is the Easiest Kitchen Flooring to Maintain?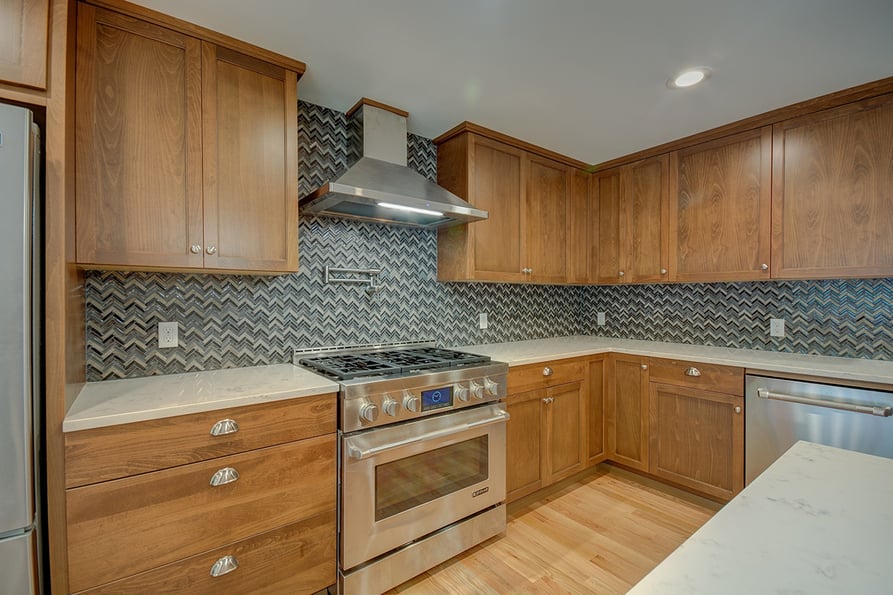 Everyone wants beautiful flooring in their house, but your home isn't a museum. People live on these floors, not just look at them, so comfort and ease of cleaning are just as important as aesthetics.

DO: Consider comfort toward the top of your list, especially in rooms where you will spend a lot of time on your feet, like the kitchen. Comfort is also important for families with small children or those who plan to age in place. Maintenance and cleanliness are also pertinent. The kitchen often sees spills and splashes. Select a material that is easy to keep clean.

DON'T: Select material that will contribute to household air pollution if you can avoid it. For example, for the first several days, freshly installed carpeting and traditional vinyl options emit substantial VOCs (Volatile Organic Compounds). Bare minimum, ask your contractor about these risks when making final selections.
4. Pros & Cons of Popular Flooring Materials

Vinyl Kitchen Flooring
Pros: Vinyl flooring offers a variety of beautiful and unusual patterns to choose from. It's also relatively easy to install, affordable, durable, somewhat noise-dampening and handles moisture well.

Cons: Before installing vinyl, you should know that sheets can sometimes have inconsistent quality, can warp in extreme temperatures, and can be difficult (and messy) to remove should you change your mind. Certain colors can also fade over time in direct sun exposure.


Ceramic Tile Flooring
Pros: Ceramic tile is low maintenance, durable, water, and stain-resistant, and you can find cost-effective options. There are also endless design options around color, pattern, texture, design, etc.

Cons: Some ceramic tile options can be very expensive. Tile is also very slippery and unforgiving, and without heated floors, it can be very cold. The installation is labor intensive and maintenance leaves grout needing to be resealed every few years.


Natural Hardwood Flooring
Pros: Natural hardwood provides a variety of high-quality species options, with enough variety to fit most design styles. It's also incredibly durable, has manageable maintenance, and is great for resale value.

Cons: Hardwoods can be costly both as a material and in labor as they require professional installation. Because natural wood is susceptible to water damage, termite attacks, scratching, and cupping or warping in moist climates, it may also eventually require refinishing.

Engineered Hardwood Flooring
Pros: Engineered hardwood is designed to negate the traditional hardwood moisture problems and generally be lower maintenance. They also typically have a lesser environmental impact and are more affordable than traditional hardwoods.

Cons: While more affordable than traditional hardwoods, engineered hardwood is also expensive and requires professional installation. They are also harder to refinish than traditional hardwood and are prone to dent and scratch over time. If you buy low-quality products it may also give off VOCs.

Bamboo Flooring
Pros: Bamboo flooring provides a clean contemporary look and is relatively low maintenance if properly finished. Bamboo is easy to refinish, eco-friendly, and great for resale value.

Cons: Bamboo can be tricky in a kitchen because it is easily scratched and dented and absorbs water which leads to staining and warping. Bamboo also has limited tonal shades, so design options are lesser, and some common installation adhesives have VOCs.

Cork Flooring
Pros: Cork flooring provides a soft, cushioned surface, great for being on your feet for long periods. Its noise-dampening is eco-friendly, anti-microbial, and heat-insulating. It's also easy to install and refinish, cost-effective, and biodegradable!

Cons: The disadvantages of cork flooring are it's easily damaged, divots from heavy furniture, requires regular waterproofing, is easily stainable, and fades with overexposure to direct sunlight.

Concrete Flooring
Pros: Concrete flooring is the ultimate choice for low-maintenance flooring. The design options are also vast, with techniques like staining, stamping, and painting. Concrete is exceptionally durable, cost-efficient, and even has options for heated underlayment.

Cons: Concrete flooring is hard, slick, and gets uncomfortable quickly when standing for long periods. Things to know about concrete are it will occasionally need resealing, may crack with heat fluctuations, and is not always the most environmentally friendly choice.


Which Material is Best for YOU?
So, what is the best flooring for kitchens? There is no blanket "right" answer for what flooring will work best in your home. The best kitchen flooring will depend on your lifestyle, budget, design aesthetic, and how much maintenance you are willing to do. Working with the right design-build team will make the process of selecting the right flooring for you easier.

Are you ready to begin the journey of planning for a kitchen renovation? We've compiled our best tips on getting ready for your project. Download our eBook, "The Kitchen Renovation Handbook: 10 Steps to Design the Kitchen of your Dreams."