Basement remodels are more popular than ever. And the basement kitchenette is growing in popularity as more cold unfinished basements are being transformed into cozy living areas. Whether you are turning your basement space into an ADU, family room, or rec space, having a kitchenette or beverage center is never a bad idea.
What is a Kitchenette?
Typically, a basement kitchenette is one small part of a larger basement living area. In some cases, the basement may be turned into an ADU for visiting family members or renting out. In this scenario, a kitchenette is vital to give them independence in their space. Other times, the basement may be turned into a home theatre or family room. This is the perfect opportunity to create a snack and beverage center with a small prep sink and microwave.
Now, you may be asking, "what exactly is a kitchenette?" If you are unclear on the concept, you are not alone. To clarify, a kitchenette is a small kitchen area that commonly has a fridge, microwave, and sink. Some kitchenettes also include a small oven. A kitchenette is designed to be used for the most basic "cooking" activities and does not necessarily replace a full-scale kitchen.


Planning a Basement Kitchenette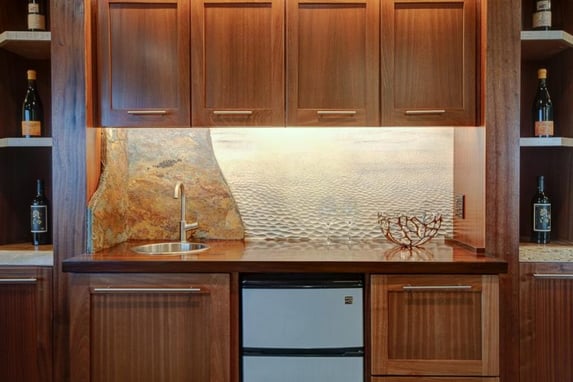 Before you start working on your new basement kitchenette, be sure you have thought through all the requirements and have a thorough plan. As always, we recommend engaging with a trusted and reliable contractor early on.
In most basements, installing a new kitchenette will include running new plumbing and electricity, not to mention the general construction and craftsmanship involved in the kitchenette itself. Putting a kitchenette in an already finished basement space will likely be easier than starting with an unfinished space. However, if you are considering a basement kitchenette, odds are you are already planning on making the basement a finished space.

Key Things You Should Think of Ahead of Time
Safety and Ventilation
If your kitchenette is a true cooking space, you can't have fumes and odors getting trapped in the basement. Proper ventilation is important for not only safety but also comfort in the space. You will also want to work with a contractor who is familiar with local codes around basement renovations. Implementing sprinklers, smoke alarms, CO2 monitors, and clear escape routes should all be part of your plan too.


Size and Storage
By definition, a kitchenette is smaller than a regular kitchen. But a kitchenette can vary in size too. Depending on the use of the rest of your space, you will need different things from the kitchenette. In a family space or home theatre, you may only want a small counter space for a small appliance or bar area, with a beverage fridge below and a few cabinets for food storage. In a basement apartment, you will likely want a more involved kitchenette, with a small stove top or oven and more counter space than the other option.


Dry vs. Wet
A wet bar is defined as having a sink with running water. A dry bar is a simple counter area typically with a beverage center and no running water or sink. Which option is better comes down to which makes the most sense in your space and what you intend to use the kitchenette for.


Lighting
The lighting plan encompasses far more than the kitchenette area. In the big picture, the lighting needs to fit in with the aesthetic and ambiance you plan to set for the entire basement space. But you do want to make sure you have appropriate lighting to meet the functionality of activities you may be performing at the kitchenette. On a more practical note, you can always include under-cabinet lights on cabinet uppers to help illuminate any work areas.


Kitchenette Design Tips
1. Keep it Neutral
When it is time to determine your color pallet, keep things neutral. Light neutrals like tan, grey and white keep the atmosphere light and airy and leave room for personalization in the décor. Basements are often darker than the rest of the home, so trying to keep things light where natural light may be lacking. If you know the basement space will be used as a home theatre, maybe darker paint is the way to go! Or if a basement home gym is in the works, maybe a brighter, more energetic color would be best. Again, everything depends on your intended use for the space.


2. Keep Maintenance in Mind
Keep. Things. Simple. Whether this space is for you, your kids, your visiting family, or a paying tenant, easy maintenance is key. Choose materials that are easy to keep clean and don't require special cleaning materials or treatment. For flooring, think more along the lines of LVP (luxury vinyl plank) than wood, and counters could be quartz or laminate rather than marble. Just because you have the extra space doesn't mean you should sign yourself up for extra time cleaning!


3. Basics are the Best
It is easy to think of every possible appliance, utensil, and accessory you may like to have. Keep in mind that this space is not here to replace a fully functional kitchen. Nobody likes a cluttered, stuffy space, so keep things to the bare minimum. For appliances, keep it to the three or four most important ones, mini fridge, microwave, and coffee maker or kettle. Once the bare-bones necessities are in place, you can determine if you have space for anything else or if there's something you really need in the space.
Download The Kitchen Renovation Handbook: 10 Steps to Design the Kitchen of Your Dreams, and learn how you can design a kitchenette that meets all of your needs.