Gone are the days of limited food storage options. Modern technology has eliminated the need for traditional food cellars with newer storage, like under-cabinet beverage centers and chilled refrigerator produce drawers. The type of pantry you choose will be based on the amount of space available in the kitchen and related storage. When there is more space, there are more options.
What Do You Need Out of a Kitchen Pantry?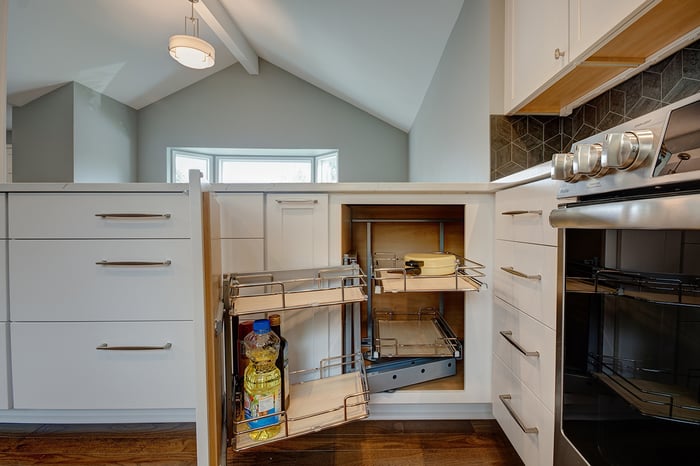 Before you consider the types of kitchen pantries available, it's important to determine what you need out of a kitchen pantry. Answering the following questions is a good place to start:
How much space do you have available?
What do you currently store in your pantry?
What do you want to store in your pantry?
Do you buy in bulk or store backstock, or do you shop as you go?
Will your pantry be for storing food exclusively or for additional items like appliances, dishware, larger items, etc.?
Kitchen Pantry Ideas & Types
Walk-In Pantry
Walk-in pantries are typically enclosed spaces used for food and kitchen-related items. Walk-in pantries are a great option if you have the space, want to achieve a particular style, if you buy items in bulk or if you want to hide items such as appliances, dishware, extra cooking utensils, leftover containers, etc. To stay efficient, the location of the pantry should ideally be no more than 3 steps from the kitchen.
You should outfit this space with storage solutions that meet your lifestyle and needs. Some ideas include:
Broom, mop, and vacuum cleaner storage.
Specialized storage cabinets and Built-in wire rack for potatoes, onions/garlic.
Maximize the space by adding storage inside the door for small containers like spices, tea, and condiments.
What you intend to store on the shelves helps dictate the depth of the shelving and the additional organizational tools needed.
Pantry Cabinet
If you don't have space for a walk-in pantry, a great option is pantry cabinets. You can integrate pantry cabinets that match the rest of the cabinetry and are often cabinet-depth or less. There are unique hardware options available, like pull-out mechanisms for easy access to appliances such as a mixer.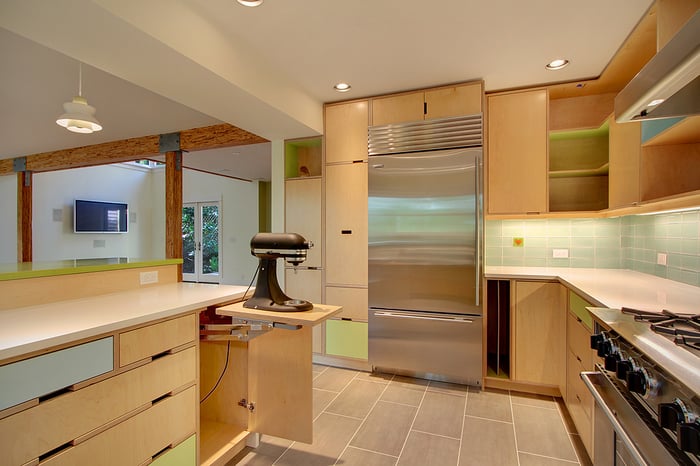 What's nice about the utilization of a cabinet for a pantry is that there's little to no wasted space. The usable space is high, whereas traditional walk-in pantries have shelves around the edges, and the majority of the space is for your body in the center. Walk-in pantries also have deep shelves, which can make it challenging to find items easily, and it's easy to lose items. Some would say that cabinet pantries are more functional.
Butler Pantry or Walk-Through Pantry
Traditionally known as the butler's pantry, this space serves as a transitional room between the dining area and kitchen, used for preparing and staging meals. The more modern name for this space is a walk-through pantry because there are two access points rather than one–they're not enclosed like a walk-in closet. It's not common to build butler pantries in modern homes unless you are trying to design a specific style of kitchen. They're more often seen in older houses.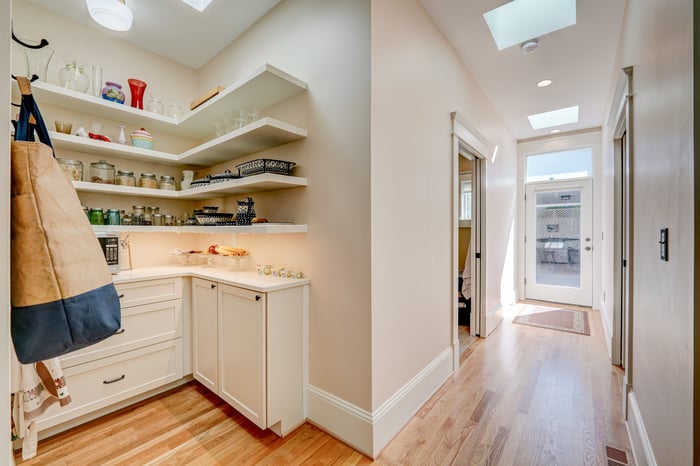 Butler pantries are used as a showpiece and are often designed to be an architectural feature.
They can be used for dry goods storage, hiding away surplus dishware, and to house appliances instead of a countertop appliance garage. Essentially, anything that lives on the counter in the kitchen can be moved to the butler pantry.
Your Picture Perfect Pantry
Decide what you want the pantry to store and then design the space to fit the vision. If you have an abundance of space, want to achieve a particular style, and cook a lot, you can also opt to add a combination of the three styles. There are many creative options for building functional storage in your home. What's important is that you work with a builder who can extract your needs and wants effectively to design an end product that perfectly suits your lifestyle.

Your pantry storage is only one piece of the puzzle. If you're interested in working toward your kitchen goals, we have some helpful tips to get you started - download our eBook, "The Kitchen Renovation Handbook: 10 Steps to Design the Kitchen of your Dreams".