Most people want their spaces to be clean and sanitary, but this has come even more to the forefront in the past few years. With this increasing concern, more materials and products have become available to make keeping your kitchen space sanitary easier. So, what are the options, and how do you choose them?
Designing a Kitchen That is Easy to Clean
The following suggestions are common materials and design selections that help make your kitchen easier to clean.
1. Work Triangle
Design a well-planned work triangle to reduce spills, making cooking and clean-up easier.
2. Cabinets
Flat-panel kitchen cabinets, compared to styles like shaker or beaded, limit the number of areas where dust, dirt, and grime can settle.


When designing your new kitchen, consider taking cabinets to the ceiling to minimize the amount of space where dust and germs can settle.
3. Sinks
Undermount sinks provide a seamless style with the lip of the sink just below the surface of the countertop, thus removing one more crevice for dirt and crumbs to get trapped in.
4. Pantry
Pull-out pantries are more accessible and easier to keep organized. It can be difficult to keep an eye on what products may be expiring soon when they're stuffed at the back of a traditional pantry shelf.
5. Trash
Installing a trash and recycling can slider under the sink minimizes the opportunities for drips and spills and keeps unsightly garbage out of plain view.
6. Flooring
Smooth flooring vs. textured materials can make cleaning easier. Textured flooring, like tile with a ton of grout lines can capture contamination and be harder to clean thoroughly. Smoother materials like hardwood flooring or linoleum are easier to clean and some even have natural antimicrobial materials.
7. Liners
Use drawer and shelf liners to make cleanup a breeze. You can pull a drawer liner out and take it to the sink to clean rather than trying to conform to whatever size the drawer is. And when a particularly challenging mess occurs, drawer and shelf liners are easy to remove, dispose of, and replace.
8. Shelving
If minimal maintenance is the goal, avoid open shelving - it collects dust and germs more easily than traditional cabinetry.
9. Stove
Choose a strong exhaust hood that's powerful enough to remove dust, grime, and cooking fumes from your kitchen space for both cleanliness and safety concerns.
10. Hardware & Finishes
When it comes to maintaining a tidy appearance, consider opting for matte finishes on hardware to reduce the appearance of fingerprints.


Smart Kitchen Technology and Accessories for a Clean Kitchen
While there seem to be endless options in kitchen technology these days, a few items, in particular, can help keep things cleaner and more sanitary.
Touchless faucets help keep dirty fingers off the fixtures.


Touchless lighting, like motion-activated sensors or programmable light switches like those offered by Legrand, is another way to keep your hands, and their germs, to yourself.


Specialized knife storage like the Messermeister Next Level Magnetic Knife Block with integrated UV technology ensures no corners for bacteria to hide in.


A glass top or induction stove is easier to clean than a gas stove with grates or a coiled electric stove top.


Smart appliances with self-cleaning features like your oven, microwave, and coffee machine.


Kitchen Countertop Materials That are Easy-to-Clean
When it comes to countertop materials and backsplash options, some choices will be easier to keep clean than others.
When it comes to stone options for your countertops, the most hygienic options will be quartz or natural stone like granite. Marble and soapstone, while beautiful, are more porous and easily hold contamination and moisture.
Stainless steel is the most hygienic countertop material option, even having some of its anti-bacterial properties.
When choosing your backsplash, remember that the larger pieces are, the better. The key to avoiding the build-up of dirt, dust, and bacteria here is minimizing grout lines. Consider larger format tiles or even stone slabs.
Non-porous and minimally textured backsplash materials will also make things easier to keep clean.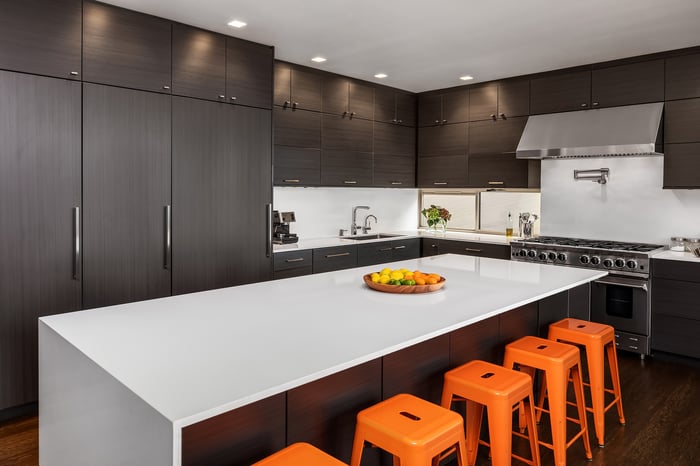 Better Builders, Farwell custom home build.


Choose Durable Materials That Can Be Cleaned Frequently
While picking materials that are easy to keep tidy is a good start, you also want to keep in mind the durability of these materials to withstand frequent cleaning without degrading too quickly.
Materials like porcelain or ceramic tiles for flooring or backsplash can withstand frequent cleaning.
Be able to wipe down your walls. Oil-based paint in an eggshell finish is one of the better options, allowing you to easily wipe down walls without ruining the paint.
Melamine finish on cabinet exteriors prevents spills from being absorbed; it's easy to clean and more durable than paint or a clear finish.
Sink material should also be a consideration. Ceramic sinks are prone to scratches and chips, which can house contamination. Consider stainless steel your most bacteria-free option.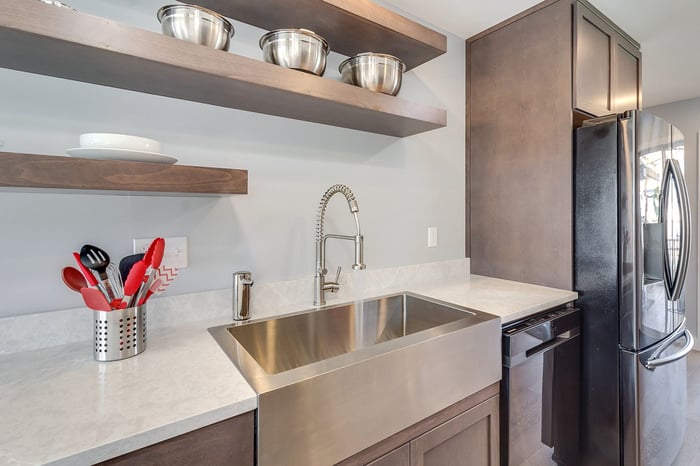 Better Builders, Beacon Bungalow Open Plan Kitchen Remodel
Clean It Like You Mean It
A kitchen is only as clean as you keep it. Choose your materials, fixtures, and overall design based on how much work you're willing to put in to maintain the space. A thoughtfully-designed kitchen not only creates a desirable space to cook in but also aids in keeping the kitchen clean and safe.
When you're ready to take the first step toward a kitchen remodel centered around function, style, and cleanliness, download our eBook, "The Kitchen Renovation Handbook: 10 Steps to Design the Kitchen of your Dreams."