When it comes to kitchen storage, it seems like there can never be enough. While upper and lower cabinets are obvious choices, what hides behind the cabinets and drawer faces can be an entirely different story. Avoid the chaos and clutter, and make the most of your kitchen cabinets, counter space, kitchen drawers, and pantry with these storage and organization-packed ideas. In this article, we will uncover the top 6 kitchen storage ideas to transform your cooking space into a haven of organization and efficiency.
1. Closet Pantries Are Out; Pantry Cabinets Are In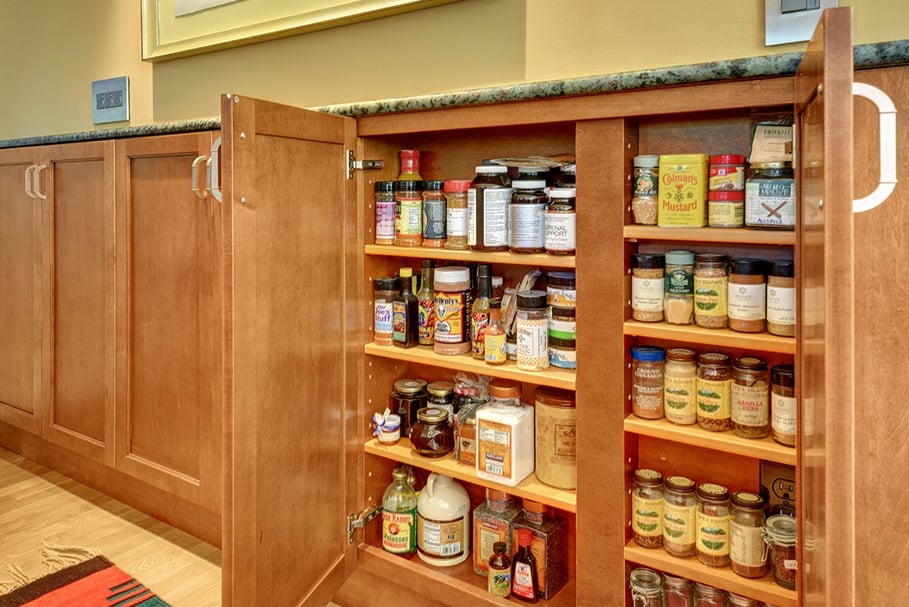 See the full Ballard, WA, kitchen remodel gallery here.
Before you account for a pantry closet in your updated kitchen design, consider a pantry cabinet. Instead of a closet, a cabinet pantry could be a larger pantry with cabinet organizers like drawers, trays, and caddies that slide out for easy access. It's a more functional cabinet dedicated to food storage, spices, condiments, cookware, and more.

This cabinet door storage style blends in with the kitchen more seamlessly than a closet pantry, and the pull-out organization solution is far more functional than a traditional closet, which is keen to become a black hole that your cleaning supplies and kitchen essentials disappear into. Once you've got the hardware in place you could DIY your inserts and drawer organizers or call on a professional pantry organization service like Honest to Goodness to help you get your pantry in order.
2. Maximize Countertop Space With Integrated Appliances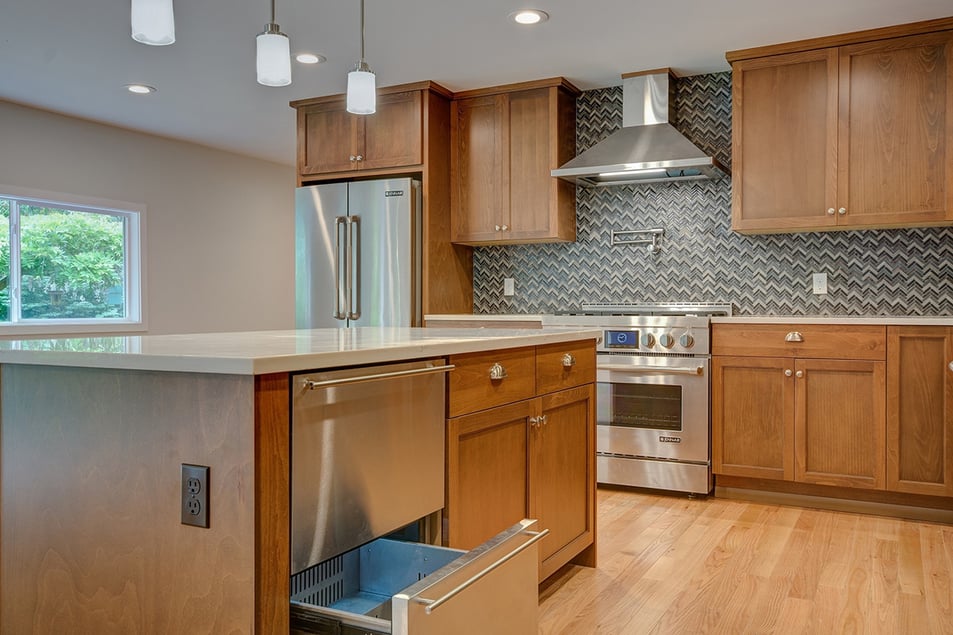 See the full Lake Forest, WA, kitchen remodel gallery here.
Why take up valuable countertop space with small appliances when you can have them built into your cabinetry? Common integrated appliances include microwaves, custom cutlery storage pull-outs, coffee machines, and chilling bonus drawers.

A dedicated appliance garage cabinet could be designed for appliances that can't mount, to keep them out of sight when not in use. An appliance garage is perfect for extra storage for your kitchen counter, stashing away small items like blenders, toasters, and tea kettles, and helps declutter your space.
3. Cabinets to the Ceiling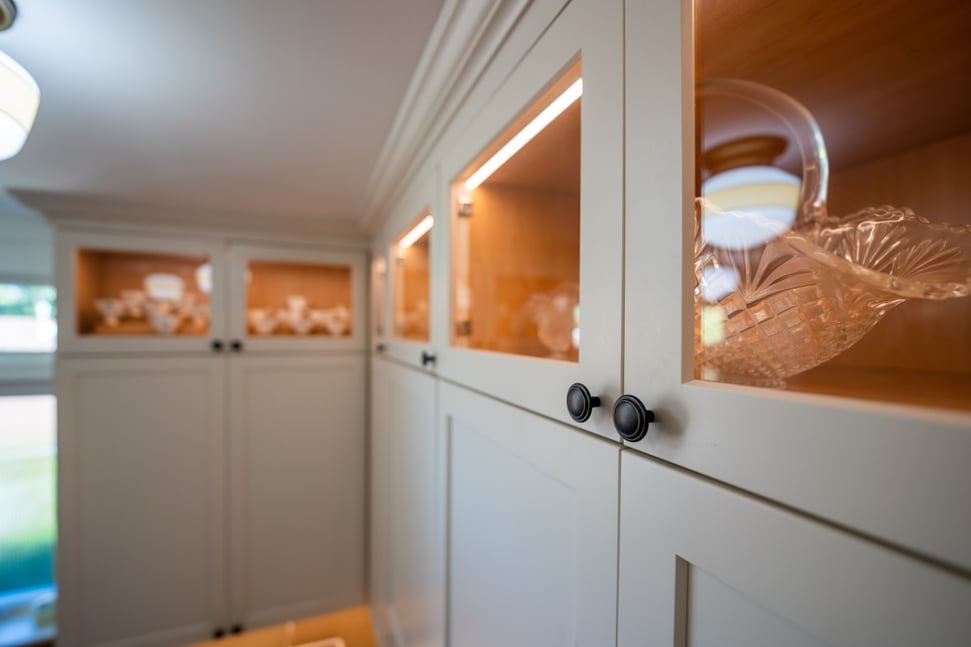 When designing your cabinetry plan in a kitchen remodel, you must first decide if you want the cabinets to go all the way to the ceiling. While reaching the top cabinet space may not be easy, it will make your kitchen space feel taller. Top cabinets with glass fronts are often used as display space for fine dishware, glassware, cookbooks, or family antiques.

For homes with very high ceilings, a fun touch that also adds functionality can be installing a sliding library ladder to reach the top.
4. The Modern Butler's Pantry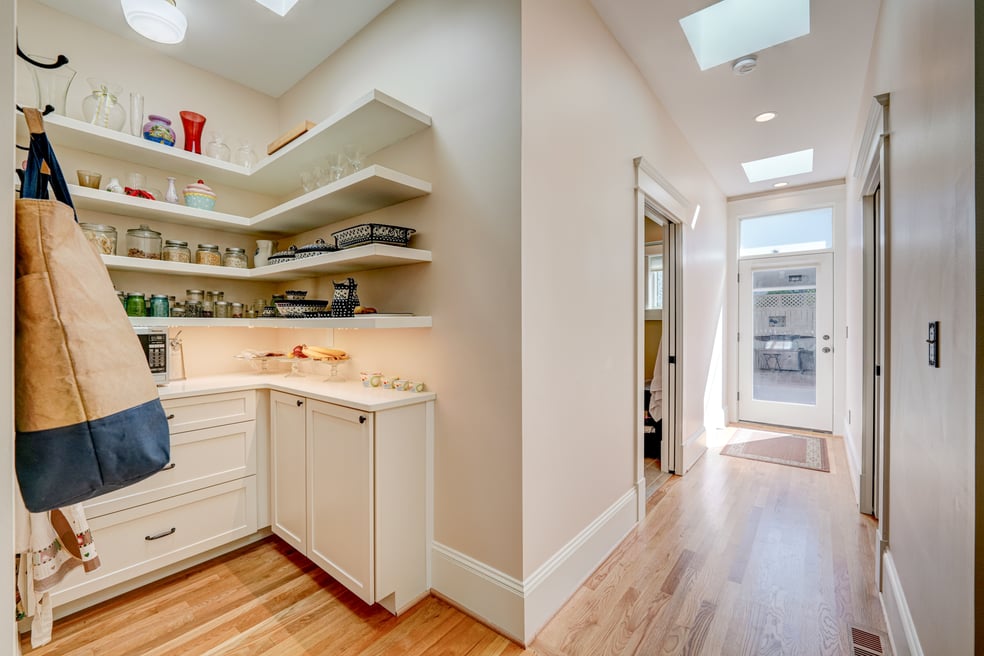 Make a statement with storage spaces like an open-concept modern butler's pantry. The butler's pantry is traditionally located just off the kitchen in an open-concept or walk-through style and ample open shelving. This option adds a ton of valuable storage space while also providing a fun aesthetic alternative.

If you don't want to make the interior design of your kitchen bold, make the butler's pantry your statement piece. For example, use neutral cabinet colors in the kitchen and go bold with colored cabinets and a patterned backsplash for the butler's pantry.
5. Hidden Storage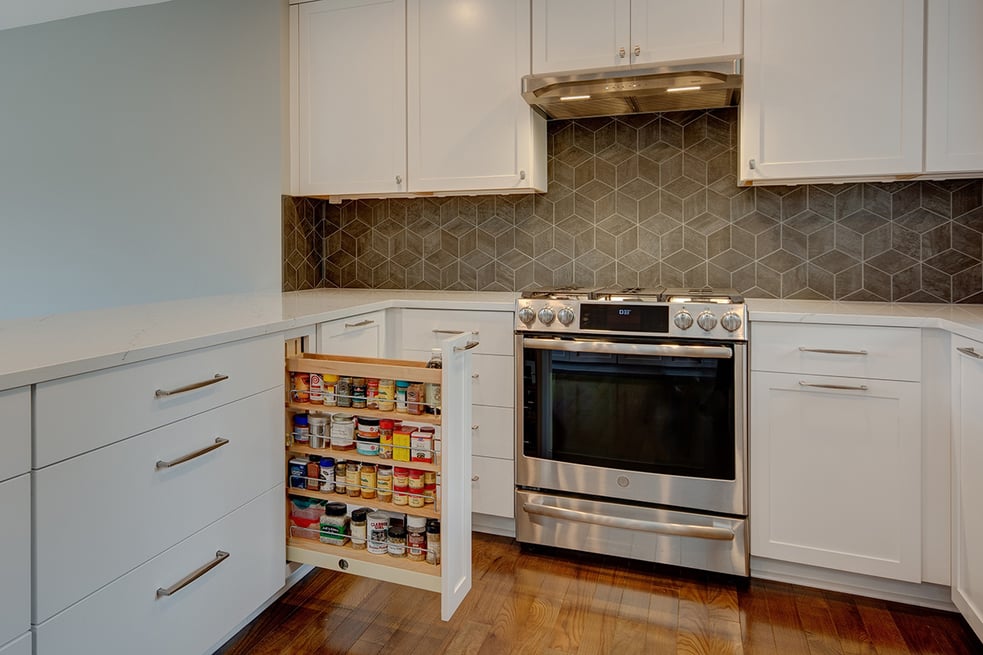 See the full Bothell, WA, kitchen remodel gallery here.
Creative hidden storage is a great customization for your kitchen. Two popular hidden storage solutions are pull-out shelves with drawer dividers for spice storage and pull-out drawers for safe knife storage. A well-organized spice rack can be a feat on its own.

There are so many organization options available at the various storage suppliers it's hard to know which one will be right for your space. Take the guessing out of the decision and plan to include storage space in your cabinetry. Having a large knife block out on the counter can be an eye sore and a safety hazard.

This kitchen design included a designated knife storage drawer with a built-in cutting board as a cover—safety, style, and convenience all in one!
6. Make the Most of Every Inch
Photo courtesy of Mullet Cabinets, Inc.
Consider the areas of your kitchen that are commonly less functional or simply not used at all. One great example is the false drawer commonly used in front of the kitchen sink. With advanced planning, a few strategically placed hinges, and a stainless steel tray, you can have a great pull-out drawer for storage of sponges and scrubbers.

You can also consider strategic corner cabinets with a built-in lazy susan or shelving built into the kitchen island that's the usually flat front. The more creative your design team is, the more solutions you can come up with!
Unique Problems Require Custom Solutions
If you love cooking, you know just how important it is to have top-notch kitchen organization. The more you can make of the space you have, the better your space can serve you. It is essential to work with a skilled design-build team who has years of experience creating highly custom kitchen solutions so they can create the perfect kitchen for you and your family.

If you're ready to begin the journey to the well-organized kitchen of your dreams, download our eBook, "The Kitchen Renovation Handbook: 10 Steps to Design the Kitchen of your Dreams."