If you're starting to think about a kitchen remodel, often one of the first steps is finding inspiration. We're here to share timeless ideas to help you create a space that won't go out of style.
1. Kitchen Storage Design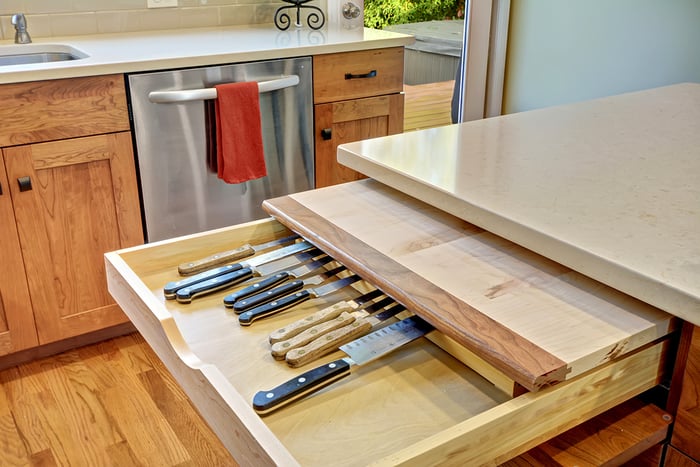 Organization shows like "Get Organized with The Home Edit" and "Tidying Up with Marie Condo" have become increasingly popular. So it should be no surprise that many people are set on creating better storage solutions.

When investing in your home with a kitchen remodel, finding you have "wasted space" is infuriating. When you ask people what their kitchen must-haves are, one of the first things people mention is ample storage. This leads to homeowners looking for storage solutions built into the cabinetry plan rather than scrambling for organization solutions after the remodel.

Built-in storage can include appliance garages, cutlery and utility dividers, built-in spice drawers, and wastebasket sliders to hide recycling and garbage cans. There are additional storage solutions outside of cabinetry that will not go out of style, including a closet pantry, butler's pantry, and beverage station.
2. Kitchen Layout Planning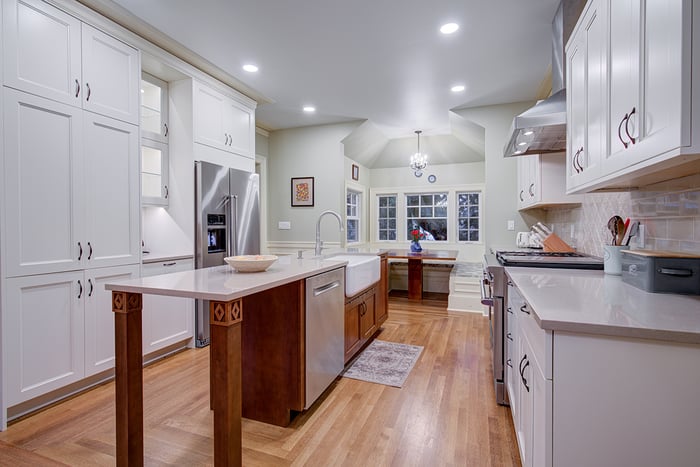 Intentional space planning for a kitchen will never go out of style. This goes beyond aesthetic decisions; the right kitchen layout will vary based on how you plan to use the space and how much space you have to work with. One of the basics of creating a thoughtful kitchen layout is designing a functional kitchen triangle–sink, oven, and fridge as the anchor from where the rest of the space flows from.

Whatever shape you decide on, L-shaped, U-shaped, Circular, or Galley, it will stay timeless as long as it includes a kitchen triangle.
3. Durable Countertop and Flooring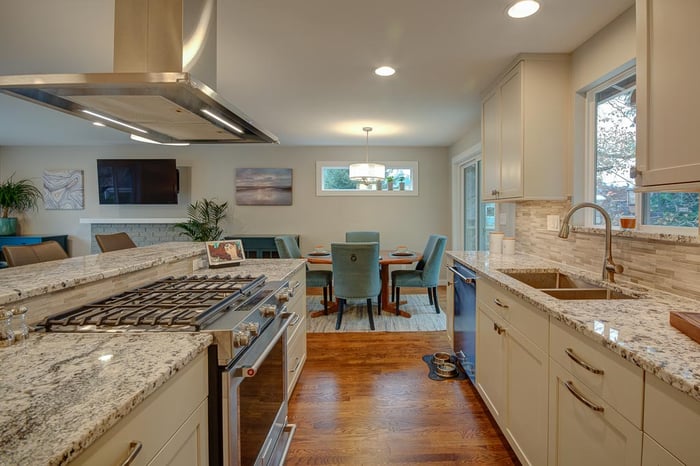 When working through a kitchen remodel, choosing your new countertops and flooring are big decisions. Of course, you want an aesthetically pleasing match with the rest of your space, but looks aren't the only thing to consider here. It's important to select materials that can withstand continuous usage in a high-traffic area like the kitchen. Common flooring selections include hardwoods, stone, and tile in neutral colors. Classic countertop materials include marble, quartz, and granite in neutral colors.
4. Functional Kitchen Lighting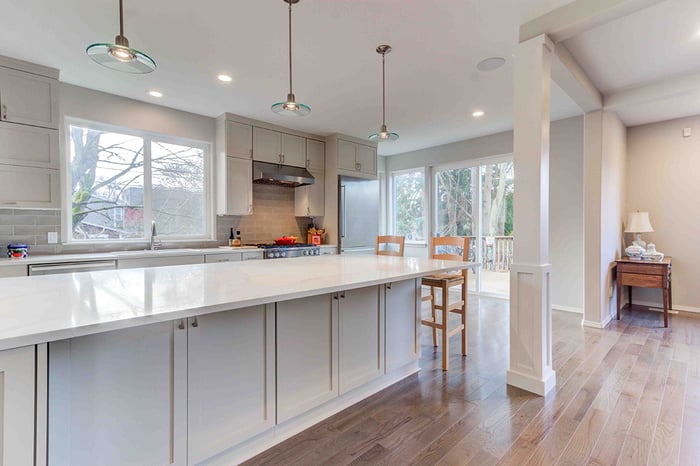 There's an entire industry centered around lighting design. Kitchens must be well-lit for safety and cleanliness, and well-captured lighting will also make the space feel larger. The color and temperature of your lights will dictate the tone of your space, and it can also make every other color in your kitchen look different. Lighting can highlight focal points and take the strain off your eyes, so if you spend a lot of time in the space, this is very important.

There are three primary types of lighting to incorporate in your space to minimize shadows and glare: ambient, task, and accent lighting. Ambient lighting is typically your primary light source for the room. Task lighting is usually brighter than ambient lighting and offers increased light in specific areas, creating a shadow-free work environment. Accent lighting is used to showcase focal points but isn't as bright as task lighting.
5. Practical Kitchen Sinks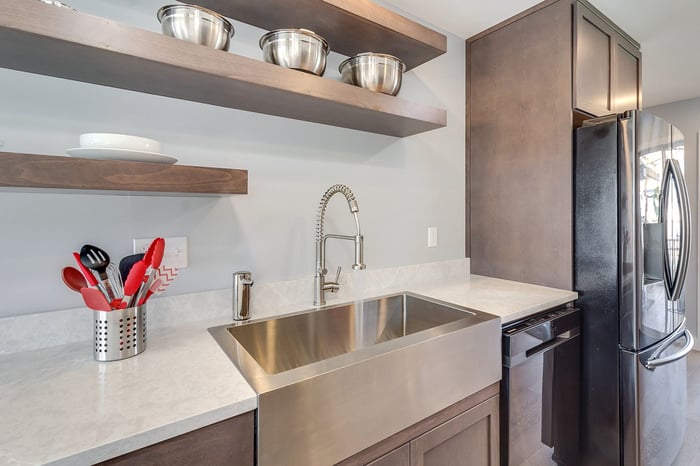 While it's only one piece of the puzzle, choosing the right kitchen sink is imperative to great kitchen design. An oversized sink provides you the space to work efficiently inside your kitchen. Whether you're washing a large bulky pan, soaking dirty vegetables, or cooking for a crowd, you'll never be sorry you installed a large sink. Common sink styles include a farmhouse, large single-basin, double-basin with a divider, and top or under-mount.
6. Kitchen Aesthetic that Matches the Rest of the House
Designing a kitchen that matches the home's overall design style will help make the entire home feel cohesive. This is especially important in a house with an open floor plan where all spaces come together as one. In these situations, you will want to create an interior design that goes with the overall architectural style of the house to keep things timeless.

The best way to design a timeless kitchen is to work with a design-build firm that has years of experience designing kitchens and knows not only what products but what aesthetics will stand the test of time. A talented designer will be able to help you find a balance between your personal taste and recommendations to keep your kitchen design timeless.

If you're working toward the kitchen remodel you've been envisioning for years, we have some more kitchen design tips to help you along the way. Download our eBook, "The Kitchen Renovation Handbook: 10 Steps to Design the Kitchen of your Dreams."