When you are choosing to invest in your home, you want to create a design that will meet your function and needs, not just now but for many years to come. Typically, the cost to make changes to your home will be less than the long-term cost of moving to an assisted living or nursing facility.
Universal Design (UD) for Aging in Place
By implementing Universal Design (UD) principles, you are enhancing the longevity that you can stay in your home.
What is Universal Design?
"Universal Design is the design and composition of an environment so that it can be accessed, understood and used to the greatest extent possible by all people regardless of their age, size, ability or disability." (Centre for Excellence in Universal Design)
When we consider the design capabilities of the modern home, why would you not want a home that is welcoming and accessible for everyone? It's important to consider your current and future needs first and foremost. But UD can also be a valuable consideration when planning for future resale because it expands the market of people your home may appeal to.


#1 Equitable Use
No matter who or what will be using the space, the area that Universal Design is being applied to should be of equitable use and appeal to people with diverse abilities.

Equitable Use Example: Rather than mounting your microwave above the stove or in the upper cabinets, put the microwave down below in the island for easier access for someone who may be in a wheelchair. It's just as easy to reach for abled bodies and easier for those with diverse abilities.


#2 Flexibility in Use
The universal design should be adaptable to a wide range of people with varying preferences and abilities.

Flexibility in Use Example: flexibility in use could look like appliances that give users the option to read the numbers or have them announced out loud to hear. Or tools to accommodate right or left-handed access and use.


#3 Simple and Intuitive Use
Regardless of a user's experience or cognitive level, the design should be easy to understand and use. Keep it simple.

Simple and Intuitive Use Example: Control panel or remote control with simple buttons or symbols that control overhead lights, ceiling fans, etc.


#4 Perceptible Information
The design should be created to effectively communicate its intended use, regardless of sensory limitations.

Perceptible Information Example: Similar to video closed captioning, if someone in the home is deaf, a light is produced, indicating an action rather than a beep.


#5 Tolerance for Error
The design should be created to minimize hazards or risk of error in the space.

Tolerance for Error Example: UD showers will have grab bars, and curbless entry, so there is nothing to trip over and use textured material on the floors to prevent slipping.


#6 Low Physical Effort
The space can be used with a sustained physical effort at any level of ability, with minimal fatigue.

Low Physical Effort Example: Think about not making the space bigger than it needs to be. This could also look like automatic doors, stair lifts, or elevators if the single level isn't attainable, or touchless faucets.


#7 Size and Space for Approach and Use
The design provides the appropriate space, reach, and use regardless of the user's size or mobility.

Size and Space for Approach and Use Example: A basic approach to this principle is providing a clear line of sight at any level to important elements within the space; think of the ability of users of any height to reach the light switch.


What is the Most Common Aging-in-Place Remodeling Project?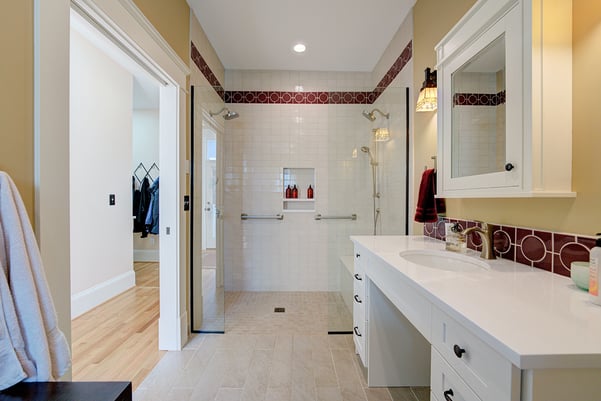 One of the most common aging-in-place renovation projects is the bathroom. The average bathroom inherently presents risks to those who are older or have limited mobility. There is an increased risk of falling due to slippery surfaces and the movements needed for bathing or using the restroom.
According to the National Council on Aging (NCOA), falls are the leading cause of fatal injury and the most common cause of non-fatal trauma-related hospital admission among older adults. Resulting in more than 2.8 million injuries and 800,000 hospitalizations, the risk of falling should be taken seriously.

Common Aging in Place Home Remodeling Modifications
Design the space so you have everything you need to live on the main floor with no stairs. This means having a room that can be eventually turned into a bedroom on the first floor and a bathroom that has an accessible shower/bathtub and laundry on the first floor.
Installing a ramp to replace or next to front porch steps for wheelchair or walker access


Widening doors, hallways, walkways, and space around the kitchen island so that a walker or wheelchair can easily navigate the space


Removing the door jams from entrances so that there's a smooth transition from room to room and nothing to trip over


Use specific paint colors to aid depth perception challenges


Cooktops with a front-mounted control panel for easier access


Pull-out drawers in cabinets


Rounded corners on countertops for safety


Cabinet pulls instead of knobs for easier grip


Custom-height toilets


Installing a shower seat


Slip-resistant flooring

Designing for All Abilities is Good Design
"This (Universal Design) is not a special requirement for the benefit of only a minority of the population. It is a fundamental condition of good design. If an environment is accessible, usable, convenient, and a pleasure to use everyone benefits." (Centre for Excellence in Universal Design and National Disability Authority)
There's no reason not to include universal design aspects in your home renovation. If you're already planning to renovate your home with long-term goals in mind, ensure that you are designing a space that will be functional for you forever.
If you're beginning to think about remodeling to create your "forever home," download our eBook, "Space Planning 101: How to Renovate Your Home Layout to Improve Functionality."