While home modifications like adding a window and removing a wall may seem simple, structural modifications require the existing structural loads to transfer to other areas within the structure. To properly do this, the builder must review critical aspects of the home. What is the overall condition of the house? Is the structure in good condition? This is a very complex project.
What is Considered a Structural Modification in a Home?
To make the entire process clear, first, you must define what counts as a structural modification. Anything that alters the structure is a structural modification. Technically speaking, a structural element in relation to a building, means (a) any internal or external load-bearing component of the building that is essential to the stability of the building or any part of it, including (but not limited to), foundations, floors, walls, roofs, columns, and beams; or (b) any component (including weatherproofing) that forms part of the external walls or roof of the building.
5 Critical Things to Know When Considering a Structural Modification
Let's dig in by reviewing the top 5 things that need to be considered before implementing a structural modification in your home:
1. Soil Condition
What is the soil beneath the foundation? Sand, clay, peat, and quicksand are all soil conditions that can present challenges for building modifications. Poor soil conditions can cause major structural integrity problems. Variations of soil types require specific work to be completed to support the structure. Therefore, it is wise (and sometimes required) to have soil testing performed as part of a feasibility study to assess if the land is feasible for construction before beginning work.
2. Existing Foundation
When considering any structural alteration, the integrity of the existing foundation is one of the first things you need to evaluate. Is the foundation the right size for your ideal modifications? What size are the footings and is the foundation reinforced or not? The challenge is, most people can't figure this out on their own. You need an experienced professional to determine the answer to these questions. An experienced contractor can give the initial evaluation but will need a structural engineer for certification.
For example, say you live in a three-story home and want to add a single window to a wall that doesn't currently have one. This sounds pretty simple, right? What many people don't realize is that adding one small window means that the load distribution connects to the foundation, and this one window will change it all. If the foundation isn't structured to support the new load distribution, it may result in structural failures, like the foundation settling unevenly and causing the window glass to break or you become unable to open doors and windows.

3. Walls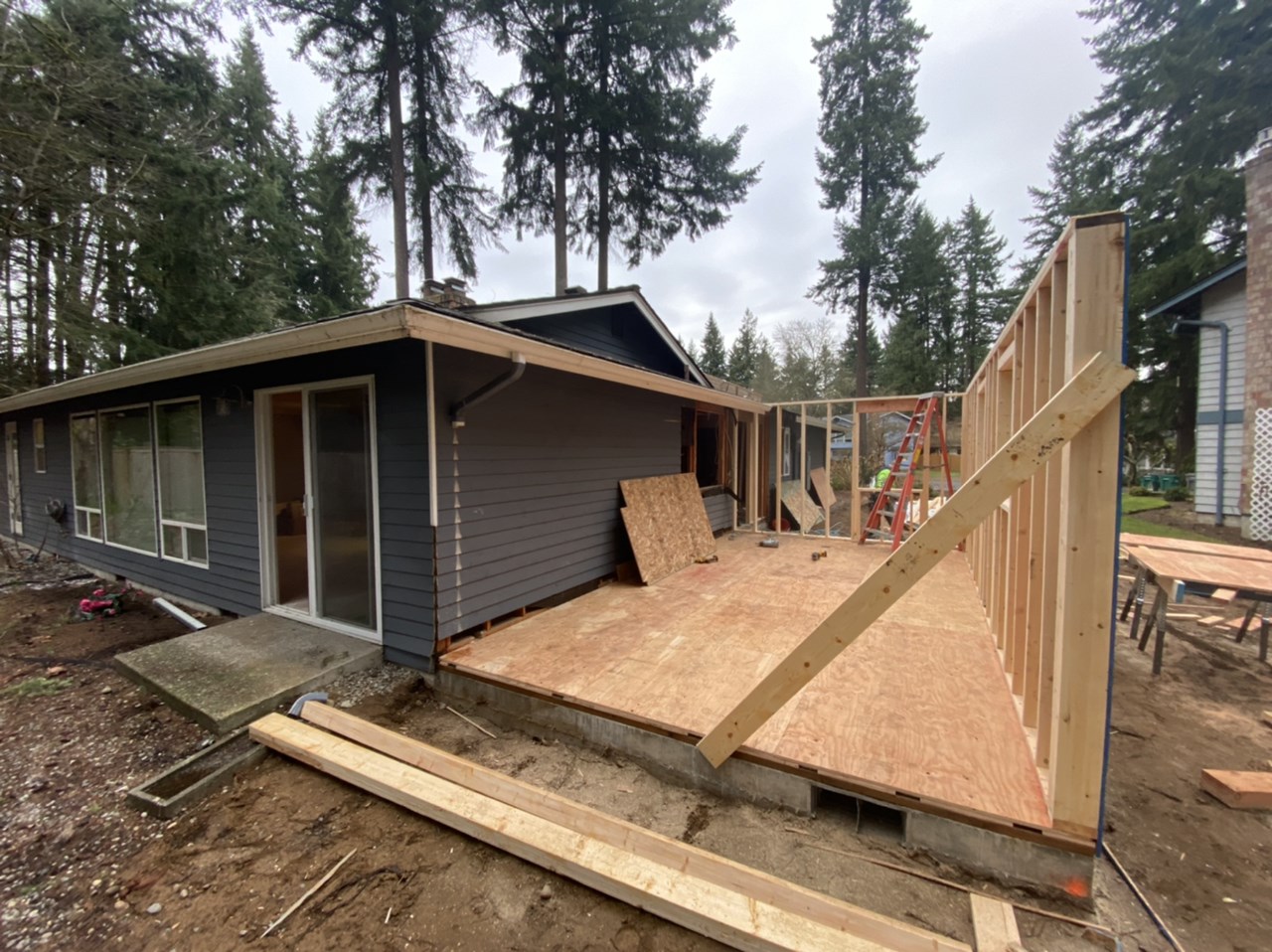 You need to consult with a building professional to inspect the structural integrity of the walls. For example, do you have leaky windows? This could be causing water damage that infiltrates the structural pieces of the wall. Was the original house built well? If not, the builder will have to fix the existing problems before they consider new structural changes. Problems like wood rot or termite damage can also impact the feasibility of a structural change project.
4. What Seems to Be a 'Small' Project Usually Isn't
Wanting to put in a new window isn't as easy as 'cut a hole in the wall, place a new window inside.' There are MANY things that are impacted by structural changes, such as:
Gaps in the flooring may happen when walls are relocated or removed.
You may need to remove existing finishes, add new finishes, and patch things back up to make your altered space cohesive.
Removing structural support in one place means adding it back somewhere else. You can take down the load-bearing wall separating your kitchen from the living space, but you need to replace it with other support like beams or pillars.
Electrical outlets and switches are impacted both because there may have been electrical running through the wall you want to be removed, and that they are no longer in convenient spots in your new layout.
Lighting, plumbing, and ductwork can all be impacted by structural redistributions.
5. Limitations
It is essential to know that while there is a way to make most projects possible, there are some hard limitations. A few common limitations are:
There are requirements for a minimum head height. An example where this could be a limiting factor is if you wanted to remove a load-bearing wall where the ceiling height is only the required minimum of 7ft and you'd need a 12-inch beam for new support, this won't work as it no longer meets code.
Mechanical systems may be in the way. Heating ducts, plumbing, or electrical could be running through the wall you'd like to remove and wouldn't be easily re-routed. This scenario could pose an either impossible or very costly solution.
Wall span (the length between two supports) can pose challenges. It impacts what materials can be used and the amount of room in the existing space. For example, removing a wall that's 20 ft long would require a beam that's 20 ft. Does the space have room for this beam? Are there places to support the beam load? There may have been constraints in the design that make that load-bearing wall the only feasible support option.
Don't Try This at Home
Structural modifications are always complicated, so it's important to choose a building team with experience and connections to structural engineer resources to complete a structural modification successfully. The building team must look at the home holistically to truly understand what's possible and what is the best route to making the changes successfully. There's a lot that needs to be considered and this is one to leave to the professionals.
If you're considering structural improvements to your home, it's important to approach the process in the right way. Download the eBook, "Space Planning 101:How to Renovate Your Home Layout to Improve Functionality."