Is your outdoor space just as important to you as the inside of your home? If so, you need a beautiful place to relax, barbecue, dine al fresco, or entertain guests. Better Builders can transform your outdoor living space with all the right additions! Let our knowledgeable, experienced build team bring your vision to life while staying on budget and within your desired timeframe.
Contact us to schedule a free consultation and estimate today!
Benefits of Outdoor Living Spaces
Why should you spend time outside if you have a perfectly good house? Here are the top benefits of adding outdoor living space to your Seattle home:
Expanded living area: Whether you want more space or to enjoy a change of scenery, an outdoor hangout spot is the place to go.
Easy to entertain: Your backyard will become party central once you have a good way to cook, eat, lounge, and play outside.
Stimulation for the senses: Enjoy beautiful sights, fresh smells, and charming songbirds in your outdoor living space.
Boosted immune system: Spending time outdoors can do wonders for your health.
Improved mental health: Being outside is widely recognized as a mood booster, relieving depression and stress as you slow down and take in the world around you.
To enjoy these benefits for yourself, contact Better Builders and begin planning your outdoor oasis.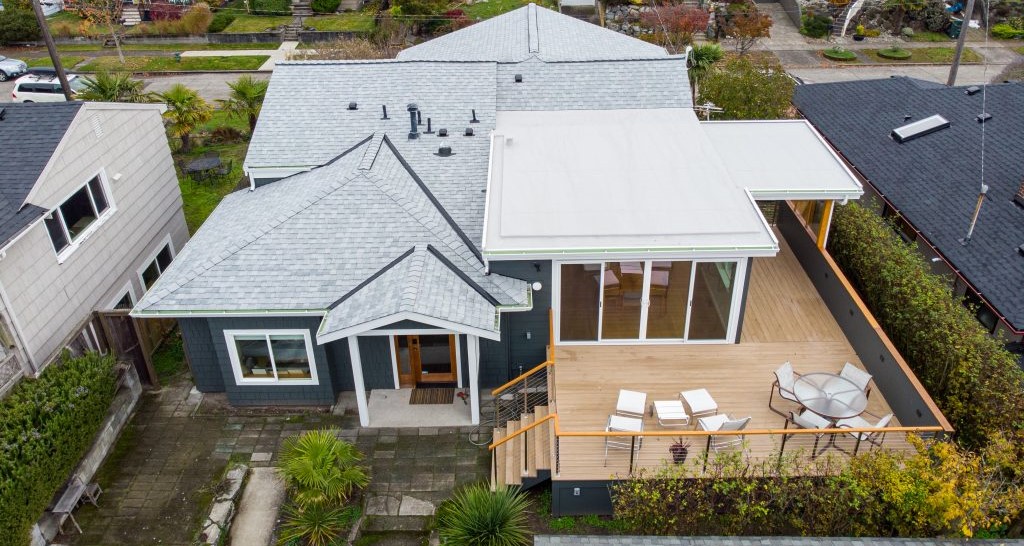 What to Include in Your Outdoor Living Space
Everyone has a different idea of how they want their outdoor space to look. Here are some ideas to inspire you:
Outdoor kitchen: From a standalone gas grill to a full-fledged backyard kitchen, it's wonderful to have the option of cooking outside in the summer.
Composite or wood decking: Want to install a deck? Choose composite for a wood-like appearance without the maintenance. Pressure-treated or kiln-dried wood is also available, with finishes that defend against rot and decay.
Concrete or paver patio: Numerous materials are available for your backyard patio, including concrete, brick, flagstone, slate, and masonry tile.
Covered deck or patio: Create a retreat from the drenching rain or sweltering sun with an awning, pergola, gazebo, or pavilion.
Second-story veranda: Depending on your home's layout, you may be able to construct a balcony or deck off your second floor for maximum views of the surrounding landscape.
Screened-in porch: Want to enjoy the fresh air without all the bugs? A screened-in porch or patio could be your best option.
Sunroom: This indoor-outdoor space lets you enjoy nature in a brightly lit, temperature-controlled setting.
Fence or wall: Eliminate direct line of sight with your neighbors and provide a secure place for your kids and pets to play by installing a fence or privacy wall.
Why Choose Better Builders to Create Your Outdoor Living Space?
At Better Builders, we strive to put a personal touch on every job we complete. Our goal is to ensure a positive client experience before, during, and after the project is complete. By prioritizing your needs, we don't only build beautiful homes — we build lasting relationships!
Here's what sets us apart from other remodeling companies in Seattle:
We are caring and trustworthy.
We provide the best quality and value for your investment.
We emphasize complete pricing transparency and open communication.
We have a General Contractor License, insurance coverage, and an A+ rating with the BBB.
We offer a five-year craftsmanship warranty for your peace of mind.
To begin designing your outdoor living space, please contact us to request your free virtual consultation.