When it comes to choosing the best exterior material for your home, one of the first steps is to establish your budget. Although there are low-cost and low-maintenance siding options available, they may not offer the same aesthetic appeal as more expensive or high-maintenance materials. Therefore, it's essential to balance the materials' cost, aesthetics, and maintenance requirements when selecting. In addition, it's critical to remember that while low-maintenance materials may reduce the upkeep, they still require some maintenance. Remember, low maintenance doesn't mean "no maintenance."
Consider the Costs of Building Materials AND Application
When determining the budget for your home's exterior, you want to consider the cost of the material, the cost of labor to install your selections, and the installation method. There are often multiple application methods for the same product. For example, fiber cement siding or Hardie siding can be applied to the sheathing overtop of a vapor barrier, or it can be applied in rain screen application. Applying the material over the standard vapor barrier is likely more cost-effective.
The additional application of the rain screen before the fiber cement siding increases the cost of materials and installation labor. Although the rain screen application comes with a higher price tag, it may be considered the 'better' choice, particularly in the ever-damp Seattle region, as it has a longer lifespan. You have to decide between paying more initially for a longer-lasting product or saving some money in the present and potentially having to repair or replace your siding sooner.
Low Maintenance Exterior Materials: Pros & Cons
Greenwood Tudor Home, Coldwell Banker Bain
Brick, Stone Veneer, and Masonry Siding
Pros:

Cons:

These materials come in all shapes and sizes for siding options.


Home siding made of brick, stone veneer, and masonry is exceptionally durable and requires little maintenance.


Combining brick siding with insulation can increase energy efficiency by stabilizing indoor temperatures and slowing down heat movement through the wall. As a result, the heat remains outside in summer, and in winter, it stays inside, leading to reduced utility bills.


Most brick siding, brick veneer, and stone veneer are fire-resistant.


Brick and natural stone are typically eco-friendly because they're made of plentiful natural materials.


These materials can reduce risk of the chance of mold, mildew, and termites.


Because of its thickness, brick can be a more effective sound barrier than other siding materials.

Installing brick is labor intensive, which would increase the cost of this choice.


These options are somewhat limited in colors compared to other materials. If you want to change it later down the road, you need to paint it, which is timely and challenging.


If you add on later or change part of your home, having a brick exterior can make home additions more challenging and costly.


If you're considering brick siding for your home, keep in mind that it requires additional structural support compared to lighter-weight materials.

For instance, if brick siding covers most of your home's exterior, any second-floor gables above roofs will need secondary cladding. This is because brick is heavier and needs more support to withstand its weight.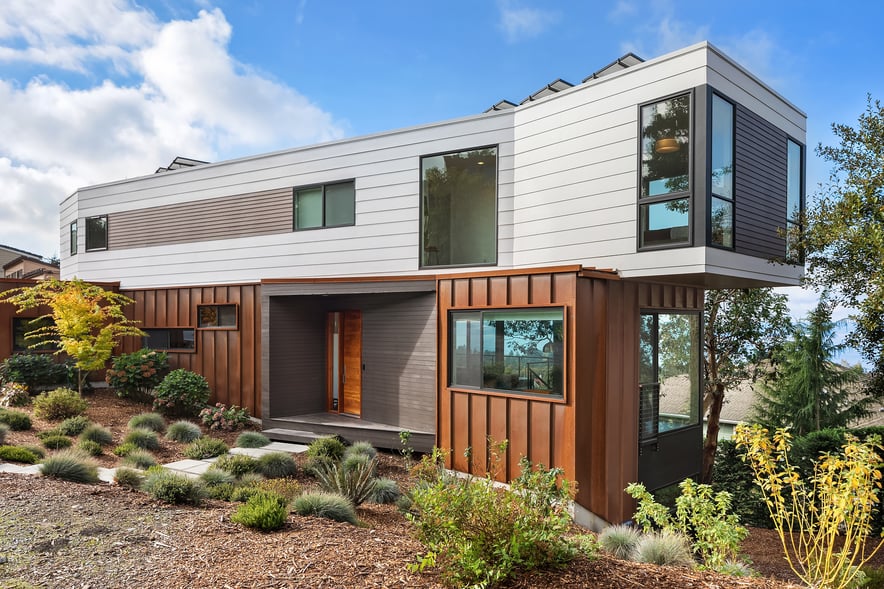 Farwell New Construction, Better Builders
Steel Siding
Pros:

Cons:

The cost is similar compared to other high-quality materials like wood siding or cedar shake.


Steel siding is low maintenance, verging on no maintenance required - steel siding doesn't require painting or regular washing.


It can be formed into a large variety of shapes and sizes.


Over time steel siding will become patinaed and rusted, which can be a unique design element to some but not to others. Steel siding can be painted or coated to prevent this from happening if you desire.


Steel siding is fireproof.


This exterior material choice is considered eco-friendly because it's a recyclable material, and steel production doesn't take too much energy.

The installation cost is higher because steel siding needs to be installed over a rain screen (this method is recommended for wet climates like the PNW). Steel is also harder to fit and machine to specific lengths and shapes.


Steel has a specific aesthetic and is typically used in more contemporary/modern/rustic styles of homes. This means the material needs to match the homeowner's aesthetic and is only a good fit for some styles.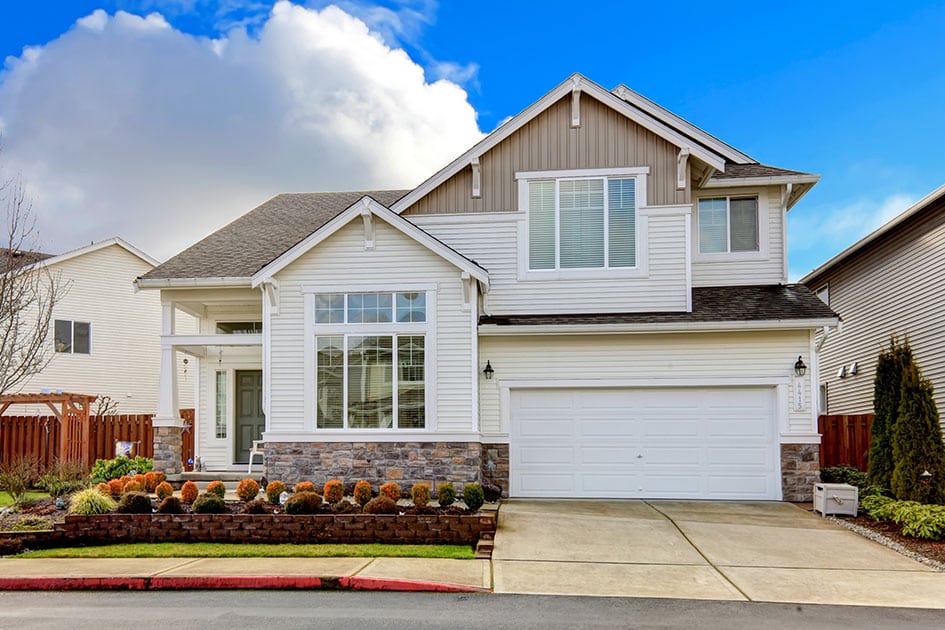 Vinyl Siding
Pros:

Cons:

Vinyl house siding is inexpensive to purchase and install.


With its wide range of colors, vinyl siding eliminates the need for painting. Unlike natural wood, which requires scraping, prepping, and priming, vinyl doesn't peel, making it a low-maintenance option for your home's exterior.


This type of material is known to be low-maintenance in terms of cleaning due to its smooth texture. Dirt, dust, and other debris can be easily removed by simply using a garden hose.

If you prioritize aesthetics, it's worth noting that vinyl may not be the most durable material, and its color may fade over time. Its lifespan is about a third of that of fiber cement.


Vinyl can be vulnerable to melting or warping when exposed to direct heat, and it poses challenges for disposal due to its non-recyclable nature. Additionally, it lacks fire resistance, further complicating its suitability for certain applications.


Vinyl offers a limited range of styles despite its multitude of colors. In case of dullness, replacement rather than painting is required. Moreover, darker shades are more susceptible to fading in direct sunlight.


High wind events can pull vinyl siding off the exterior of your home.


Vinyl lengths may split and separate from extreme temperature swings, and vinyl siding can easily puncture. For instance, a rock may hit the siding while mowing the lawn, causing a hole.


Vinyl siding can trap moisture underneath, leading to mold, mildew, wood rot, and potentially even structural failure.


The production of vinyl is bad for the environment.
Fiber Cement Siding for Seattle Homes, Washington Energy Services
Fiber Cement Siding
Pros:

Cons:

Fiber cement siding is a highly durable building material suitable for various climates. Its exceptional toughness makes it an ideal choice for salty environments, as it can endure harsh conditions if given a proper finish.


This siding material is highly customizable and available in different shapes, sizes, and thicknesses. It can mimic the look of wood grain and can be installed vertically or horizontally. Additionally, it can be pre-finished or pre-painted to save installation time and effort.


Fiber cement exterior siding is fairly eco-friendly because it's made of recycled materials. It's not currently post-consumer recyclable, but since it has a long lifespan, it's not a huge concern (yet).


Fiber cement siding's high durability is enhanced by its ability to be installed with minimally exposed fasteners resulting in fewer penetrations and areas prone to deterioration.

Fiber cement siding needs to be painted or sealed, which increases the cost and maintenance.


The raw material (unpainted or sealed) can't come in direct contact with the ground or wet surfaces because it'll deteriorate. This means installation may take longer because crews have to be more careful with the material.


Due to its weight, fiber cement siding poses a greater installation challenge, resulting in higher labor costs and requiring more time for handling and management.
Natural Wood, Engineered Wood, and Cedar Shake Siding
Pros:

Pros:

There are many species of natural wood to choose from that all come with their own unique look. Common wood species for siding include cedar, pine, spruce, fir, and more.


Natural wood siding and engineered wood siding can be painted or stained in practically any color or finish you desire.


Natural wood is an environmentally friendly choice because it's biodegradable, produced through clean manufacturing, and is considered a renewable resource.


Both natural and engineered wood also comes in a variety of styles, such as lap, tongue and groove, shake, shingles, board and batten, beveled, and more.


Since wood siding is considered a classic look and a more high-end selection, it may add curb appeal and value when it's time for resale.

Wood siding requires more maintenance than other common siding materials. Some species even need to be restained every 2-3 years to keep moisture out of the wood. Painting typically needs to be redone every 4-5 years. Wood siding must also be thoroughly cleaned at least once per year to remove dirt and mildew buildup.


While price varies depending on the wood species you choose, wood siding is more expensive than other common siding materials.


Wood attracts termites. You'll want to factor in annual pest control inspections as part of your maintenance plan to prevent infestations.


Many wood siding products have poor flame-spread fire ratings. Sometimes this may even increase the cost of your home insurance.


If the wood becomes split, cracked, or rotted, it must be replaced immediately. Damaged wood siding can invite water to get trapped in and behind the wood, leading to mold and mildew problems. Smaller wood pieces like shakes or shingles are also more prone to being ripped off in severe weather conditions.
Lorentz Place Stucco Home, Trulia

Stucco Siding
Pros:

Cons:

Stucco siding comes in many different colors and finishes.


The Stucco application is a relatively seamless process, leading to a consistent, uninterrupted look.


If you appreciate the distinctive stucco exterior look, there are no substitutes that can replicate it. Stucco offers a one-of-a-kind texture that is unparalleled by any other exterior finish, making it the ideal choice for those who admire this appearance.

Because stucco is commonly applied over wood structures, the wood will expand and contract through the seasons based on moisture and heat. This expansion will create hairline cracks in the stucco facade that, left unmaintained, will allow moisture in between the stucco and wood and will damage both materials.


Most stucco is at its best when placed over masonry or concrete sub-structure - look at it more as a decorative finish instead of a structural material.


The paint that's required to maintain stucco can be expensive as you have to use paint that is specifically formulated for that material application. The painting also takes a long time and is labor intensive because of the texture that stucco creates.


Quality application of stucco is a specialized craft, which means not all siding contractors can do it. Installation can be very time-consuming.
Balancing Aesthetic, Care, and Cost
There are many different types of siding to choose from. Narrowing down your choices will have to do with your desired aesthetic and the architectural style of your home. You also need to consider the climate in which you're building your home and your ideal budget. Reach out to an experienced general contractor or architect who can provide you with information and guidance on which product is best suited for your budget and style.
For more insights on keeping your home in top shape, download our eBook, "Redefining Home Maintenance: The Proactive & Essential Guide for Homeowners."