Seattle Backyard Cottages (ADUs, DADUs) Requirement Changes (2019-2021)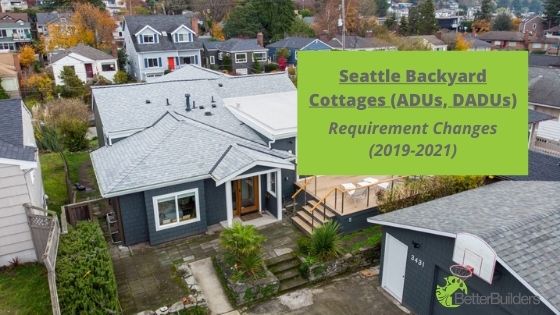 The "backyard cottage," mother-in-law suite, guest house, accessory dwelling unit (ADU), etc., have become increasingly popular and sought after by a large number of homebuyers in the greater Seattle area. Mayor Jenny Durkan signed legislation in 2019 to remove regulatory barriers and make it easier for property owners to create accessory dwelling units (ADUs) in Seattle's single-family zones. The new ADU regulations took effect on August 8, 2019.
What are ADUs and What is a DADU?
An ADU is a term used mostly by government officials to describe a self-contained living space in addition to the primary living space or main home on a property. It is a place that includes all of the necessities for living, such as a kitchen, bathroom, heat, electricity, running water, and bedroom with a separate entrance to the outdoors.
These spaces can be used to house family members that want privacy, long-term out-of-town guests, or as a rental if the laws permit. An ADU is most often used to refer to a space that is part of the main building, like a basement apartment but can sometimes also refer to any unit that can stand on its own as a home on the property.
If the structure is detached from the main living structure on the property, it is referred to as a DADU or detached accessory dwelling unit. A small stand-alone house built behind a home is often called a backyard cottage unofficially. It is not uncommon to see them built as the second floor of a detached garage.
Seattle's 2019 adopted changes now allow for two ADUs on lots in single-family zones
It also increases the maximum size of a backyard cottage, eliminates parking requirements, lowers lot size requirements, and other regulatory changes intended to encourage ADU construction.
Seattle launched a new ADUniverse website in September 2020. ADUniverse features a gallery of pre-approved DADU designs, a step-by-step guide to the ADU process, and tools to help identify the feasibility of adding an ADU to your property.
They have pre-approved designs created by local designers and architects. These ten building plans offer a faster, easier, and more predictable permitting process for creating a DADU. In most cases, you can get your permit in just 2-6 weeks.
Mayor Durkan directed City agencies to identify strategies to reduce permitting times and costs for homeowners seeking to build ADUs on their property.
"While in the middle of global health pandemic, we are even more aware that we continue to face an affordability and housing crisis. It's our responsibility to use every tool available to increase housing options in every part of our City. While the City expects to build more than 6,600 new affordable homes by 2023, we need to ensure we have a range of housing options for everyone," said Mayor Durkan. "These new designs will help streamline permitting issues, allow homeowners to provide alternative housing choices to renters within their communities, and create options for residents to age in place or live with loved ones."
Affordable housing is one of the biggest challenges we face in Seattle today
City leaders have identified the need for providing a mix of housing types at prices people at all levels of income, both for homeowners and renters, can afford. Increasing the number of accessory dwelling units (ADUs) in single-family zones is part of addressing our housing affordability crisis.
ADUs include backyard cottages or Detached Accessory Dwelling Units (DADUs) and in-law or basement apartments or Attached Accessory Dwelling Units (AADUs). ADUs can provide new housing opportunities in neighborhoods where single-family homes are often unaffordable to many people. If just 5% of eligible lots in the city build ADUs, it will create about 4,000 housing units.
ADUs and DADUs can be a great source of passive income for the homeowner
It can help a homeowner struggling to make ends meet with living expenses to stay in their home. The income can help homeowners pay for home improvements and upgrades they might otherwise not be able to afford.
The current Seattle market rents smaller spaces for about 20-30k annually. If you use this number, you can project a 10-15 year return.
ADUs and DADUs are alternatives to assisted living
Multigenerational living families often suffer from a lack of space to fit all their family members in, so we pride ourselves in creating specially crafted ACU's that will benefit everyone in the family. People want to take care of their elderly parents or grandparents but might not have the space to create a new bathroom and bedroom in your house.
By taking advantage of ADU or DADUs, you can have us build your special family member their very own small home to live in near your family housing. They can have their private bathroom, living area, and bedroom to make their own instead of reorganizing your house.
This is one of the most common uses for ADUs or DADUs due to the owner-occupancy requirement. Under current regulations, a property owner must occupy either the main house or the accessory dwelling unit (ADU) for six months of the year.
Current 2020 Seattle Backyard Cottage Regulations
In 2006 Seattle started a pilot program to test out backyard cottages in residential properties. These DADUs were allowed in the southeast part of the city. The program was successful and expanded to all of Seattle in 2009. Essential points to know about the regulations include:
Lot size: your property must be at least 4,000 square feet in a single-family home zone.

Cottage size: the DADU cannot be any larger than 800 square feet of space for a single-family zone and no more than 650 square feet in a lowrise. If the "backyard cottage" is built as part of the garage or a storage area, this space counts toward the total allowed space.

Codes: space must meet all current building codes that a regular house would need to meet

Parking: there must be one off-street space for the backyard cottage
These are just a few principal regulations. There are many more. It is a good idea to talk over your hopes and ideas with a licensed contractor or a zoning official to determine if those plans are within regulation. Backyard cottage regulations are expected to change soon. These new regulations will make it easier for homeowners to build backyard cottages.
Regulations change with each type of zone, city, and county that a property is in, so it is crucial to know the local laws.
We help prepare all the necessary research and planning for ADUs and DADUs
We want to find the best fit for what the project demands, and we have a lot of experience knowing what is likely going to work best. The design provides the most cost-effective means for exploring options and preventing additional costs. We can help you walk the site and flag any concerns.
Our goal is to help you figure out what you want while navigating things like city zoning codes, building setbacks, site feasibility, plan assemblies that meet (or exceed) the energy code and prepare documents for a permit-ready submittal and a site plan.
Recent changes make ADUs much more accessible for homeowners. There are many great ways you can put together a backyard cottage in Seattle and surrounding towns. For more information on backyard cottage options for your home, please contact us any time.

About Marin Ryles
With an educational background in Marketing and Communications, Marin loves to write and find new ways to connect with our clients and followers.
Call us today! 206-588-2075
Address: 4800 California Ave SW, Seattle, WA 98116
Fax: 206-971-0313
Hours: M-F 8am-5pm