Home Remodeling Services in Bellevue, WA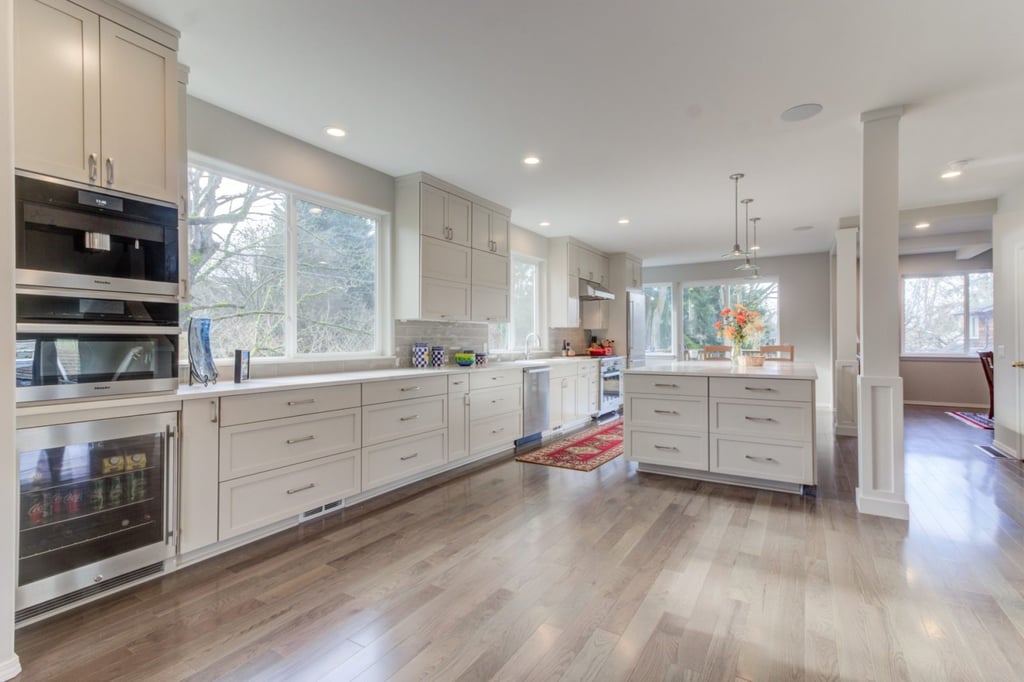 Is your house outdated, undersized, or falling into disrepair? If you're tired of making do, team up with Better Builders to transform the space into everything you've always wanted. We have over a decade of experience helping Bellevue homeowners fall back in love with their homes, and we're confident we can deliver a beautiful, functional finished product for you.
Ready to speak with our design team about your remodeling goals? Contact Better Builders for a free consultation.
Sustainable Building Practices
Our name, Better Builders, doesn't just signify that we create beautiful, luxurious living spaces. It also means we focus on sustainability for safer, healthier homes and a cleaner natural environment. As a member of the Master Builders Association and Built Green, we're happy to complete your project to any level of green building you desire. We can even help your Bellevue home achieve ENERGY STAR® certification.
You'll be pleased to know that sustainable development lowers your costs, improves home performance, and increases property value while promoting environmental protection.
Bellevue Kitchen Remodeling
The kitchen is arguably the most important room in the house. It should be spacious to accommodate dinner guests, functional to facilitate family meal prep, and beautiful, so you want to spend time there. If your space lacks the features you're looking for, it could be time for a kitchen remodel.
The Better Builders team excels at designing kitchens to meet our clients' needs. We don't shy away from knocking down interior walls, pushing out exterior walls, or even reconfiguring the layout entirely to enhance your kitchen. All the while, we'll keep your style preferences in mind to ensure we design a space that suits your tastes and lifestyle.
Bathroom Remodeling in Bellevue
The bathroom is more than just a place to start and end your day — it's where you go when you want to feel pampered. So if your boring, poorly lit bathroom is far from luxurious, let Better Builders make the improvements you crave. We can update the space with all-new fixtures, finishes, lighting, and more.
Whether your bathroom is large or small, part of your master suite, or intended for guest use, our bathroom remodeling services are right for you. We aim to improve functionality and create striking good looks with custom vanities and tile work, frameless shower doors, walk-in tubs, storage niches, and much more. When we're done, the bathroom will be your favorite room in the house.
Bellevue Whole-Home Remodeling
Whole-home remodeling is the most extensive type of renovation we complete, as it involves redoing at least 50% of your existing home. Despite the scale of such a project, we can make it a straightforward and predictable experience thanks to our step-by-step design process.
First, we work closely with you to carefully plan out the changes you want to make. Our design team listens to your ideas and presents ways to implement them. Once we're sure no detail has been overlooked, construction begins. We prioritize maximizing efficiency, keeping costs down, and delivering a flawless finished product.
Other Remodeling Services
We specialize in kitchens, bathrooms, and whole-home remodels, but we can also transform your home in other ways. Meet with us if you're interested in any of the following home remodeling services in Bellevue:
Why Choose Better Builders for Home Remodeling in Bellevue, WA?
Choosing a company to renovate your home is a decision you shouldn't take lightly. You want to work with top-notch designers, project managers, and contractors for peace of mind from start to finish. That's where Better Builders comes in. Since 2010, we have earned a reputation for being honest, having integrity, and completing every project on time and within budget. We also have an A+ rating with the Better Business Bureau and offer a five-year craftsmanship warranty for your peace of mind.
If this is the type of experience you want when renovating your home, contact us online to schedule your virtual consultation today.