Remodeling Services in
Woodinville

, WA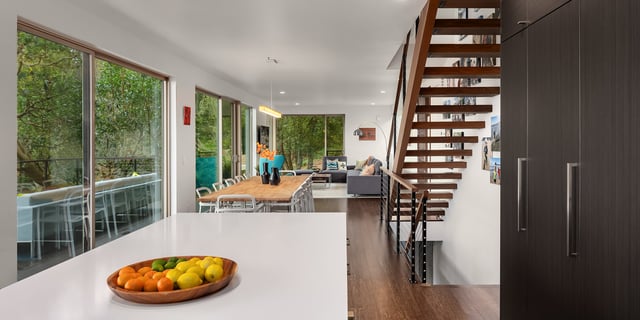 Remodeling your home is exciting in Woodinville, WA!
Woodinville, Washington is a suburban city located in the Seattle metropolitan area. It is a great place to live for those who enjoy being close to the city, but still want to experience a more relaxed atmosphere. Woodinville offers plenty of things to do, from its many wineries and tasting rooms to its vibrant shopping and dining scene. Additionally, Woodinville is also known for its beautiful views of the nearby Lake Sammamish, making it a great place to live for those who enjoy outdoor activities such as kayaking and swimming.
The Better Builders team is rooted in a mission to improve our customers' daily lives by applying stylish, functional remodeling solutions and green building practices to their Woodinville-area homes!
Contact Better Builders for a free consultation for your next home remodeling project!
Our Green Building Practices in
Woodinville

WA

The Better Builders name communicates our vision of creating buildings that are better for people and the environment. Through our green building practices, your remodeled home will become a more comfortable, efficient, and healthy place to live!

For those who don't know, green building practices involve the use of sustainable materials, energy efficient designs, and construction techniques that reduce the impact of construction on the environment. These practices include the use of renewable resources, such as solar and wind energy, as well as effective insulation, efficient lighting, and water conservation. Green building practices also include the use of recycled materials, water-conserving fixtures, and low-flow toilets. The goal of green building practices is to reduce the overall environmental impact of construction and create an energy-efficient and sustainable building

To accomplish this, we maintain active membership status with the Master Builders Association and its affiliate, Built Green, to incorporate sustainable products and green building into our projects.
Kitchen Remodeling in
Woodinville

WA

There's nothing more refreshing than stepping into a brand-new, magazine-worthy kitchen. It's a homeowner's dream remodel, and our design teams know exactly how to deliver it.

Your kitchen remodel will consider every detail of your:
Lifestyle, including routines and household activities
Aesthetic tastes and desires
Woodinville

WA Bathroom Remodels

Whether you want to add a stand-alone tub or need help fixing a DIY job from years past, Better Builders can help.

Fine details make up the overall wow factor, and bathroom remodels are a treasure trove of them, including:
Cabinetry
Faucets
Light futures
Door and drawer hardware
Tile
And more!
Like any home renovation, a good bathroom remodel can boost your home's value and marketability. And the satisfaction homeowners have when it's all said and done is exactly why we're in the business of home remodeling.
Whole-Home Remodels in
Woodinville
If a full-on update is what you need to improve comfort and functionality for your family, Better Builders can guide you every step of the way with our design process — a proven methodology for successful remodeling projects.
A whole-home remodel may include:
Completely reconfiguring the floor plan
Rerouting plumbing and electrical
New flooring
Construction on multiple stories of your home
The possibilities are endless, and we want to ensure your house becomes the home you want.
Additions for
Woodinville

Homes

Woodinville residents have one of the best locations in all of Seattle. If you love your cozy beach community but need a bigger house, an addition could be a good solution. We specialize in:
More Home Remodeling Services in
Woodinville
Functional remodeling solutions go a long way in updating your home for today's lifestyle needs, energy requirements, and sustainability factors.
Additional home remodels that will add years to the home's livability, value, and building integrity include:
Outdoor living spaces:

Woodinville

boasts stunning natural surroundings. A gorgeous outdoor living space is the perfect place to take it all in.
Auxiliary dwelling units (ADU): ADUs are self-contained living spaces within an existing dwelling, typically including a kitchen, bathroom, and separate entrance. Whether you are looking for an extra source of income via rental space or simply housing a loved one, we can help.
Aging-in-place design: Enjoy living in your home as you age and your needs change. Aging-in-place updates could be extensive, such as adding to the main level or opening up of a floor plan; they can also be smaller, like converting tubs into accessible showers with handrails.
Our other home remodeling services include:
Choose Better Builders for Your Home Remodeling Project in
Woodinville

, WA

Woodinville homeowners trust Better Builders because of our building practices. Our values are integrated into our design process, communication during construction, attention to detail, and follow-through after the project.

Improving our customers' daily home lives and bringing the remodel of their dreams to life is always our ultimate goal. From cottages to condos, we are happy to help with home remodeling projects in West Seattle's beach town.

Check out our project gallery and reviews to see why your neighbors love working with Better Builders.

Contact us today to get started and schedule a free consultation!