Home Remodeling Services in Kent, WA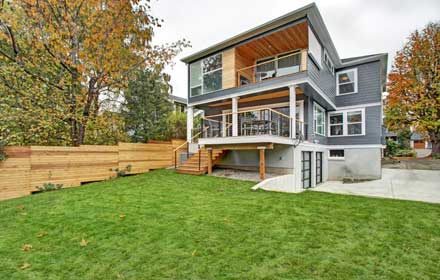 At Better Builders, we believe designing and building a green home means building a better home, too. As a Certified Green Builder, we incorporate green building practices and principles in each remodeling project, enhancing your home's beauty, comfort, and convenience.
Our commitment to intelligent, sustainable design ensures your Kent remodeling project conserves natural resources, protects air and water quality, and incorporates low-maintenance materials to improve your well-being.
Are you looking to invest in green home remodeling for your Kent home? Contact Better Builders online for a free consultation.
Kitchen Remodeling in Kent
Many people mistakenly believe they need to sacrifice style or functionality when investing in a sustainable kitchen remodel. Today, nothing could be further from the truth!
The Better Builders design team creates updated kitchens that are beautiful and functional. We help you choose everything you need for your new environmentally friendly kitchen, including sustainable products and materials that complement your taste and lifestyle.
Bathroom Remodeling in Kent
They might be among your home's smallest rooms, but bathrooms serve a big purpose and are ripe with opportunities for a green remodel. Our bathroom remodels ensure you no longer have to work around using an outdated bathroom that doesn't meet your family's needs.
Our designs seamlessly blend luxury with function, turning your existing bathroom into a spa-like oasis. Looking to add an extra bath? Better Builders excels at designing and building bathroom additions, even in small spaces.
Whole-Home Remodeling in Kent
If you want to increase your home's value while improving its overall comfort and style, a whole-house remodel is the ideal way to do it. Our design/build process makes the whole-home remodeling experience as enjoyable as possible and can transform your home in ways you might have only imagined.
House Additions in Kent
One or more room additions can expand your home's living space and increase its functionality. Our sustainably designed home additions include:
Additional Home Remodeling Services in Kent
Better Builders designs and builds modern and innovative spaces that blend beautifully with your existing home. When what you need from your home changes, we're here to help you get the most value from your property.
Outdoor living spaces: Let us help you make your ideal backyard retreat a reality. Our design/build team has created porches, decks, and patios that welcome and delight friends and family alike.
Auxiliary or accessory dwelling units: Low impact, sustainable, and energy-efficient, an ADU can enhance your life and add value to your home. Whether you want a cottage house for guests, an artist's retreat, or a rental space for extra income, we can help you bring your vision to life.
Aging-in-place design: For homeowners who want adaptable and sustainable features that make their Kent home more user-friendly as they age, universal design is the ideal solution. From ensuring kitchens and baths are wheelchair-friendly to adding a master suite to the main level, aging-in-place design makes it possible to stay in the home you love for as long as possible.
Our talented design/build team also provides green remodeling services for:
Why Choose Better Buildings for Your Kent, WA Home Remodeling Project
From the initial consultation to project completion, Better Builders provides its clients with green remodeling services that are second to none. As an active member of the Master Builders Association and its affiliate, Built Green, we stay up to date on the latest green design trends and technologies. And each of our designs is done with a careful eye toward your budget and desires.
Are you ready to get started on your remodeling project? To learn more about what it's like to work with Better Builders, we invite you to view our gallery of projects and read our reviews.
Contact us online to schedule a consultation. We look forward to meeting you!